We'll be celebrating New Year's Eve with the kids at my house, because Mama doesn't want to splurge on a holiday babysitter or wear heels all night long. Instead, we'll have friends and their kids over to ring in the new year—and I'm really excited about it. Just because the kids are going to be partying with us doesn't mean that we have to order pizza. Instead, I've found some festive New Year's Eve dinner ideas for kids that the grown-ups will like, too. Oh, and desserts idea, too, because obviously!
Before we get to the recipes, our best BTDT tip for hosting parties with kids is to keep it simple. I get tempted to make everything over-the-top amazing, but ultimately the kids don't notice. They just want food that tastes good. And my friends just want their kids to have fun so that they can enjoy the party. So pick one or two of these recipes to stand out as the star of your spread and, for the rest, go simple and don't stress yourself out. That way you can actually enjoy the party, too.
Novel idea, right?
Related: New Year's Eve cocktails and mocktails for everyone.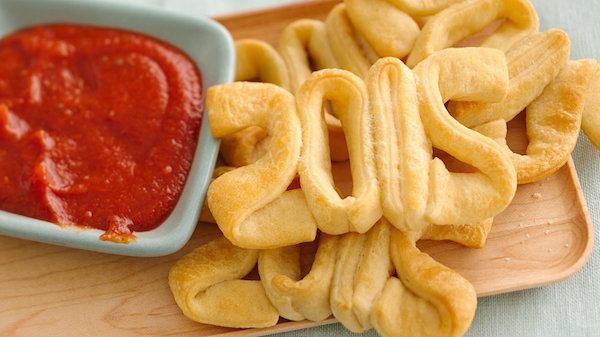 Pillsbury crescent rolls don't last long at my dinner table and their idea for 2015 Crescent Dippers is a really fun way to serve bread at your party. They've put some marinara sauce on the side, but the grown-ups might like Warm Beer and Cheddar Dip instead. Just, don't forget it's 2016 this time.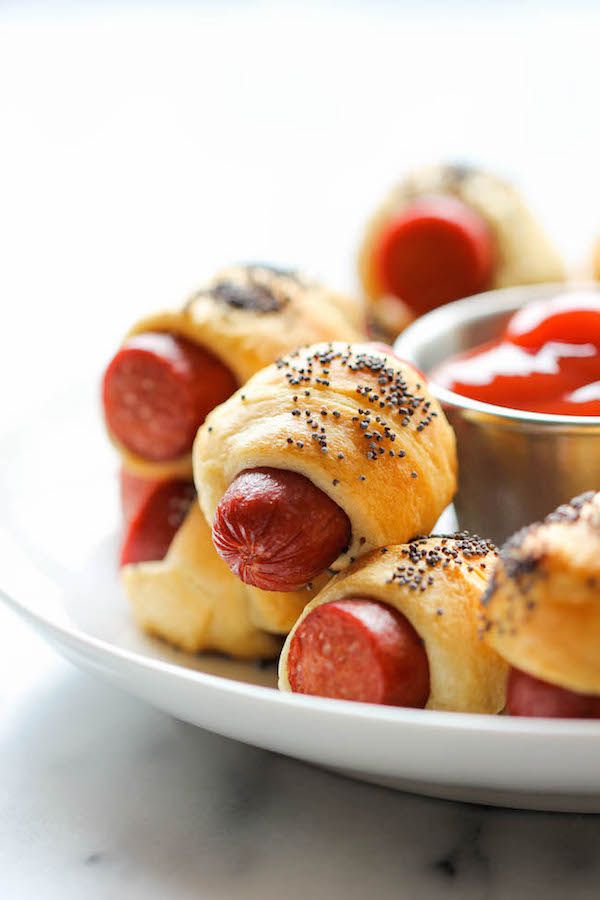 I make Pigs in a Blanket for the kids all of the time. Really, I do. Never mind that I eat more of them than they do. Maybe that's why this recipe from Damn Delicious has me drooling. The kids will love these and to upgrade this classic party bite for adults, serve them with spicy gourmet mustards or the Whisky Barbecue Ketchup at Minimalist Baker. Or go crazy and wrap Greek sausage and feta cheese in puff pastry and serve with tzatziki sauce. Or you can use chorizo sausage instead and served them with this Creamy Chipotle Sauce at Laylita's Recipes. Oh, the possibilities!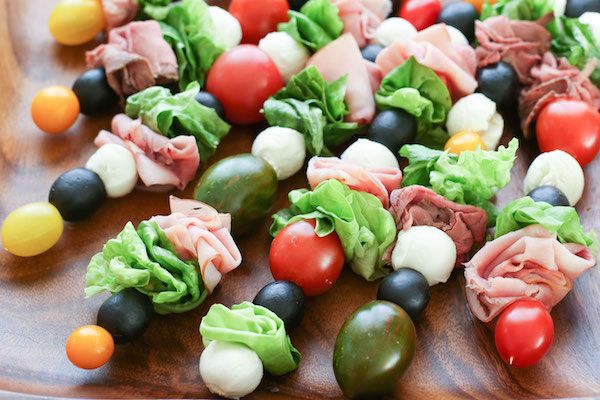 When you serve appetizers for dinner at a party, it's easy to end up with all carbs, cheese, and protein—and no veggies. This Salad on a Stick at Bare Feet in the Kitchen is a really fun way to get some green stuff on the kids' plates. I bet the adults will like a break from the heavier fare, too. Place a few of your favorite salad dressings in bowls for dipping. Fresh and easy!
Before your guests arrive, prep a bunch of grilled cheese sandwiches so that you can grill them quickly when it's time to eat. Since New Year's Eve is all about sparkles and glitter, cut them into these fun Stars and Hearts Grilled Cheese Sandwiches like the ones I found at Oh Joy! If you want to go all out, you serve these with tomato soup shooters.
The kid in all of us still loves meatballs and these Crockpot Meatballs cooked with grape jelly is the ultimate kid and grown up food. They're always the first dish completely gone when I make them for a party, and this recipe at Culinary Hill is so spot on that you don't even need to tweak the recipe for the adults. Just buy some of those cute toothpicks at our affiliate Amazon store and you're set!
I have one adventurous eater who likes sushi, but my other ones turn their noses up at it. Maybe these fun Sushi Lollipops at Better Recipes would get them to try something new, especially to impress their friends. If they don't, it's just more for me and the other sushi eaters. And, it's probably obvious, but we're talking store-bought sushi here. New Year's Eve isn't the time to learn how to make sushi from scratch.
We don't suggest that you start teaching your kids to throw back shots on New Year's Eve. Or any time, for that matter. That said, these milk shots—we'll call them Festive Milk Glasses—by Sweet Little Peanut (via Jo Lynne Shane) are a really fun way to serve kid drinks (that aren't juice!).
My kids' favorite part of New Year's Eve is, of course, watching the ball drop, though I like watching a few time zones ahead so that they can get to bed at sorta maybe a decent hour. Whether your kids stay up or not, little fans of the countdown moment will love these Countdown Cookies at The Decorated Cookie. Though, honestly, you should only take these on if you're good at cookie decorating. If you are, these are perfect.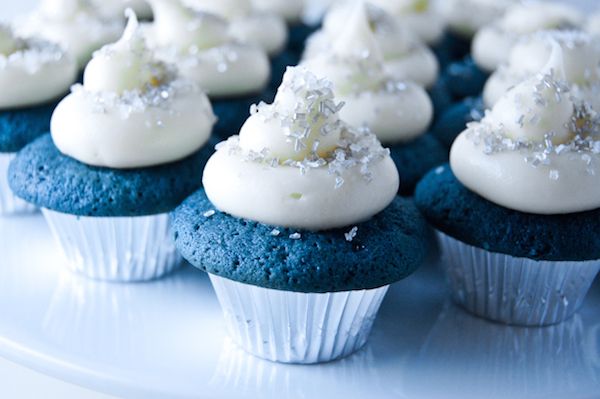 These Blue Velvet Cupcakes at Amy Bites look so fancy and sophisticated, I feel like I should slip into a little black dress before eating them. Even so, they're not hard—at all—to make. These make a seriously impressive dessert with minimal effort from you.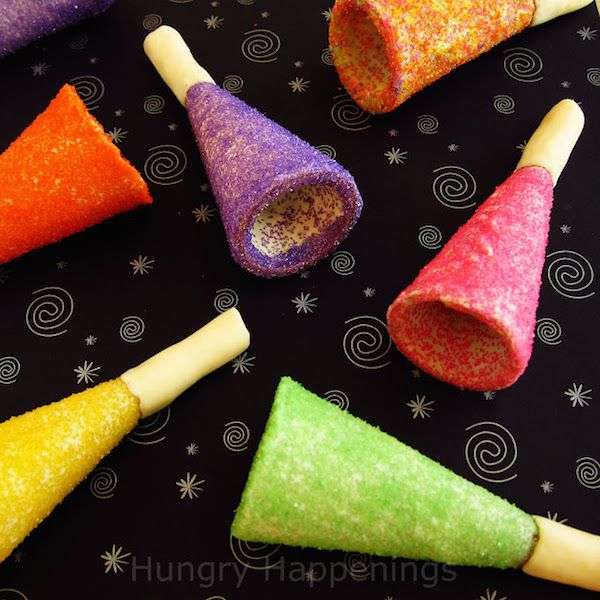 These festive Edible Party Horns at Hungry Happenings are amazing! The catch is that you should make them the day before since molding the chocolate for the mouthpieces might be harder than you'd think. They'll be worth the effort, though, when you see how much fun your kids have with them.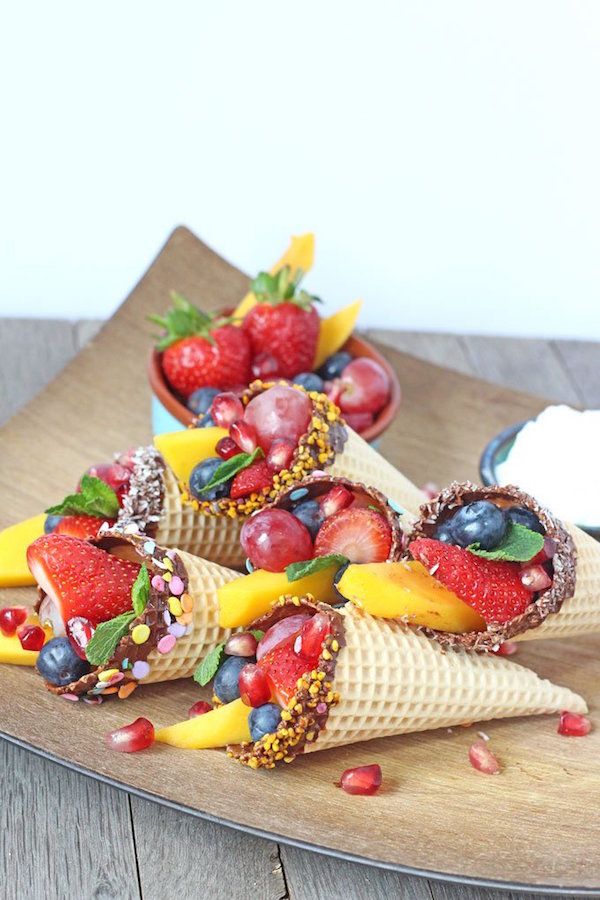 I love that these Fruit Cones at My Fussy Eater look like party horns, but without the headache-inducing noise. I suggest keeping the fruit simple so that it doesn't get super expensive. Also, stick to fruit that your kids like, even if that's not what the recipe calls for. One last tip: The cones get soggy when the fruit sits in them too long, so add the fruit right before serving these.