I'm not sure how Easter egg decorating goes at your house, but in my kitchen, we end up with dye everywhere…including all over my kids. So this year I've been looking for some natural Easter egg dye recipes. The colors are so much more beautiful than what you get with the store-bought kits, and I'm always up for easy ways to reduce our exposure to chemicals.
Not to mention, making dyes out of real food is much more educational for the kids than dropping pellets into a bowl of vinegar. Right?
Related: Bunny bagels, Peeps S'mores and other easy Easter treats to make with your kids.
Natural Easter egg dye: The base recipe.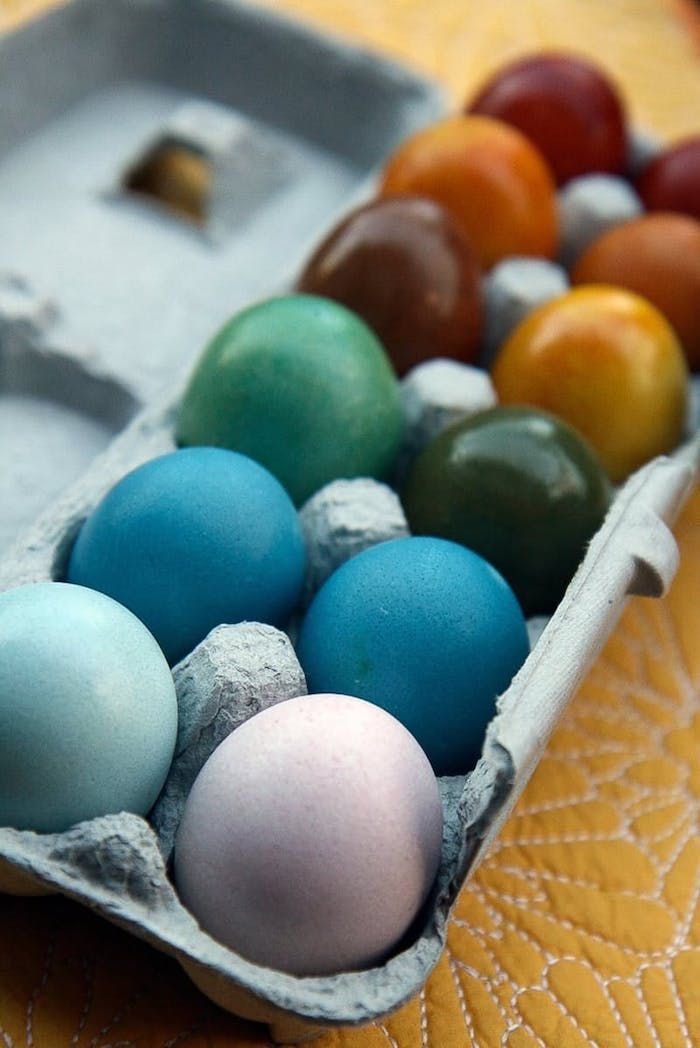 Naturally Dyed Easter Eggs | Photo by Sara Kate Gillingham for The Kitchn
I found a fantastic base recipe for naturally dyed eggs at The Kitchen, so there's no need to recreate the wheel here. Head over there to see their tips for getting the base started, then you can add the following ingredients to get colors as vivid as you'd like
Natural Easter egg dye: Adding color
Once you have the base recipe made, add the following ingredients to get pretty, springtime colors. FYI: The amounts listed below are for 2 cups of dye liquid and, unless otherwise mentioned, assume that you're using white eggs. That said, you and your kids should definitely play around with brown or blue eggs, or layer colors to get even prettier combinations.
Pink: 2 cups shredded raw, red beets
Red: 2 cups red onion skins
Maroon: 2 cups shredded raw, red beets on brown eggs
Red-Orange: 1/4 cup paprika
Orange: 2 cups yellow onion skins
Mustard Yellow: 1/4 cup ground turmeric
Pale yellow: 4 ounces goldenrod or the peels of 6 oranges
Pale Green-Yellow: 1/2 pound chopped fennel tops or the skins from 12 yellow apples
Green: 2 cups fresh spinach
Turquoise: 2 cups chopped purple cabbage or 2 cups frozen blueberries
Royal blue: 2 cups chopped purple cabbage — but soak overnight!
Lavender: skip the base recipe and soak the eggs directly in 1 cup of grape juice + 1 tablespoon vinegar
Brown: skip the base recipe and soak the eggs in 1 cup of black coffee + 1 tablespoon vinegar.
Natural Easter egg dye: Money-saving tips 
Obviously, natural dyes can get a lot more expensive than a cheap store-bought kit if you're buying these ingredients just for dying. But you can save money by planning ahead and finding multiple purposes for the ingredients you want to use. Like, go ahead and make an apple pie for Easter lunch or squeeze some fresh OJ after you use the orange and apple peels for dye.
Also, starting a week or so before you plan on dying your eggs, hang on to the leftover beets or spinach that your kids don't eat at dinner, or save the onion skins from the one you chopped for dinner to use in the dye later. You can store the ingredients in the freezer.
It will save you a few dollars and show the kids there are fun reasons to be resourceful.
Photo at top by Annie Spratt via Unsplash. Used with permission.