This week, we have another round of weekly meal plan recommendations, including some of our favorite comfort food for fall — like corn chowder and Sloppy Joes. And a fun bonus Halloween meal the kids will love this week. These five dinners that will get you through the week ahead easily and deliciously.
So grab a pen, make your shopping list, and stock up on ingredients before the weekend's over to make your weeknights that much easier.
And if it's even easier for you to do all that planning from your inbox, be sure to sign up for our weekly meal plan emails. You'll love them, promise!
Top images: Slow-cooker chipotle pumpkin corn chowder at Melanie Makes, Chili Cheese Sloppy Joes at Dinner Then Dessert. 
Related: 9 spooky fun Halloween breakfast ideas from savory to very, very sweet
These savory Baked Beef Empanadas at Healthy World Cuisine feel like such a special treat, for everyone. My kids love them because — yay! hand-held dinner. And I love them because my kids will actually eat them.
It's officially slow-cooker season at our house (then again, I'm up for a good Crock Pot meal anytime). But this slow-cooker chipotle pumpkin corn chowder at Melanie Makes looks so warm and comforting. And we say, make this Tuesday night so you can take it easy, because tomorrow is Halloween, parents.
Related: 8 hot recipes to freshen up your kid's lunch box routine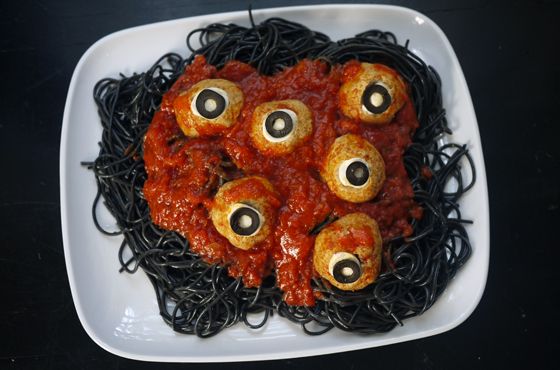 While we aren't always serving our kids themed food, we do love a good creepy Halloween dinner. Start with one of our freakishly easy Halloween dinner ideas, like these worms and eyeballs from One Hungry Mama — which is actually just spaghetti and meatballs, of course. And okay, an olive or two.
There's something so comforting about Tuna Noodle Casserole — or chicken noodle casserole, if you're not a fan of tuna. This low FODMAP version we found at FODMAP Everyday is a great option for those of you sticking to this diet, without feeling like "diet food" for those of you who aren't.
Ever since I discovered this recipe, I've been craving these Chili Cheese Sloppy Joes from Dinner Then Dessert. Since my family tries to cut back on red meat, we'll be using Gardein beefless ground (you can find it through our affiliate Target) instead for an easy vegan/vegetarian version. Either way, this is easy comfort food that the whole family will love.