Big or small, sometimes a food gift is just what's called for when it comes to a gift for those teachers, coaches, and other school staff who have done so much for our kids over the year. Which doesn't mean you have to go nuts and spend hours on some fancy tarte tatin. Not that there's anything wrong with that. At all. (In fact, bring some over to my place!)
But if you're looking for a simpler, smaller thought that counts, these cool printable teacher cards and gift tags we've tracked down for all kinds of delicious food gifts are so wonderful. They let you get the kids involved, to help show a little edible gratitude for a great year, whether you're thinking a single cupcake, a candy bar — or even those gift cards we know teachers adore.
Top: Thanks a bundt'ch printable teacher gift card at eighteen25 |Printable tea-riffic teacher gift card at Silly Pearl |Printable candy pencil boxes for teachers  by Christine Helmuth |Printable baking mitt printable card for teachers at Eighteen25
Cool Mom Eats is a reward style affiliate.
Related: Deliciously edible gift ideas to thank a teacher
For mini bundt cakes: Thanks a bundt'ch printable teacher gift card (Free, eighteen25)
I can never resist a great pun, or a great mini bundt cake which is a clever, slightly more gourmet alternative to cupcakes. The free printable can be found at Eighteen25, along with a link to a bundt cake recipe they really like.
For an ice cream gift card: DIY printable popsicle gift card holder ($5.99 digital download, Claudine Hellmuth)
We adore this talented illustrator and designer for ages, and she's designed a whole series of fun downloadable, printable gift boxes. This popsicle printable gets you five pretty color combos, ready for indulging a favorite teacher over the summer with a gift card to the local ice cream shop. Maybe if your kid is lucky, they'll get to join on a special student-teacher ice cream date.
For a bag of gumballs: Printable blowing my mind teacher appreciation card (free, Landeelu)
No chewing gum in the class? Well, all bets are off on summer break. This one is actually perfect for the kid who had his gum confiscated every week.
For a small potted herb: Printable helping us grow teacher card (free, Blackberry Vine)
It doesn't all have to be about candy and sweets when it comes to thanking teachers, of course. We like the idea of giving a teacher a small potted herb (rosemary for remembrance, perhaps; or peppermint for sleep?) and topping it off with this sweet printable you can affix to a stick or toothpick. Plus it doubles as a craft that kids can help with too.
Related: The best teacher gift ideas according to actual teachers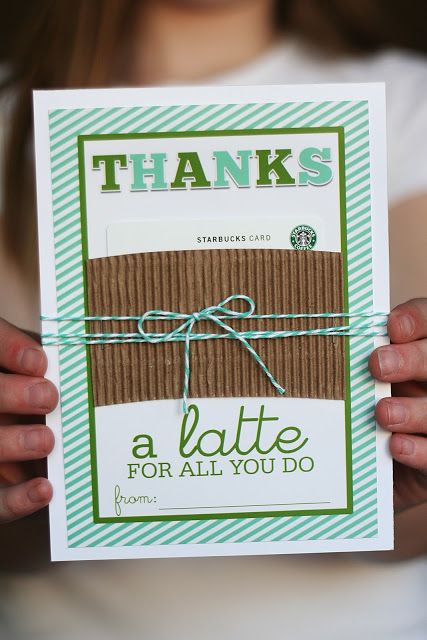 For a bag of coffee or a gift card: Thanks a latte printable teacher gift card (Free, eighteen25)
We included this in our roundup of some of our favorite printable gift cards for teachers last year and it's still up there as a favorite design. Adding the corrugated cardboard cup holder just makes it really cool, doesn't it? It's meant for a gift card, but we think it would be fantastic with a bag of gourmet coffee beans or even a small coffee subscription. Knowing most teachers, they're not exactly slumming it all summer. Coffee is definitely still in order!
For LifeSavers: Printable candy pencil boxes for teachers  ($4.99 PDF download, Christine Helmuth)
This set of colorful pencil boxes are designed with cute slogans to give a beloved teacher anything from actual pens and pencils to a rolled-up note of thanks. It's so nice that kids can help put them together. And we are partial to the cute You're a Lifesaver box which, well, you know what to do with that one. Do they still make Butter Rum? Mmmm.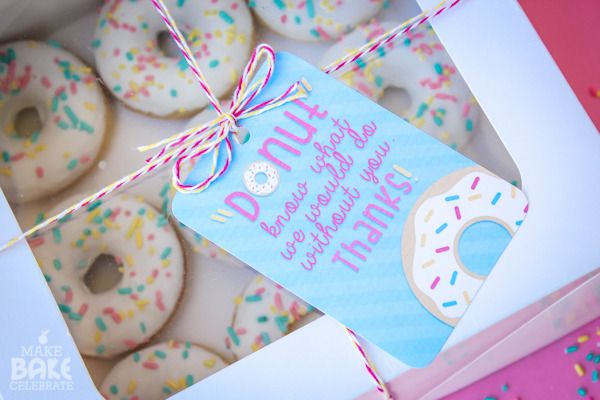 For Donuts: Printable donut thank you note for teachers (free, Make Bake Celebrate)
We recently found this adorable Donut what we would do without you printable gift tag, which is great just from your family or on a dozen donuts courtesy of the whole class for a last-day-of-school breakfast party. It's a lovely way to make a box of fresh-baked donuts from your local bakery more personal, or go nuts and make your own.
We even have loads of yummy baked donut recipes that are easier than you think. Check them out!
For DIY S'mores: Printable s'mores teacher gift card ($5, Lisa Kay Designs)
This one isn't free, but it is probably the nicest design I've come across as far as teacher s'mores pun thank you cards go. (Yes, that's a thing.) While a prepackaged mix like this works, I think it would be nice to fill a bag with two large graham crackers, two marshmallows, and some Hershey's minis then pass them out to all the teachers at school on your list.
If you want to have a little fun, include a single-wrapped hand wipe. Because you know how much we all need those after s'mores.
For a favorite soft drink: ExSTRAWdinary teacher printable gift tag (free, Giggles Galore)
Straws to show your appreciation? Well…not on their own. If you happen to have a teacher who you know adores root beer or Jones Orange Soda or Frappucinos, pair one of those (or a gift card) in a little basket with the straws along with this fun gift tag. It shows you've been paying attention. And isn't that alone one of the best gifts for a teacher?
For a DIY baking kit: Printable baking mitt printable card for teachers (free, Eighteen25)
Another winning idea from the ladies at Eighteen25 — they sure love their puns, and their teachers! I really like this idea of pairing a baking mitt, some baking mix and maybe a utensil for a teacher you know enjoys baking. If you want to splurge, check out these really special colorful bamboo utensils from Storiebrook that we wouldn't mind getting ourselves.
For a Starbucks Gift Card: Printable Coffee Cup card holder for teachers (free, Alpha Mom)
We found this genius DIY craft last year on Alpha Mom, which allows you to turn a regular Starbucks cup into a very creative gift card holder, complete with checkboxes that describe all the reasons you love your favorite teacher.
For a bottle of wine: Printable Wine Bottle Thank You Tag (free, How About Orange)
Now obviously a bottle of wine or Champagne (or hey, Bourbon) is not appropriate for every kind of teacher. And this definitely isn't a gift tag that's cute, like the others. But if you have an awesome piano teacher, a great tutor, or even a special teacher you've become close with socially, this could be a thoughtful idea to add into the mix. And the printable tags from How About Orange are so beautifully designed, like everything she does, without any teacher puns.
Enjoy some wine instead of whine this summer! somehow doesn't feel right. Or…maybe it does? In which case go ahead and make your own using a free web-based design app like PicMonkey.