In a country with so much abundance, it's ironic and sad to think about the astounding numbers of food-insecure people both here in the U.S. and around the world. In fact 16.2 million American kids go hungry at some point during the year because their families lack the means to get nutritious food on a regular basis. That's 1 in 5 kids, which is absolutely horrifying to all of us, especially as parents.
Related: FED UP Movie: How to help get more kids eating better
No Kid Hungry, a campaign from Share our Strength, is stepping in to make sure these kids get access to good food where they live, learn, and play. They're teaching parents about nutritious meals and stretching budgets, and they're working to provide breakfasts at schools — so kids can focus on their schoolwork instead of their growling tummies.
And supporting them this month in a small way is as easy as doing something you're probably doing anyway: going out to eat.

This month, thousands of restaurants around the country are giving a portion of their sales to No Kid Hungry. In my own neighborhood I found everything from fast food chains (lots of them) to a trendy local bar to the American Girl Cafe.
The map at their site also highlights what each restaurant's donation will be and when the promotion is valid. For example, that trendy bar is offering $5 off your bill in exchange for a donation of $2 or more; while a breakfast place near me is donating $.10 directly for every pumpkin pancake that's ordered. Nice if you planned on eating pumpkin pancakes anyway, but in this case it probably makes more sense for me to make pancakes at home and make a donation online so I'm helping to support the cause more than the restaurant.
In fact, we'll be honest: It would be nice if most of the restaurants were donating a little more generously, even if every bit counts. iHop is a "participating sponsor" but it seems they're not even donating — just asking you to donate. So be sure to check the sites for details before you run out for breakfast.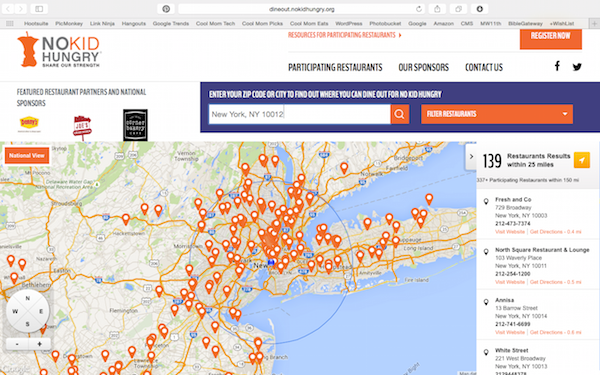 Besides eating out, I like that can also help without spending a dime. You can write your senator to help sponsor specific legislation to combat hunger, or deliver meals to families in need in your neighborhood. I did that with my kids, and it was a fantastic experience.
But hey, if you're taking your family out to eat sometime this month anyway, the best part might be the opportunity to make a small donation and spark the conversation about hunger in America with your kids. Who knows, maybe they'll will be inspired to do something even bigger to help.
Search your zip code at No Kid Hungry to find participating restaurants in your area, and how much they're donating to the cause. Also be sure to check out promotional dates because some are contributing through the end of the month, some through 9/20, and some, oddly, have already stopped.