This fall, I'm all about simplifying. My kids have seriously cut back their after-school activities and I'm saying no to more. Having extra time at home has been awesome, but the responsibility I'm most happy to let go of is shopping for groceries. Instead, I've been doing it online with one of these great grocery delivery services. I order what I need while I hang out with the kids at home— or sit in the carpool line or at basketball practice—and a little while later my groceries magically appear at our doorstep. Well, not exactly magically. But it feels like that.
Of course, I still need to occasionally run to the store for a quick, last-minute pick up of something I forgot but, for the most part, using a grocery delivery service has changed my life in a very good way. Since I'm sure that this is something you'll want to try, too, I've taken a look across the country to find the best ones.
Fresh Direct
For those living near NYC or Philadelphia, our editor Liz raves about FreshDirect grocery delivery, because in the big city, no one has a car and it's no fun carrying seven bags of groceries home for six blocks. FreshDirect skips the grocery store middle man and brings you the food you order directly from partner local farms and smaller purveyors to your table. Of course, they also have plenty of big grocery store brands too, so you don't have to commit to more expensive local ingredients if you don't want to. You can also find staples like paper towels and diapers, making it very convenient.
I love that FreshDirect offers recipe ideas, with links to purchase all the ingredients you need to make that dish. How's that for making dinner prep easy? Plus it's known for a really good kosher selection, and the "top rated produce" selections tend to be spot on, helping you decide whether you want to grab the Fuji apples this week or go for the Gala.
On the other hand, Liz says bananas never get top ratings at Fresh Direct for some reason. Go figure. At least they're honest.
For $119 a year, you can join their Delivery Pass program and get unlimited free delivery on every order over $30. That's basically $10 a month which is a great deal if you use them regularly. Plus you get preferred reservation times, and can even hold a repeating timeslot each week.  Alternatively, you can pay $5.99 – 7.99 per delivery, depending on where you live; you can find their complete service area at their website. And if you're a really loyal customer, they'll even reward you with special deals. So you can start to earn back that money you spent on the membership in the first place.
(Pro tip from Liz: Reserve your time slot before you start filling your cart. If your preference isn't available, keep checking back during the process. You'd be surprised how quickly they can open up.)
Peapod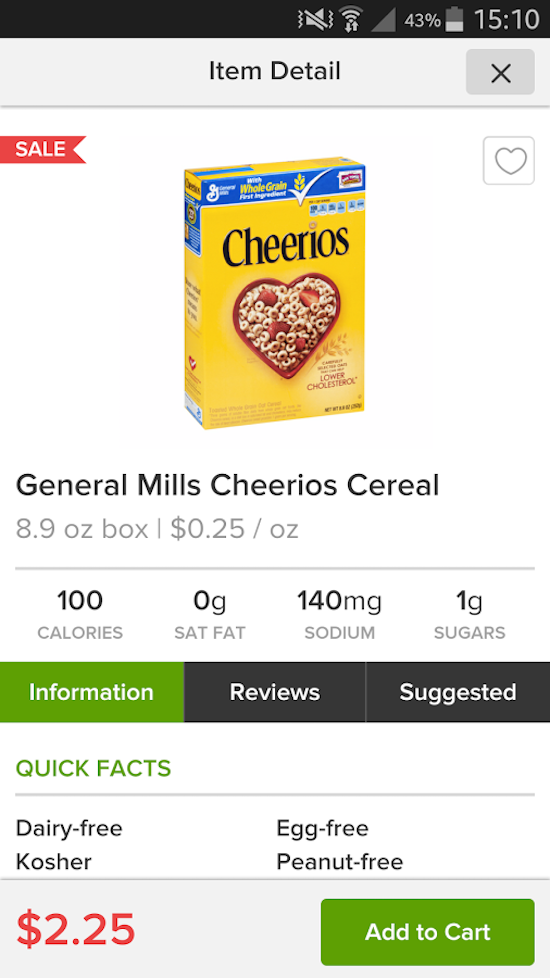 Peapod is another popular delivery service. It's affiliate with Stop & Shop and Giant Food, so it's for those of you who live anywhere down the east coast from New England to Virginia; plus Chicago metro, Milwaukee, Indianapolis, and parts of Wisconsin. We've highlighted them before because of their very smart NutriFilter option, which makes shopping for people with food allergies incredibly easy — you can click on their egg-free, dairy-free, or nut-free options to find items that are safe for you to eat. If you or your kids have serious allergies, this feature alone might be reason enough to switch to shopping online.
With Peapod, you can choose to pick up your order from them for just $2.95 which I suppose makes sense if you're headed past the supermarket anyway and want to save time having someone else pick up your produce. That said, I'd go be more likely to splurge on home delivery, which is anywhere from $6.95 – $9.95 plus a fuel surcharge depending on the size of your order. That's a hefty fee, so it might be worth it for those of you working parents who really can't make the time, or for when you are shopping for a big party and would just rather pay the fee and knock one huge thing off your list.
Amazon Fresh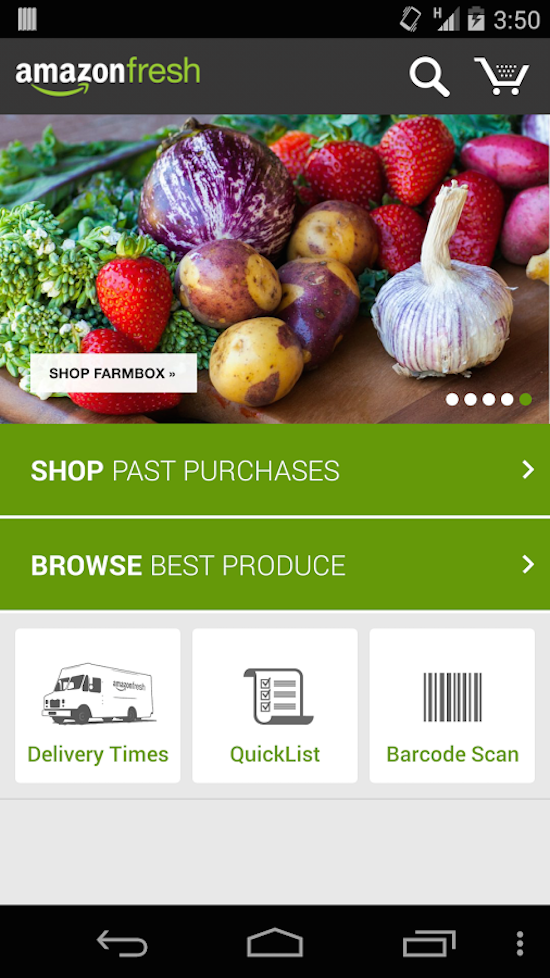 AmazonFresh gives its customers in Seattle, select southern and northern California areas, and the NYC metro area free same-day delivery on any order over $50, as long as you order by 10 am. Orders placed after that can be delivered early the next morning, in time for breakfast, and they'll even stop by local restaurants to bring you that sourdough bread you crave from your local bakery or the chicken tikka masala you're dying to have for dinner. Pretty sweet.
When you join AmazonFresh, you get all the benefits Amazon Prime members enjoy, like free two-day shipping, streaming movies, TV shows and music, and all those free Kindle titles for your reading pleasure. However, if you're already an Amazon Prime member, you actually can get free access to AmazonFresh delivery through September 2015 so join now and see how you like it. We haven't tried it yet but we're hearing good things.
Related: An overview of the Amazon Prime Now app
Shipt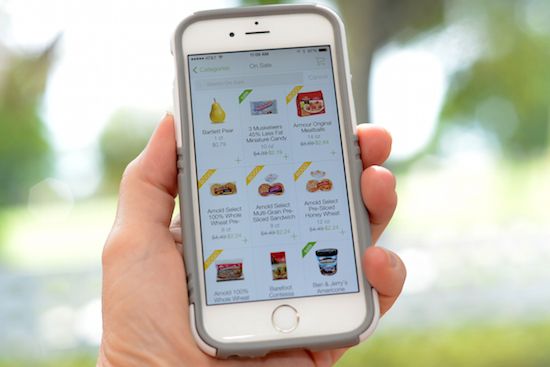 Here in Nashville, Tennessee, I've been using Shipt, a service also available in Birmingham, Dallas, Orlando, Tampa, and south Florida. Unlike most other services, Shipt shoppers go to an actual grocery store to do your shopping for you. Right now, they just go to Publix, but I'm hoping they'll add Whole Foods and other chains I like soon.
The upside is that you get the benefit of the store's discounts — I love that they highlight the great BOGO sales. The downside is that the particular location they shop may be out of a particular item, which isn't reflected on the Shipt app. When that happens, the shoppers will text you to find out if you want something different, which is helpful. Their service has been excellent, but it can be a bit of a hassle when the sale prices on alternate items get entered into their system incorrectly and you have to wait for a refund, which has happened to me.
Shipt has a yearly fee of $100, and after that you get free delivery every time you order more than $35 in groceries. So it can be worthwhile if are using it every other week or more.
Instacart App
Instacart works a lot like Shipt, where real people go to real stores to buy groceries for you and have them delivered to your door within an hour or, if you prefer, you can plan your delivery up to 6 days in advance. Their personal shoppers deliver in the Atlanta, Austin, Boston, Boulder, Chicago, Denver, Houston, Los Angeles, New York City, Philadelphia, Portland, San Francisco Bay Area, San Jose, Seattle and Washington D.C. areas—and they're expanding quickly!
They also work with a wide selection of grocery stores, which varies depending on where you live but includes national chains like Whole Foods and even Costco. A super cool feature is that you can place orders from more than one store at once; just be aware that even though everything will come in one delivery, you will be charged separate delivery fees for each store since separate shoppers will be working on your order.
When you place your order on Instacart, you can indicate whether you're open to having your personal shopper choose a replacement if something you've selected isn't available. If you allow them to do this, you won't know the replacement until it arrives, but you can also opt out of that all together by selecting Don't Replace next to any item. That's a pretty great feature. There is also a place to add notes to give your shopper specific details or instructions. Plus, having a personal shopper makes you feel kind of special.
Pink Dot App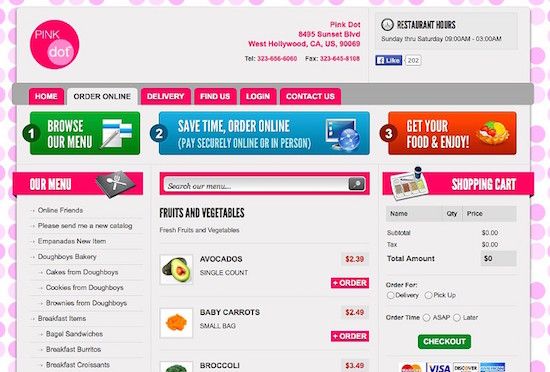 Pink Dot has been offering grocery and prepared meal delivery in the Los Angeles area for 25 years. And if you live in the LA area, surely you know this by now or you don't get out much. (Or maybe you get out too much?) Order online and your groceries will be at your front door in 30-45 minutes (since of course everything in LA takes 30 minutes, ha – Ed.), while prepared meals take a little longer.
Instead of a yearly fee and storing a credit card online like you do with some other companies, with Pink Dot you pay a flat fee of $3.50 per delivery. You do have to be home to receive your order, which is also when you pay, as opposed to some of the other services, which charge you when you shop, so it's more like ordering take-out in that sense. The good thing about not being charged automatically is that it eliminates the need to request refunds for incorrect items. However there is the whole being home thing which can be a little inconvenient.
On the other hand, it definitely is nice to know that sometimes it can be someone else getting stuck on Le Brea in rush hour traffic to bring home your groceries, instead of you.
Boxed App
Using the Boxed app is like having a Costco membership, without spending the entire day pushing a massive shopping cart through their warehouse with grumpy kids in tow. Basically because they get stuff from Costco. In other words: Costco priced bulk products, all delivered to your home, with no membership fee and free shipping. Seriously.
Liz uses it and says it's just fantastic for when you need a dozen rolls of Bounty paper towels (currently $17.99) or enough GoGo Squeez packs to keep your kid in organic applesauce treats for three weeks (currently 20 pouches for $10.69). Also, there are lots of the healthier small brands we love like Annie's Organic, Stonewall Kitchen, Quinn Popcorn, Horizon Organic, Honest Kids, and Late July, all right alongside the big packaged good brands you'd expect.
Also, they just added an Express feature in certain markets, which delivers fresh fruits, veggies, frozen foods and breads to you at a time you choose from local stores. Kind of like Fresh Direct.
The app highlights the retail price of each item—from organic baby formula to Starbucks coffee—and then shows you the discount you get with Boxed, but take some of that with a grain of salt, and maybe even compare with some bulk deliveries on Amazon. We will say the only main downside to Boxed is the $75 minimum you have to hit to get free shipping — though you're likely to hit it easily since you're buying in bulk — and the 2 business day wait for shipping, which can be a wee bit late from time to time. That said, you can order their standard boxes from anywhere in the country, which isn't true of any of these other services.