As soon as my kids were sitting in a high chair, they wanted to eat whatever was on my dinner plate and not the mush of baby food in their dish. And, most of the time, I was happy to satisfy their curious tastebuds with little bits of food that I'd tear with my fingers. Effective, but messy, and probably not entirely sanitary. Though my kids can use a fork and knife on their own now, I'm digging the BiteSizers mealtime scissors by Mixed Pears. These small kitchen scissors make it easy to create bite-sized pieces of "grown-up" food without the mess of my DIY method.
Using BiteSizers is also a whole lot easier and way faster than using a fork and knife to cut everything up, which is a plus when you have a ravenous toddler at the dinner table. Those messy hands and sharp new teeth will get you good if you don't feed them quickly!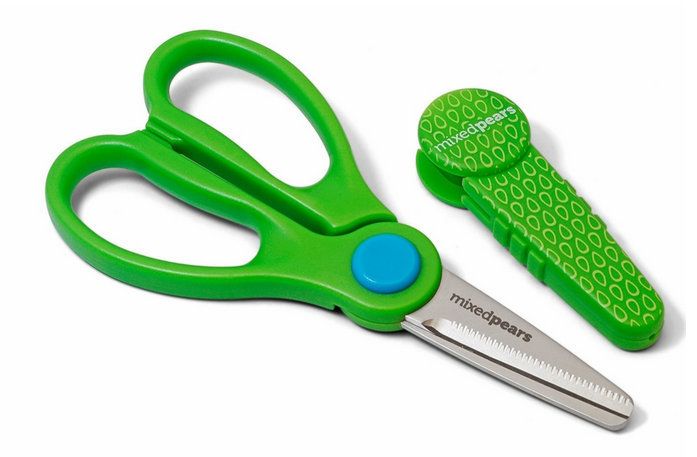 BiteSizers are a small set of kitchen scissors made with food-safe stainless steel that have comfortable finger grips designed to work in either the right or left hand. And while these scissors are sharp, the rounded tips protect you—or unpredictable toddler hands—from pokes. But you should note that it's the adult that should be using these scissors, not the kids, even if they do look a lot like the "kid friendly" scissors in your art supply bin.
Since these are "real," aka sharp, scissors, I am glad that they come with a snap-on plastic cap. That way, you can toss BiteSizers into your bag for on-the-go meals and reach in to search for them without worrying about cutting yourself. I also appreciate that the colored circle above the blades can be used as a guide to show the maximum size food pieces should be to prevent choking in young kids. How handy is that?!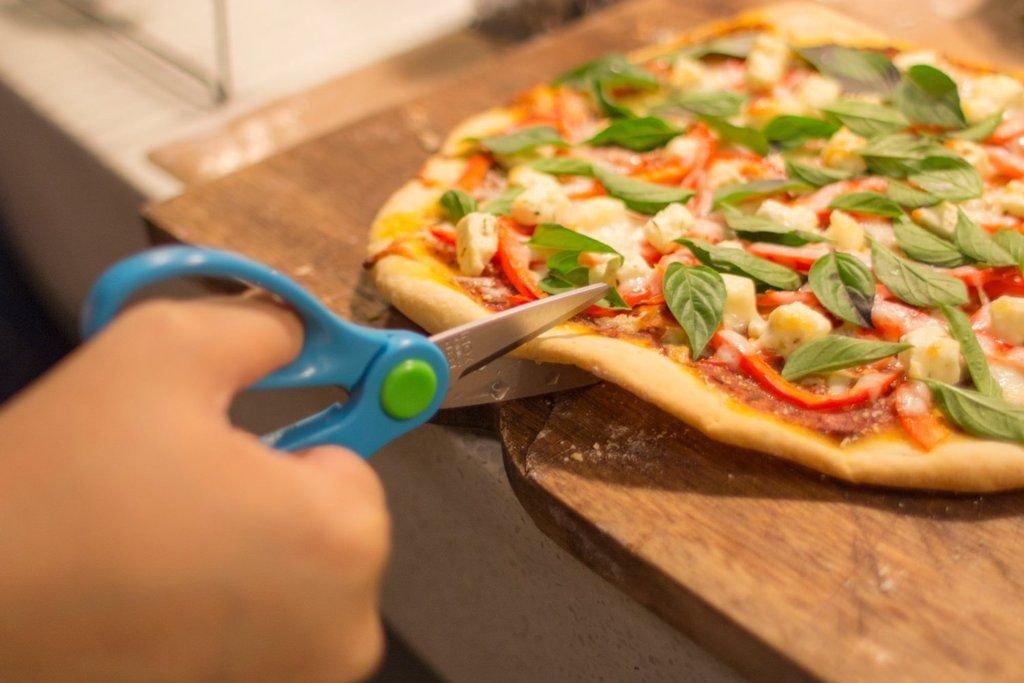 Every part on BiteSizers has been lab tested to be food-safe and free of BPA, lead, PVC, phthalates, and formaldehyde. In other words, these kitchen scissors leave nothing on the food that you have to worry about going into your little one's body. Now let's hope that those beautiful beets you just cut into small chunks make it down the hatch.
BiteSizers scissors are available for $19.95 on the Mixed Pears site and $17.95 at our affiliate Amazon. Cool Mom Eats is an rStyle affiliate.
Top photo: Must Have Mom using BiteSizers in action!