Every Thanksgiving I run into the same problem. I'm swamped trying to get our Thanksgiving feast on the table and the kids are restless waiting for the food to be done. There's only so much parade watching that they can tolerate. And though organizing a craft or setting them up with an activity like making cookies would occupy them, even just the thought of doing either is way more than my Thanksgiving brain can handle. Enter Eleni's Color Me Thanksgiving Cookies.
Related:Your Thanksgiving cooking schedule: A sanity-saving holiday meal prep plan.
These kosher, nut-free butter cookies come pre-iced with white royal frosting that you can then decorate with the included edible markers. That's right: coloring on cookies. All you have to do is pull out a tin from the cupboard and you have an awesome art project and yummy treat with zero effort on your part.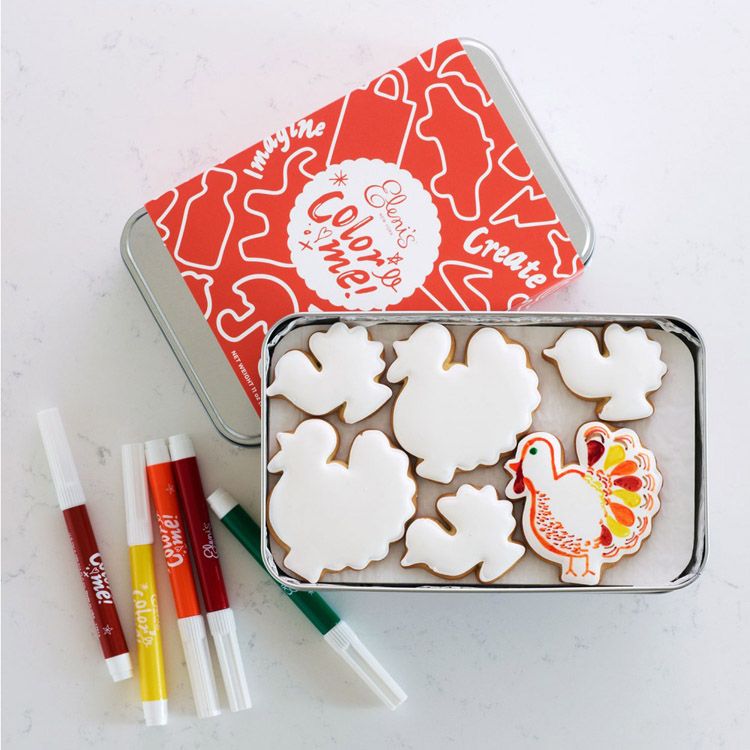 Plus, how cute are those cookies? Seriously. They're tasty, too. Our editor, Stacie, lives near Eleni's and stops by for samples as often as possible. She swears that these aren't your typical hard-as-a-rock packaged iced cookies. I'm glad to hear it considering the hefty price; just keep in mind that for $35 you get 12 cookies, markers, and occupied children. It's worth it on a special occassion, if you ask me, especially if you take credit for baking them.
Don't worry: I won't tell.
Find Eleni's Color Me Thanksgiving Cookies for $35 at Dean & Delucca or the Eleni's New York website.