Can we all agree that the best part of Thanksgiving is pie? In my family, there are some essential Thanksgiving pie recipes that will never change. Like my mom's pumpkin pie: She's a purist and her pie is absolute perfection. There will be no messing with it. That said, as long as we know we're going to have her classic, it's okay to also bring some unexpected twists on traditional recipes to keep things interesting, too.
So, in honor of the big Thanksgiving pies—pumpkin, pecan, apple, sweet potato, and cranberry—here are 5 classic recipes and 5 modern updates on our holiday favorites, too. Oh, and don't forget the whipped cream. You're gonna need that.
Top: Pumpkin Pie with Bourbon Crumble and Cinnamon Whipped Cream | Traveling Fork
Related: How to store baked goods, from cakes to pie, so that they taste great even 3 days later.
Pumpkin Pie

If I had to pick just one slice of pie, it would be pumpkin. (But we all know I'm not going to pick just one. That would be ridiculous!) If you're looking for a classic pumpkin pie recipe that could become your family's Thanksgiving tradition, try this one from Delicious Shots. It's got the perfect spice-to-pumpkin ratio. Yum.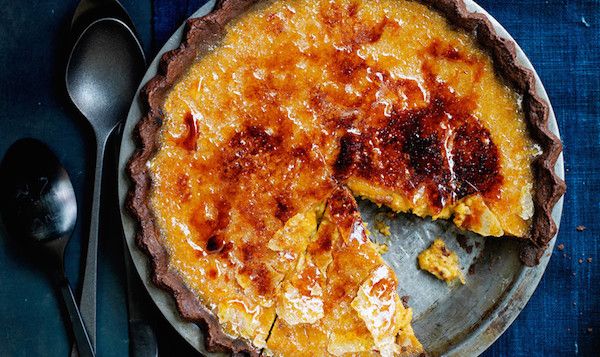 Brûléed Bourbon-Maple Pumpkin Pie | Photo: Christ Court for Bon Appétit
The creaminess of pumpkin pie makes it the perfect base for a creme brûlée top. If you have any doubt, look at this Brûléed Bourbon-Maple Pumpkin Pie at Bon Appétit. Absolutely delicious! Or, if you don't have a kitchen torch on hand, you can still get some of that bourbon flavor with this Pumpkin Pie with Bourbon Crumble and Cinnamon Whipped Cream at Traveling Fork (photo at very top). These are serious contenders for your dessert spread.
Pecan Pie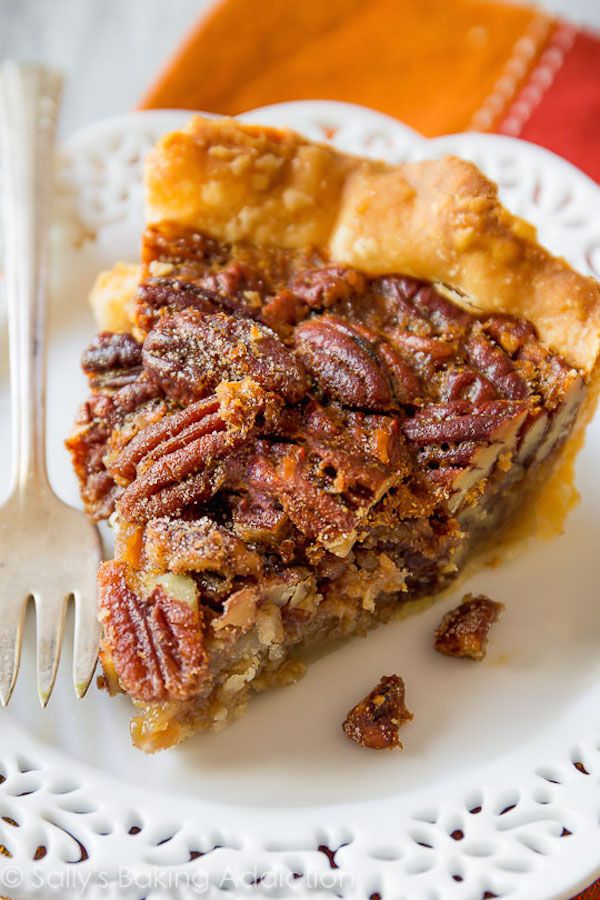 When I was a kid, I would pick all the pecans out of my grandmother's pie and eat just the dark Karo syrup custard at the bottom. Now I'd stuff it full of pecans, like in this Classic Pecan Pie recipe at Sally's Baking Addiction. That's a lot of sweet, nutty goodness right there.
Related: 8 tips for how to make homemade pie perfectly. Or, you know, nearly perfectly.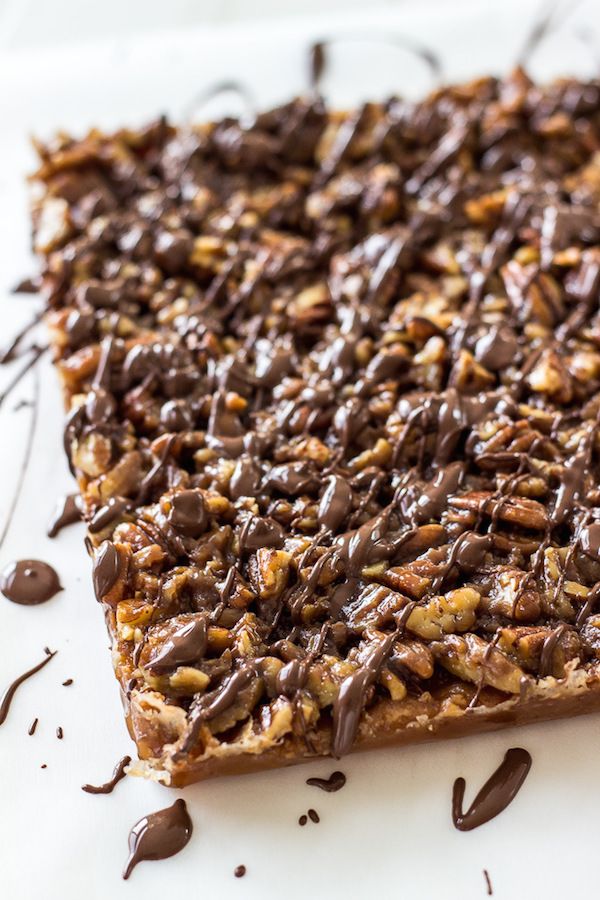 You can't have too many pies on your Thanksgiving table, but if you end up wanting an alternative to traditional pie that's still a nod to the classic, try these Chocolate Drizzled Maple Pecan Bars at The Beach House Kitchen. If you somehow manage to have leftovers, you can easily cut these into squares and wrap them in wax paper for pretty on-the-road treats when your out-of-town guests head back home.
Apple Pie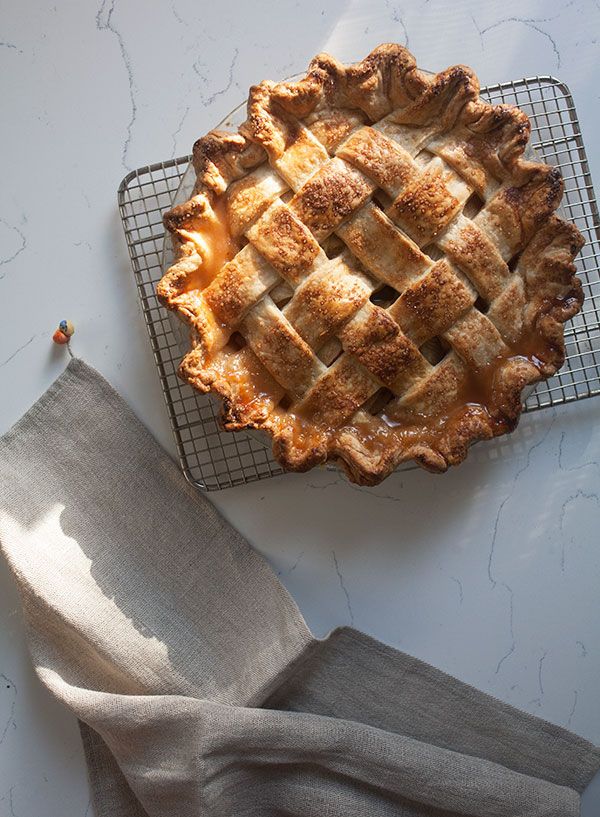 If you have an over-the-top, decadent meal, this simple Classic Apple Pie at A Cozy Kitchen will make a perfect sweet ending. Adrianna keeps it low-key (but delicious) with brown sugar, cinnamon, and a mixture of sweet Honeycrisp apples and tart Granny Smiths. Because sometimes the simplest basics are the best.
Oh my golly, you guys. There's Nutella in these Mini Caramel Apple Galettes at Sugar Spun Run. Nutella! But one of the reasons this recipe is so great—other than the Nutella—is that the caramel sauce is drizzled on top rather than baked in, so each person can put on as much or as little as they want. Perfect if your guests crave different levels of sweet.
Related: 10 delicious twists on apple pie recipes to have your pie and eat cake, bread, and cookies, too.
Sweet Potato Pie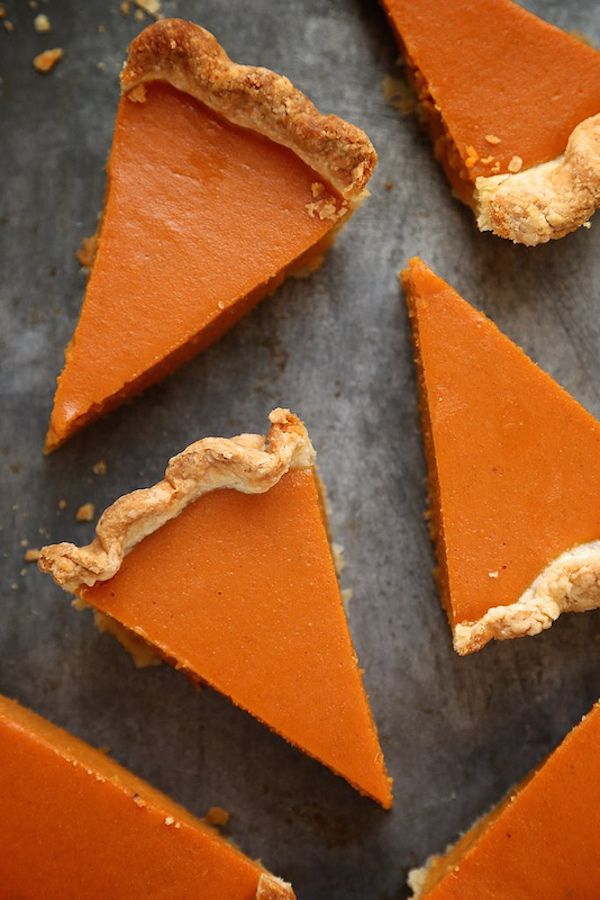 The main difference between sweet potato pie and pumpkin pie is sweet potato's velvety texture (compared to pumpkin's custard feel) and that beautiful bright orange color. Other than that, they're very similar. But if you're going with sweet potato this year, we trust Joy the Baker's recipe for Dad's Sweet Potato Pie. This is the kind of pie that makes childhood memories for your kids. It did for Joy.
If you haven't tried chocolate and sweet potato together in a pie before, you most definitely should. This Nutella Swirled Sweet Potato Pie at Catz in the Kitchen takes it to a new (and better) level with added nuttiness that you get from Nutella. Plus, look at how beautiful the swirls are. This pie will win serious points with the in-laws.
Related: Your Thanksgiving cooking schedule: A sanity-saving holiday meal prep plan.
Cranberry Pie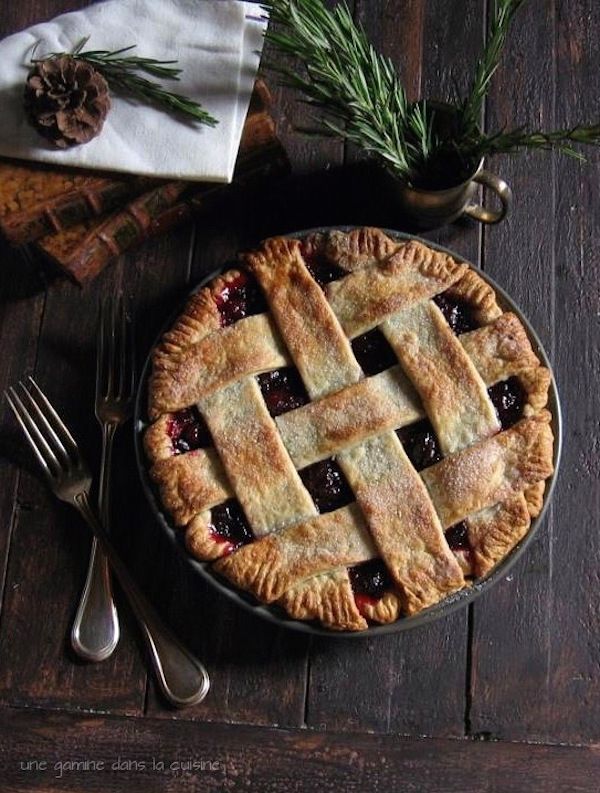 I love the tart fruitiness of cranberries for dessert after a dinner loaded with carbs and cream, plus, when else are you going to bake a cranberry pie? This Cranberry Pie with Rosemary Buttermilk Crust at Une Gamine Dans la Cuisine is calling me with its buttery, herb-y crust. Are 10 pies on our buffet going to be too many? I seriously hope not.
Do not throw out the scraps of crust from your apple or pumpkin pies. I repeat, do not throw them out! You can still get that yummy cranberry flavor on your dessert buffet without making a whole pie with these Cranberry and Walnut Pinwheels at Diethood. They are the perfect bite-sized dessert, and they're actually filled with some not-too-bad-for-you ingredients. (Almost) guilt-free dessert on Thanksgiving? Yes, please.