We are all for Christmas cookie gifts around here! Whether you want to bring a tasty treat as a hostess gift or plan to make a giant batch of your famous sugar cookies to give out to all your friends and your kids' teachers, I've found some fun and fresh ways to package up those cookies for the holidays to ensure they make it to their final destination in one piece. You know, so that they can end up in the real final destination: Someone's happy belly.
The best part: they're both easy to make and lovely to receive. No matter how long they last.
Top: Printable Cooking Envelope | Going Home to Roost blog
Related: Easy cookie swap recipes to impress… without the hard work.
Package Cookies in a CD Sleeve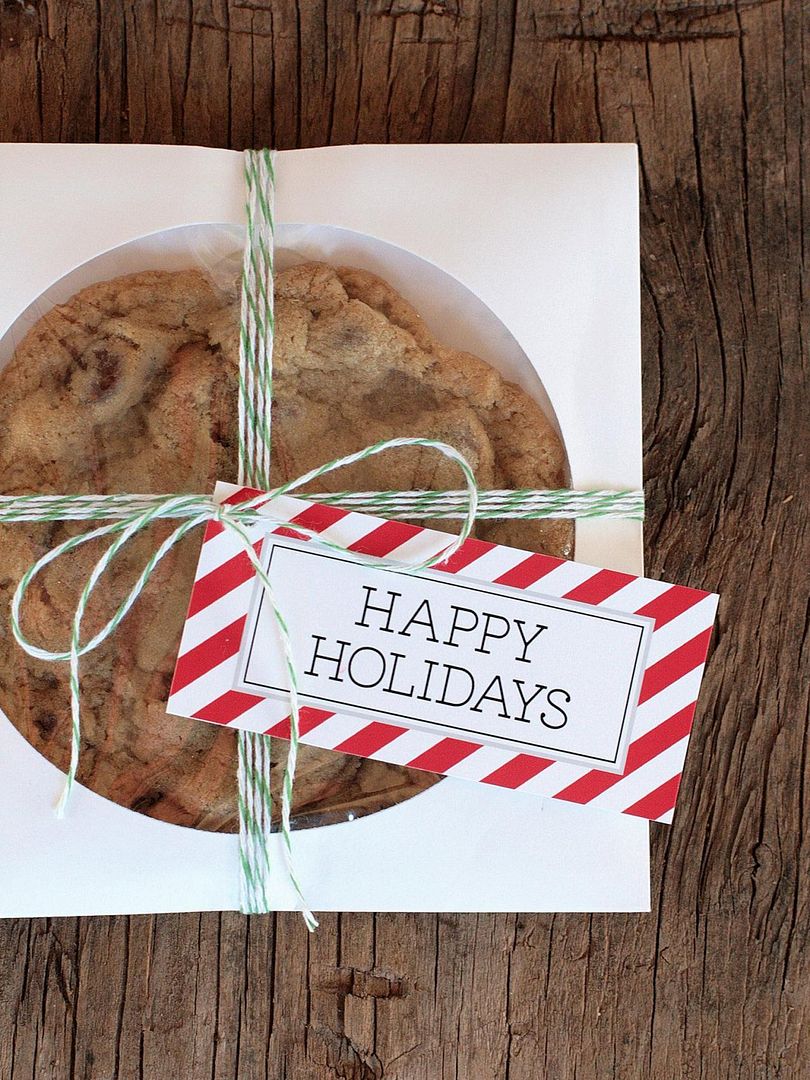 What's better than one cookie? One giant cookie, especially when you bake your favorite cookies in XL size and tuck it into a plain CD sleeve to make one special Christmas cookie gift. (Plus, how else are you going to use CD sleeves? Ha!) Just add the free printable tags from TomKat Studio featured on HGTV and make the unadorned white wrappers look holiday-worthy. (You'll need to scroll about halfway down the page to find the free printable tags.)
Make Some Kid-Decorated Gift Boxes
Put Santa's little helpers to work with this adorable decorated cookie gift box craft via Pottery Barn Kids. For very young kids, you can precut snowmen, Christmas trees, and gingerbread shapes for them to decorate, while older kids can put their own artistic spin on things. Then, all you have to do is fill the boxes with cookies and watch your recipients grin when they see their one-of-a-kind gift.
Related: Homemade shortbread cookies with lavender salt: My easy, go-to dessert recipe for every holiday party.
Fold Up Free Printable Cookie Envelopes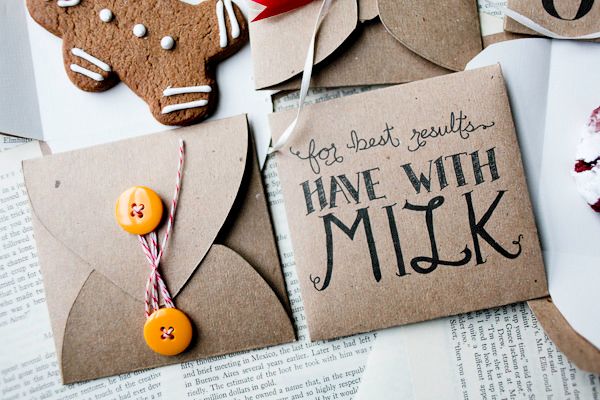 This free printable DIY cookie envelope from Going Home to Roost (above & top) features a festive holiday saying on the front that helps turn this into a very gift-worthy treat, even if it isn't all red and green. I actually love the craft-paper look of the card stock used, though you could print it on white or colored paper, too. The button fastener makes the whole thing look really snazzy, but our recipients wouldn't mind if we we went crafting lite, and wrapped things up with a piece of colorful tape.
Wrap Cookies in a Tea Towel
Deliver a delicious bundle with this neat idea from Make and Takes: wrap fresh-baked treats in a new dish towel and you have two gifts for your recipient to keep. Just be sure to package the cookies together first before you wrap the towel around them, and don't forget to attach a cheery handwritten tag.
Related: Cool hostess gifts: Handmade tea towels you'll want to keep for yourself.
Top a Christmas Cookie Tin with a Free Printable Label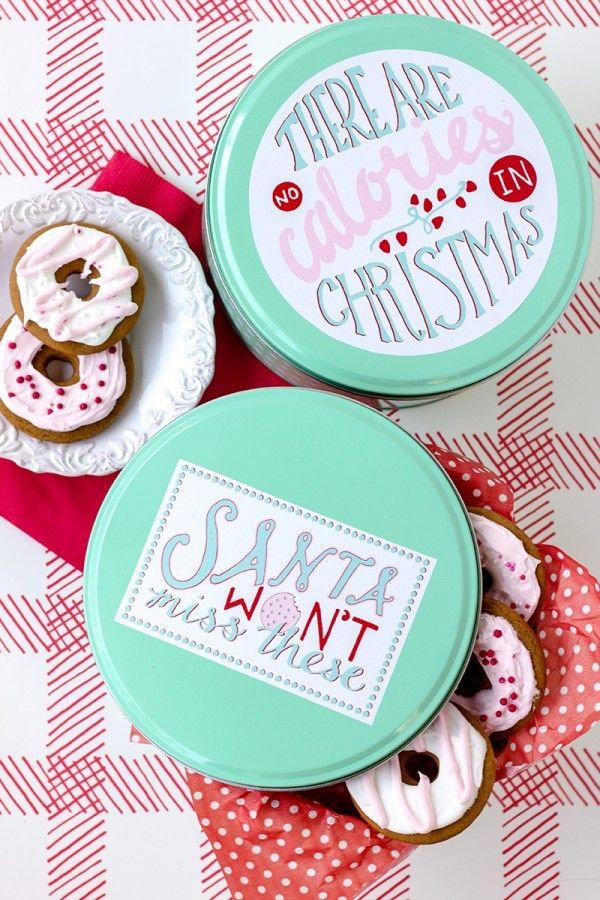 I have amassed quite the collection of Christmas cookie tins over the years, so I love this cookie gift idea from Striped Cat Studios for Studio DIY that nicely packages Christmas cookies in cookie tins for my family and friends. The two clever printable gift labels promise a guilt-free Christmas to your recipients, and hey, we're buying it. So feel free to stuff those tins full.
Package Christmas Cookie Gifts in Take-Out Boxes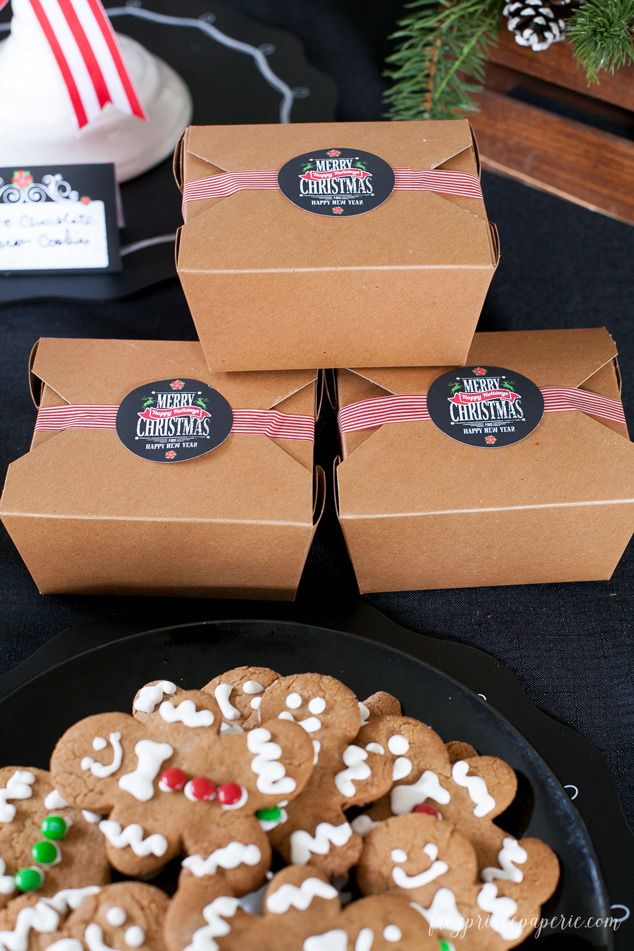 If you're hosting a cookie swap or just planning to give someone a big batch of your favorite cookies, check out how cute a take-out box looks with these free printable Christmas cookie gift labels at Frog Prince Paperie. A strip of coloful washi tape along the top keeps everything in place long enough to get the cookies home. And, more importantly, it's easy to tear off for a quick snack.
Related: The very best peanut brittle recipe, adapted from 10 cookbooks and perfected over 20 years!
Stack Cookies in Clear Plastic Tubes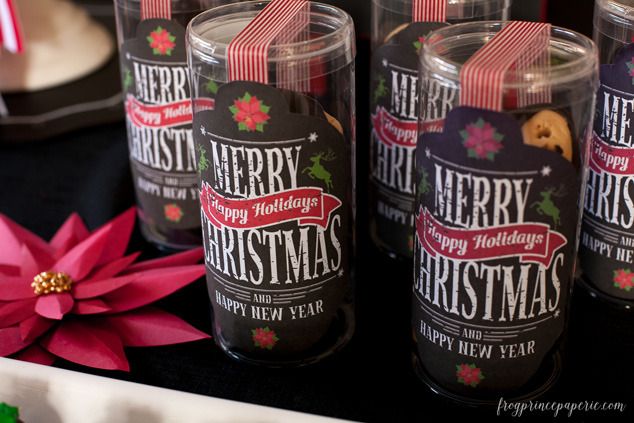 I love how the cylinder labels, also from Frog Prince Paperie, look on clear plastic tubes filled with fresh cookies. This one is so easy to do, and the fact that the tubes are rigid makes them ideal for teacher gifts; you can slide one into your child's backpack without worrying about your carefully made treats turning into crumbs by the time they get to school. Well, at least in theory.
Make a Milk and Cookies Gift in a Tall Glass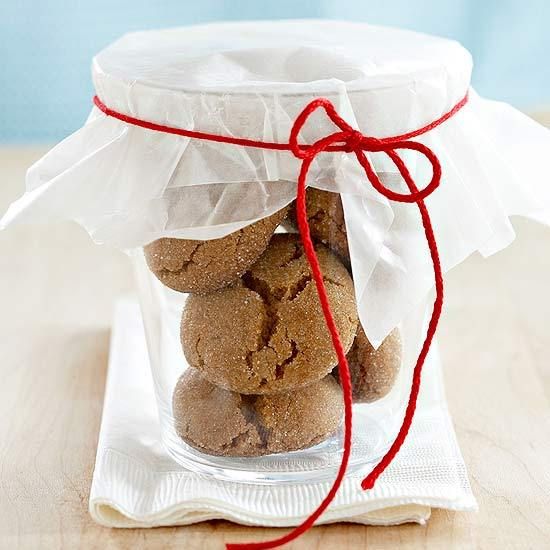 Gift someone "milk and cookies" with this clever Christmas cookie gift idea from Better Homes and Gardens, which tucks a few cookies into a drinking glass. Just top with waxed paper for a sweet midnight snack. Also check out the recipe that BHG shares on their site for the Cardamom Snaps featured in the photo. They sound delicious.
 Wrap Cookies in Parchment
Parchment circles make an excellent cookie gift wrap for a small stack of Christmas cookies, as shown in this photo from A Creative Mint. If you're a frequent baker, you may even have this useful kitchen product among your baking supplies, meaning one fewer trip to the store. Red-and-white baking twine ties things together nicely, or use a bit of colorful ribbon and coordinating washi tape. Simple, pretty, and yum.
 Make your own DIY Paper Plate Cookie Basket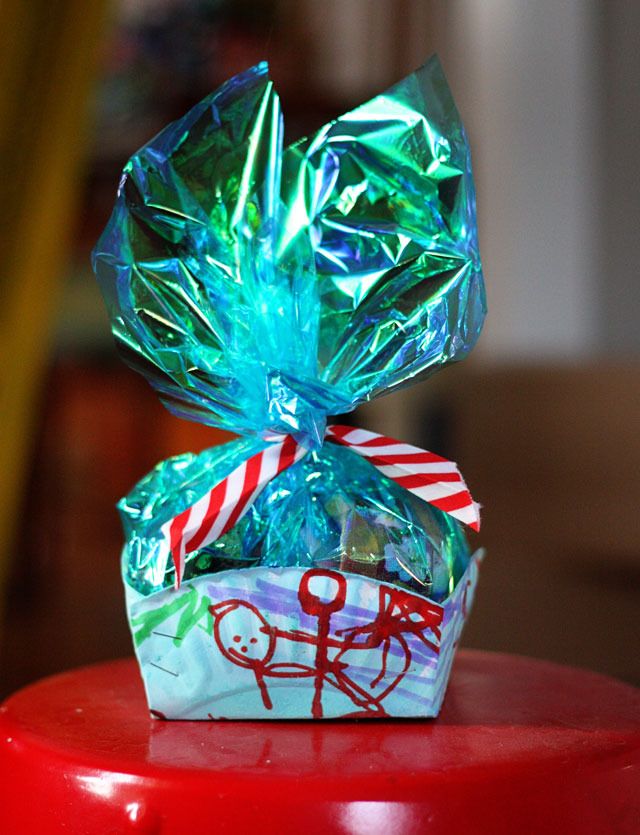 If your kids like to help in the kitchen, they may also love helping decorate a DIY cookie gift basket. Using only a simple white paper plate that is stapled into a basket shape, this idea from Aunt Peaches is a great one for teachers and grandparents. In other words, those people who love your kids' scribbles as much as you do.