Next week is Teacher Appreciation Week, with national Teacher Appreciation Day on May 3rd, and, you guys, they deserve it so much. Whether they're wiping noses and teaching kids to read in Kindergarten or dealing with hella hormones in middle school, our kids' teachers work seriously hard and deserve as much appreciation as we can possibly show. And, no, that doesn't have to mean spending lots of money. In fact, these fun food gift for teachers are an inexpensive and thoughtful way to say thank you.
Because saying thank you with food is saying thank you the best way, don't you think?
Related: The best teacher gift ideas from teachers!
Top: Iced apple sugar cookies at A Baker's House | Rolos Pencils at Simply J Studios
Even if you're not a master pastry chef—which I am most definitely not—these adorable Mini Apple Cupcakes at Evermine are so do-able. Plus, she gives tips on how to DIY those adorable gift boxes and tags, which really take these from a solid A to an A+.
I did a double-take when I realized these tiny chalkboards are actually made of chocolate. Whoa! Sure, these are going to take some time and skill in the kitchen, but Beth at Hungry Happenings gives really clear directions on how to turn dark chocolate bars into Chocolate Chalkboards. The teachers we know would definitely appreciate the effort.
Simply J Studio shares an easy tutorial showing how to wrap candy to look like a pencil, because teachers don't actually want a wreath made of pencils. But candy? Yes, please.
Related: Say thank you with these yummy edible gifts for Teacher Appreciation Day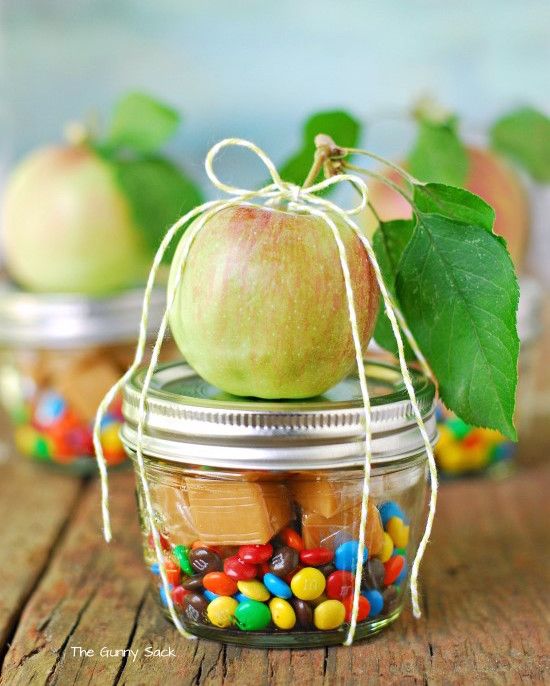 Teachers get a lot of food at the end of the school year, but this DIY Caramel Apple Kit that we found at The Gunny Sack allows them to wait and enjoy this one when they get the craving for a decadent, caramel-covered treat. You can add your teacher's favorite toppings—whether M&M's, nuts, crushed Oreoss, or chocolate chips—for a personal touch.
The sugar cookie and white royal icing base on these clever Handwriting Cookies at Sugar Dot Cookies are pretty easy. That said, we'll need to practice our handwriting to get these just right. But if you do, they'll be so worth it.
Keep it simple by using an apple cookie cutter and some store-bought cookie dough, then print out these free labels at A Baker's House to make an adorable gift out of these cute Apple Cookies. If you have the time and would rather go homemade, click through Holly's link for scratch recipes for the cookies and icing that will taste even better. Get the kids to help with the sprinkles on these.
For those of you who don't have the time or patience to make elaborate cake pops or handwriting cookies—which are amazing, but whoa—these fun Apple Pretzel Bites at Two Sisters Crafting are a cute treat that you can make the night before. Even kids as young as preschoolers can help with these, which makes them extra sweet.