Our dedicated readers know that I'm all about using healthy shortcuts to help me get my cooking done faster — especially around the holidays when time is at a premium and I'd rather spend more time with my family than in the kitchen. I've recently shared a lot of fantastic holiday appetizer recipes and delicious side dish recipes that you can whip up even faster using my favorite store-bought shortcut: quality jarred sauce. Now, onto the main course!
Because we all know that the main course is the main event.
Top: Our own Quick Brisket with Tomato Risotto | Calamari Fra Diavolo at Taste | Lamb Shanks in Red Wine Sauce at Recipe Tin Eats | Prosciutto Filled Beef Braciole at Honest Cooking
Related: 7 delicious holiday side dish recipes made easier with a smart store-bought shortcut.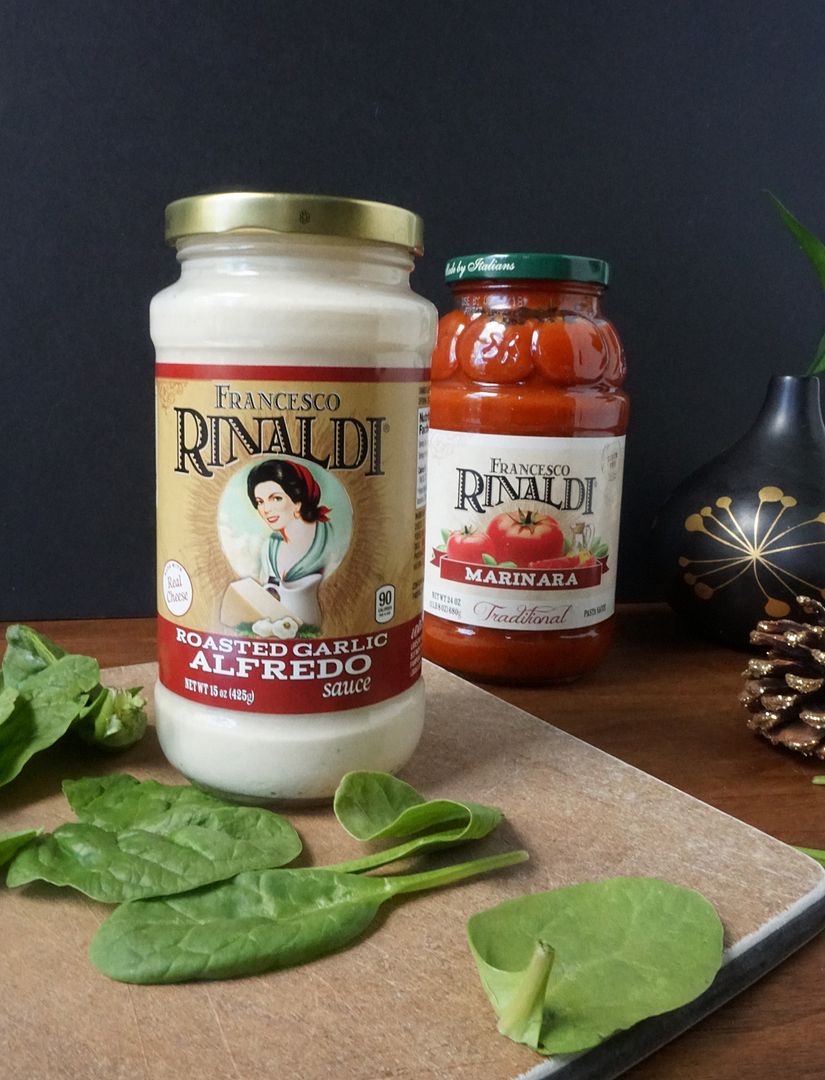 I'd call these holiday dinner recipes special occasion meals, since they take a little extra effort than your typical weeknight fare. Which is exactly why I'm psyched to have help from our amazing sponsor, Francesco Rinaldi. As a family-owned business creating tomato-based and Alfredo sauces from handed-down Italian recipes, our friends at Francesco Rinaldi definitely understand the importance of family — and how having even 10, 20 or 30 extra minutes with them at night means a lot this time of year.
So join us in grabbing a jar of sauce (and maybe a glass of wine) and save some time while cooking up one of these 7 fabulous holiday meals.
Holiday Dinner Recipe #1:
Quick Brisket with Tomato Risotto

For me, the holidays are all about slow-cooked meats — but the slow part can be a bummer. See, even when a recipe is hands-off, I can't fully relax until it's been fully cooked and passes my taste test. So I couldn't be more excited to have created this recipe for a Quick Brisket with Tomato Risotto.
It's not only fantastic, but it cooks up just a bit over 75 minutes total, from start to finish; instead of the usual four hours.
(I know!)
This meal really delivers big flavor thanks to a simple combination of premium ingredients and a base of chunky, tangy Francesco Rinalidi Marinara Sauce, which is made with the same ingredients you'd use to make one from scratch. Just add a little fresh onion and garlic and a splash of wine, and get ready for the compliments to roll in.
And hey, if you'd rather do it the old-fashioned way in a slow cooker, I've got a variation to help you there too.
Quick Brisket with Tomato Risotto
Serves 6
2 tablespoons olive oil
1 medium onion, chopped (about 1 cup)
4 cloves garlic, thinly sliced
3 lb flat cut beef brisket
Salt
Black pepper
1/4 cup dry red wine
1 1/2 cups Francesco Rinalidi Marinara Sauce
1/2 cup chicken broth
2 cups Aborio rice
1/2 cup frozen peas
Juice of 1/2 a lemon
Parmesan cheese, to taste
Chopped fresh basil, for garnish (optional)
1. Add the oil to the insert of your pressure cooker or Instant Pot and set on "sauté." Once sizzling, add onion and garlic; stir and cook until fragrant, about 1 minute. In the meantime, generously season the brisket with salt and pepper. Add to the insert and brown on one side, about 3 minutes. Flip and brown the second side, another 3 minutes.
2. Add red wine and cook until reduced slightly, about 1 minute. Add the marinara sauce and chicken broth. Lock the lid of your pressure cooker or Instant Pot into place and set the valve to "sealing." Using the manual setting, set the device to "high pressure" for 75 minutes. (If you're using a slow cooker instead, set on high for 6 hours.)
3. Quick release the pressure by carefully turning the valve to "venting" and, once you're able, unlock and open the lid. Remove the brisket and add the rice. Stir and lock the lid in place, re-setting the valve to "sealing" and set on "high pressure" for 7 minutes.
4. Once again, quick release the pressure by carefully turning the valve to "venting" and, once you're able, unlock and open the lid. Stir in peas, lemon juice, and Parmesan. Taste and adjust salt, pepper, and Parmesan. Slice the brisket and place on a platter, add risotto to the platter, too, and sprinkle basil over the top before serving immediately with more Parmesan on the side.
Holiday Dinner Recipe #2:
Calamari Fra Diavolo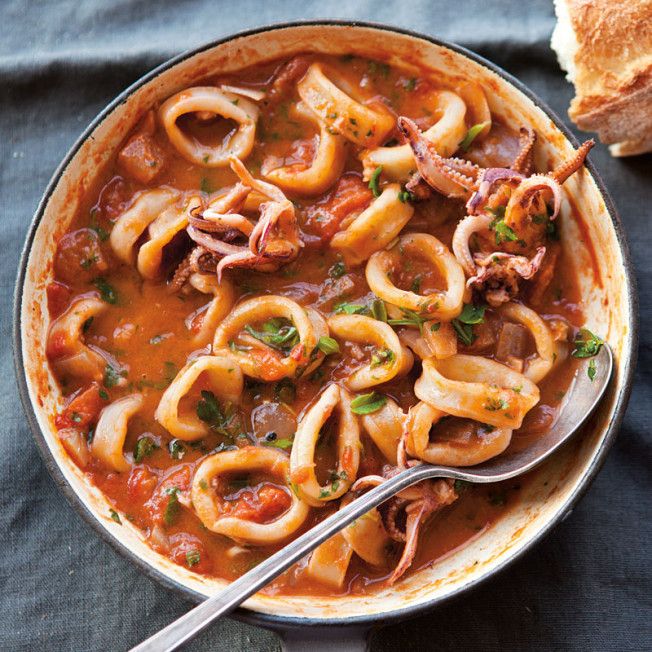 For many people, a seafood dinner on Christmas Eve is an annual tradition. With so much rich food to tempt us over the holidays, I love the idea of keeping some holiday meals light like with this Calamari Fra Diavolo found at Taste, the blog at Williams-Sonoma, even if it isn't a tradition in your family. This dish does just that, without skimping on flavor even a little bit.
Instead of whole peeled tomatoes, amp the flavor of the sauce by substituting Francesco Rinaldi Original Recipe. That, plus the wine and fish broth will yield an amazing dinner — especially served over the Baked Polenta Casserole that I included in my roundup of my favorite, easy holiday side dish recipes.
Holiday Dinner Recipe #3:
Spicy Shrimp Pasta in Garlic Tomato Cream Sauce

I've got another seafood option that I think you'll love for a memorable holiday meal. This Spicy Shrimp Pasta in Garlic Tomato Cream Sauce at Julia's Album will make an amazing — and fairly easy — holiday dinner just paired with some veggies on the side, and a salad.
My suggestion to amp up this recipe is to swap in Francesco Rinaldi Tomato, Garlic & Onion Sauce for the plain crushed tomatoes. Because if you're up for spicy, you might as well go big with flavor across the board.
Related: 7 delicious, easy holiday appetizers made even easier with a smart store-bought shortcut.
*********************
About our sponsor
You might be surprised at what shows up on the ingredients list of many jarred tomato sauces when you read the labels, which is why we love family-owned Francesco Rinaldi. Their high-quality ingredients and simple recipe blends are the key to big, fresh flavor, making their tomato and Alfredo sauces delicious.
Not only are their sauces made by Italians from family recipes to help you feed your own family more easily, but Francesco Rinaldi has even made their jars family-friendly too. Their new lightweight, shatterproof package is a boon to parents (especially if your kids are old enough to help carry the groceries to the car) and, of course, they're totally recyclable. Yay for store-bought goodness, inside and out.
Be sure to try these holiday recipes — and also use your favorite Francesco Rinaldi sauce over pasta for a quick weeknight dinner that the whole family will love — and share your creations on Facebook using the hashtag #GetSaucy.
*********************
Holiday Dinner Recipe #4:
Slow-Cooker Parmesan-Herb Pork Loin with Chunky Tomato Sauce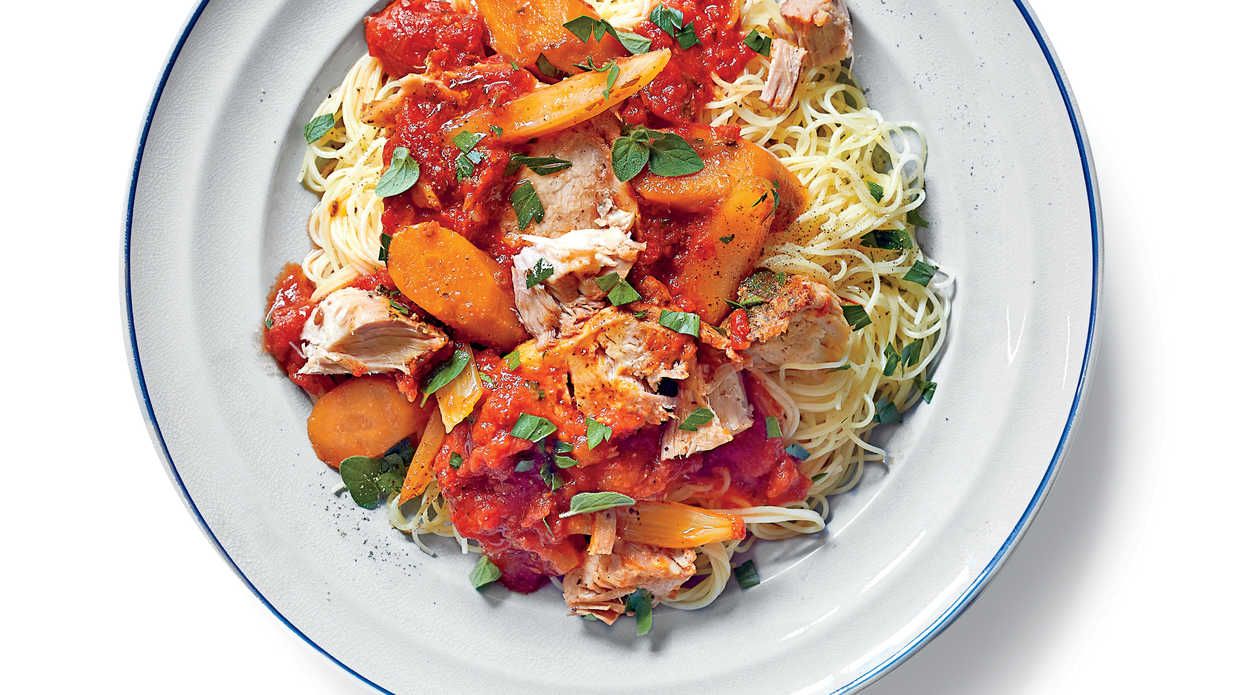 Parmesan-Herb Pork Loin with Chunky Tomato Sauce | Photo by Hector Sanchez for Southern Living
Part of the genius of this recipe for Slow Cooker Parmesan-Herb Pork Loin with Chunky Tomato Sauce at Southern Living is that you can prep it the night before, start cooking the morning of, and eat when it's done — you know, after you've been relaxing for 8-plus hours. Sounds like my kind of holiday cooking!
The recipe calls for crushed and whole tomatoes, but you can give the dish extra zing — and minimize your shopping list a bit — by using Francesco Rinaldi Tomato & Basil Sauce to replace both.
Holiday Dinner Recipe #5:
Slow Cooked Lamb Shank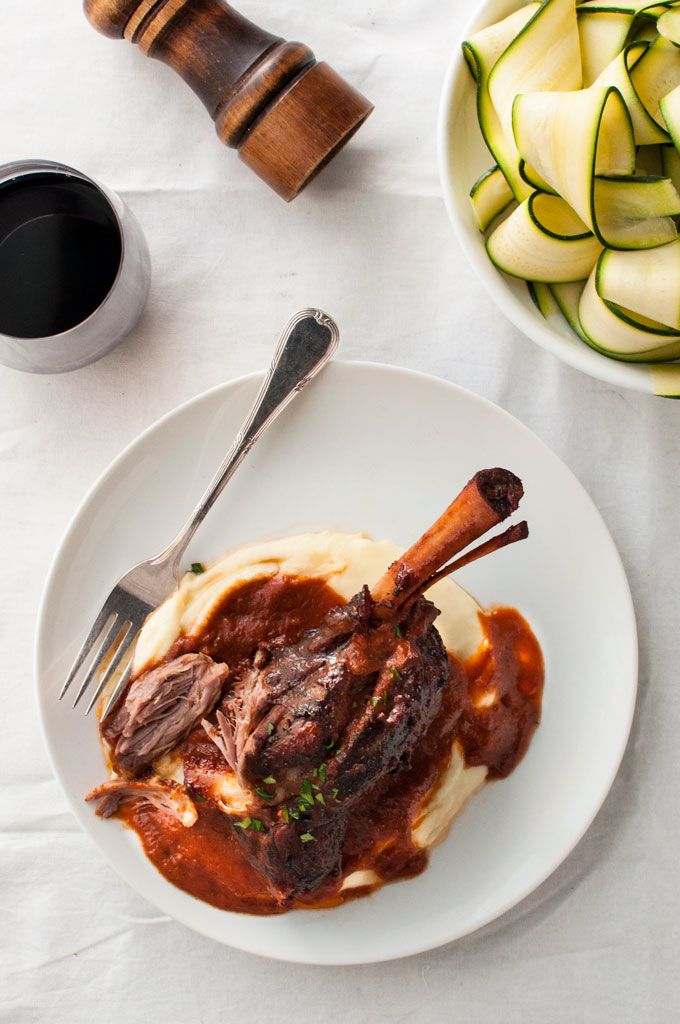 If you ask this Greek girl, lamb is always a good idea, especially if it's falling-off-the-bone lamb shanks. Mmmm. This recipe for Slow Cooked Lamb Shanks in Red Wine Sauce at Recipe Tin Eats is a no-brainer for me. And, by the way, it can be adapted for your Instant Pot, if that's how you're cooking these days.
Meltingly tender and smothered in a red-wine spiked sauce, this is a main entree made for a holiday table. To keep it simple, skip the crushed tomatoes and tomato paste and instead swap in the fresh flavor of Francesco Rinaldi Marinara Sauce. Because sometimes, less is more.
Holiday Dinner Recipe #6:
Chicken Alfredo Lasagna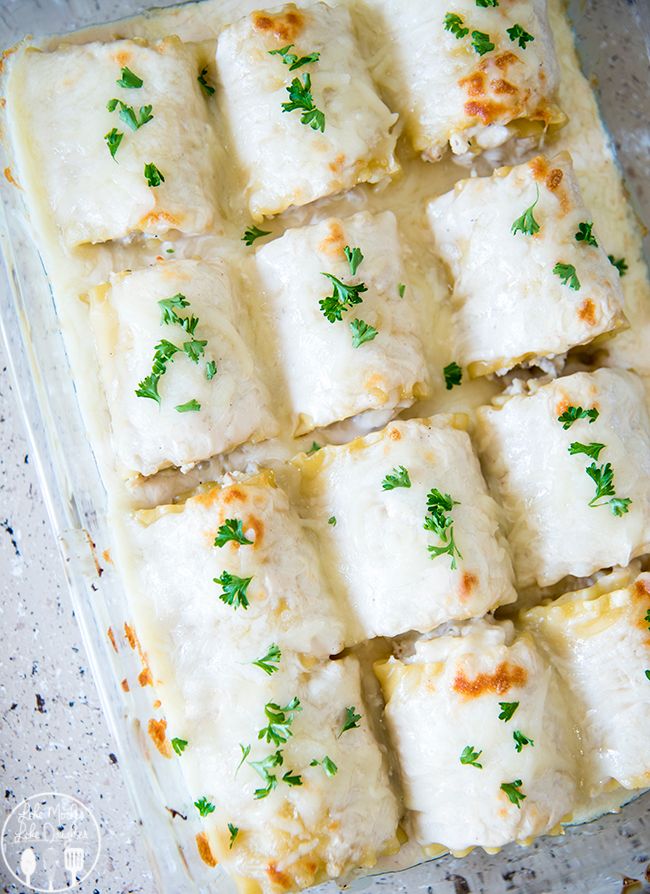 If you have vegetarians in your clan — or maybe just a picky kid going through a no-meat phase, like I do — it's smart to plan a main holiday entree that they can enjoy too. In my house, the vegetarian option is in addition to a meat entree, which means it needs to be an easy crowd-pleaser that can double as a side for those of us eating beef or lamb. These Alfredo Lasagna Roll Ups at Like Mother Like Daughter hit all the marks — just leave out the chicken and you've got a fantastic vegetarian dish that doesn't skimp on flavor or festivity.
Of course you can always leave in the chicken and swap in the really delicious Francesco Rinaldi Roasted Garlic Alfredo Sauce. Yum.
Holiday Dinner Recipe #7:
Prosciutto Filled Beef Braciole

I've always wanted to attempt a classic Italian Braciole, and the holidays are the perfect time to do it. I'm smitten with this extra special Prosciutto Filled Beef Braciole that I found at Honest Cooking, because when else can you unabashedly combine prosciutto and beef? Carnivore's delight!
Since we're gilding the lily anyway, you can get a little more decadent by replacing the crushed tomatoes with the Francesco Rinaldi Three Cheese Sauce. It's a deliciously simple tomato sauce, flavored with Pecorino Romano, Parmesan, and Ricotta that's still low in fat. Yes!
Thank you to our sponsor Francesco Rinaldi for their wholesome tomato-based sauces and Alfredo sauces, all made by Italians from handed-down family recipes. We can feel good about sharing them with our own families, while making our home cooked dinners — and even holiday meals! — that are much easier to pull off.
To learn more about their products, visit the Francesco Rinaldi website or find them on Facebook where you can share your Francesco Rinaldi creations, including these recipes, using the hashtag #GetSaucy.