Let's be totally honest here: The very best part of Christmas is the cookies, right? Getting in the kitchen and baking with my kids is one of my favorite traditions of the season. Of course, we can't choose just one, so we end up making six or seven different Christmas cookie recipes. Soft molasses cookies, chocolate snowballs, thumbprint cookies, and always a huge batch of Spritz.
If you're looking for some new inspiration for your classic Christmas cookie baking session this year, look no further than these mouthwatering, tested-and-approved recipes that we absolutely love.
Top: Vegan Snowmen Meringue Cookies at Vegan Huggs
Related: The great 2016 holiday cookie gift guide.

No matter how hard I try, I cannot resist Soft Ginger Molasses Cookies. This recipe at I Heart Eating is guaranteed to be soft and chewy, thanks to a combination of shortening and butter. And a BTDT tip from a busy mom whose spice cabinet runs low sometimes: You can substitute pumpkin pie spice for the ginger and cloves in a pinch.
Every year, my mom pulls out her vintage cookie press to make Spritz cookies. This recipe at Valya's Taste of Home is pretty much the same as the one I grew up with, and my favorite part about this recipe is that it makes around six dozen cookies. Perfect if you've been pegged with the job of bringing snacks to the school party this year.
You guys, these Twix Cookies at Mandy's Recipe Box are amazing. Amazing! I'll confess that I skipped a step and bought a box of my favorite shortbread for the base — and still! The caramel can get a little hard if it's cold, so keep these in a warm place to make sure that you don't break a crown. But other than that, these are a perfect creamy, caramel-y bite of sweetness to go with your decaf after dinner. Or your full-caf after breakfast. We won't judge.
Related: Super helpful tips for baking with kids. Phew.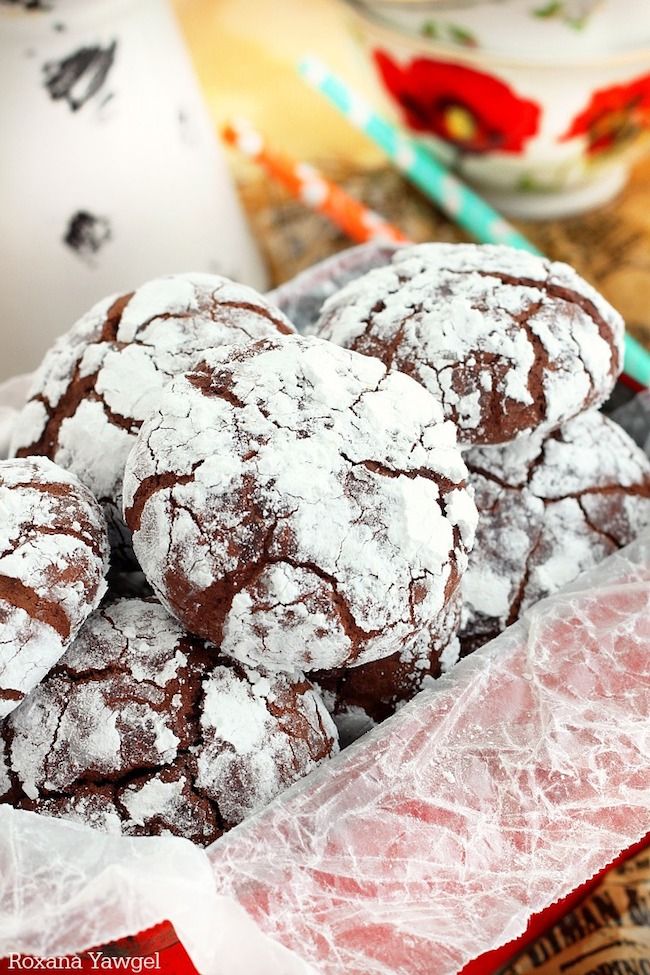 My kids love to help make these Chocolate Snowball cookies at a trEATs affair, because it's so fun to watch the balls covered in powdered sugar pop open and crack in the oven. And that rich chocolate center is exactly what I'm craving when the holiday stress gets a little too much to handle.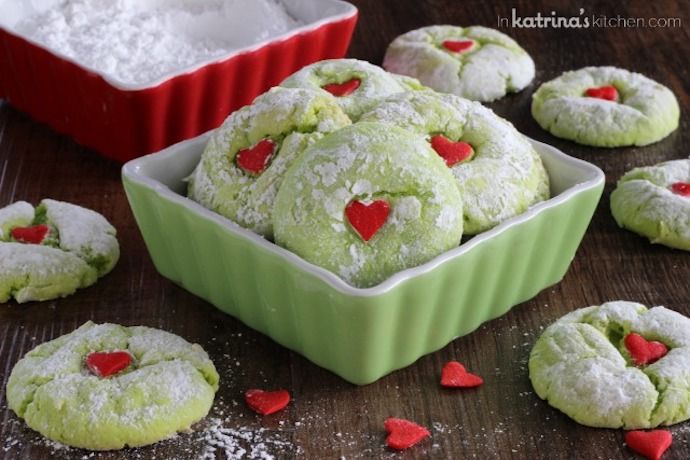 How fun are these Grinch Cookies at In Katrina's Kitchen? We'll definitely whip up a batch of these again this year — it's easy to do thanks to the cake mix base (so smart) — and serve them when friends come over to watch How the Grinch Stole Christmas with us. It is a really fun idea for a kids' holiday party too.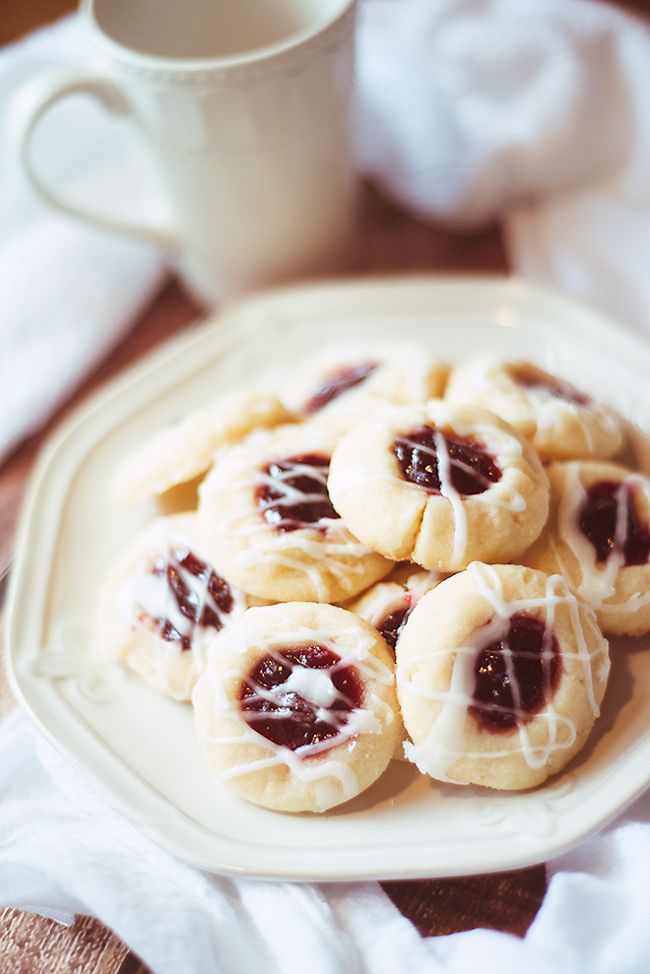 My grandmother loved her jam thumbprint cookies, so I make these Raspberry Almond Shortbread cookies at Dear Crissy every year in her honor. Also, because they're delicious. Of course, you can use any flavor jam — store-bought or homemade — but I do think raspberry is perfect.
Related: One sugar cookie dough recipe, ten easy Christmas cookies.
The recipe that I am now required make every year for my family is this one for Marshmallow Brownie Cookies at Cooking Classy. Oh my goodness, you guys. The batter is built off of a box of brownie mix (easy!) and the marshmallow and chocolate drizzle on top is so tempting. Even my non-sweets-eating husband grabs a couple of these each time I make them.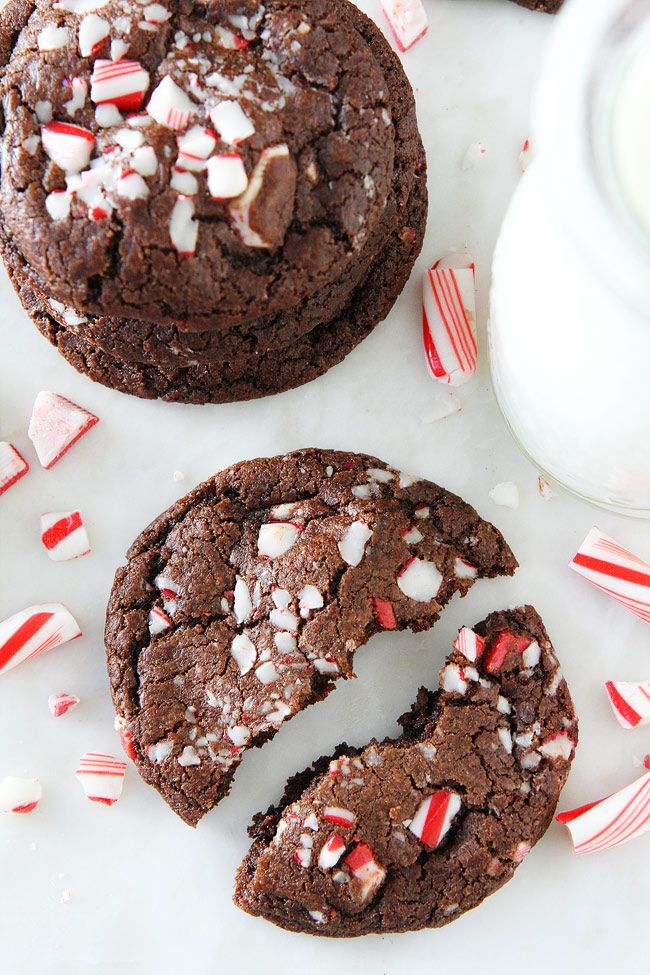 These delicious Chocolate Peppermint Crunch cookies at Two Peas & Their Pod go so nicely with a cup of coffee (and Bailey's, if you wish) or hot cocoa for the kids. I'll whip these up for us to munch on while we drive around in our PJs to see the Christmas lights set up all over town.
Meringues are the perfect Christmas cookie, because they have almost zero calories. Magical, right? And these Vegan Snowmen Meringue Cookies at Vegan Huggs (above and top) are particularly adorable. My kids would flip if they found these on their plates at Christmas brunch this year.
If you have not tried eggnog cookies before, stop what you're doing and make a batch of these Frosted Eggnog Cookies at Dear Crissy right now. They're so rich and spicy that I actually like them more than a straight-up glass of the stuff. Then again, if you're baking for an adults-only party, you could add a dash of bourbon or cognac (or both) to the icing for the little extra kick some expect in their eggnog. Cheers!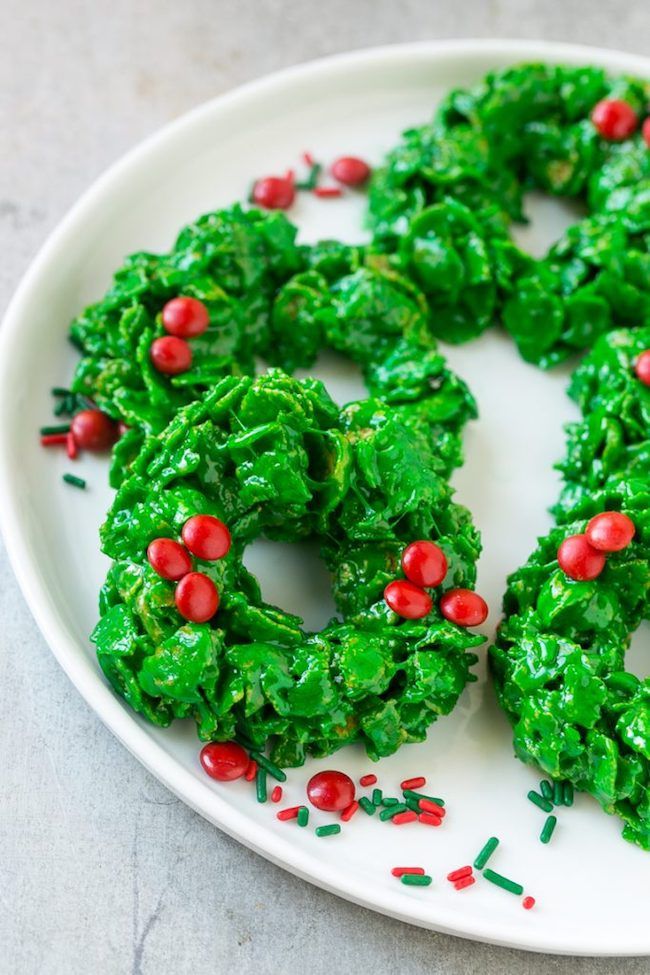 These Christmas Wreath Cookies at Dinner at the Zoo are so retro and, more importantly, so delicious. They're another must-have on our list, which is fine with me since they're so easy to make. The hardest part is getting them to look like wreaths. Follow her tips for shaping them easily, and you'll be able to finish these in under half an hour. Or just do what I did and turn them into bars like Rice Krispie treats. That works too!