Le Creuset makes some of our favorite kitchen gear. The classic collection of enamel-lined cast iron cookware not only performs at the highest level — browning perfectly, maintaining the perfect simmer, moving seamlessly from cooktop to oven, and always non-stick — but its unparalleled design is dead gorgeous and comes in the chicest colors, with new shades being added every year.
And the latest design might be our favorite yet: a cherry blossom pattern on ivory with a gold knob. Swoon!
Related: 360 Cookware: Can this unusual new brand of cookware make food healthier and tastier?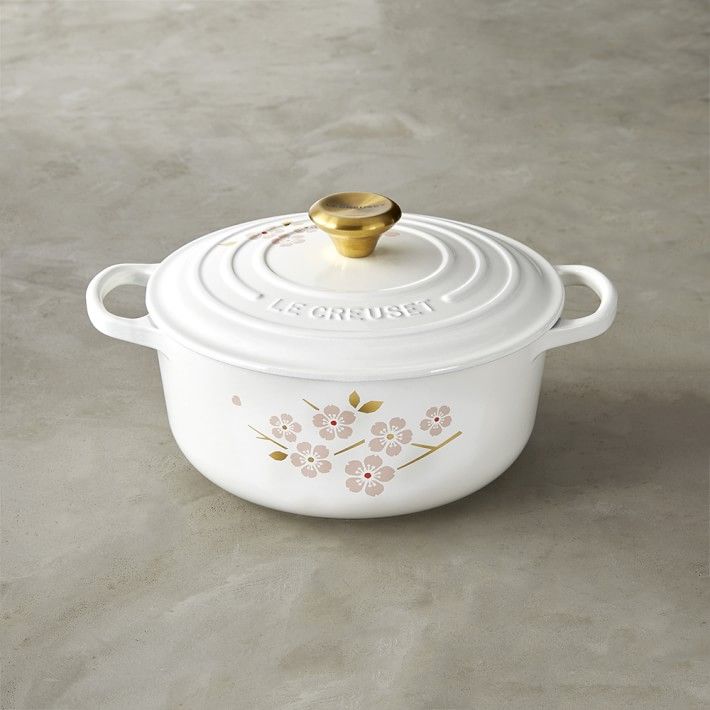 The Williams-Sonoma exclusive was created to commemorate Le Creuset's 25 years in Japan. It's only available in two sizes of the round Dutch oven: 2 3/4 quart and 4 1/2 quart. We think both are beautiful enough to stand alone in your collection, but if you're serious about your Le Creuset and like all the pieces to match, you can easily mix these in with Caribbean, White, Palm, Cassis, Hibiscus, and any of the gray or navy shades.
Of course, like all Le Creuset pieces, these high performance pots don't come cheap. But if you can afford the upfront splurge, these will last you a lifetime. Literally.
And, ahem, I think either of these would make a killer Valentine's Day gift for any serious cook with impeccable taste. Especially if you throw a box of chocolates inside!
You can find the Le Creuset Cherry Blossom Round Dutch Oven at Williams-Sonoma for $325-400. CME is an rStyle affiliate.