Since my picky eater is (mostly) a fan of rice, I've been riding the stir-fry train lately. Stir-fries are generally easy (and nutritious too), but I know that even quick prep can seem like a lot after a long day. When the meal is mostly already cooked, though, I guarantee you won't be thinking about the takeout menu.
These make-ahead stir-fry freezer packs are a cinch to prep and they're also mix and match. The sauce and veggies can be paired in any combination, with any type of protein — or none at all. Because come Wednesday, you want easy. This kind of easy.
Related: How to freeze meals: Tips and freezer-friendly recipes so you'll always know what's for dinner.
Stir-Fry Freezer Packs in 3 Easy Steps:
1. Prep and freeze the veggies.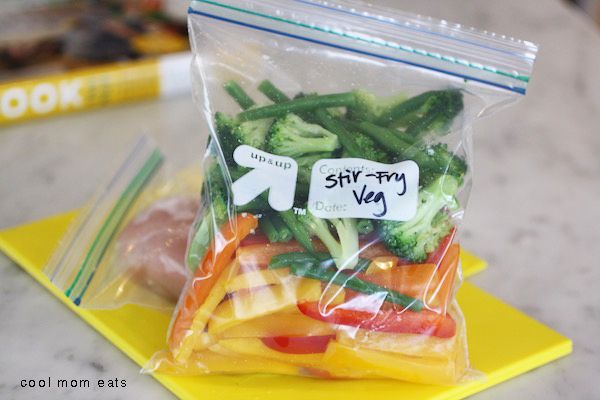 Exact amounts are really up to you, but for a double batch of four servings, I suggest prepping five to six cups of raw vegetables.
A huge part of saving time the night of is getting the chopping done ahead of time. A lot of stir-fry vegetables — sugar snap peas, bell peppers, onions — can simply be cut, sealed in a bag, and tossed in the freezer. But heartier vegetables that can also be included, like broccoli, asparagus, and zucchini, should be quickly blanched before freezing. That way, your meal comes together in minutes when you're ready to cook.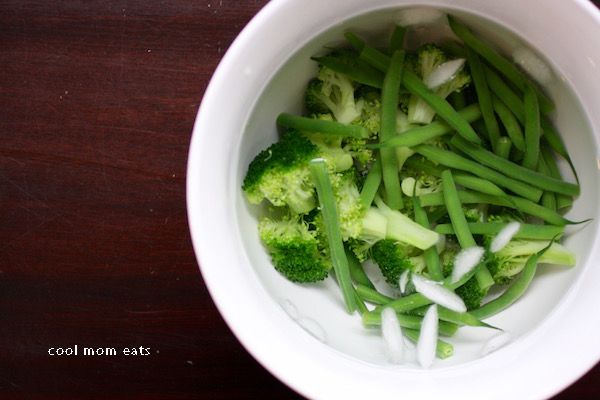 To blanch: Drop the veggies in salted boiling water and cook until the vegetables are brightly colored, tender, but still firm — you don't want them to be mushy. Immediately transfer the vegetables to a bowl of ice water to stop them from cooking. Then drain and spread on a baking sheet or plate to finish cooling. Once cool, separate the veggies into portions in whatever combination you want to use them, seal in a bag, and throw in the freezer. Be sure to press out as much air as possible when freezing.
Related: A week of easy dinner recipes using store-bought rotisserie chicken.
2. Cook and freeze the rice.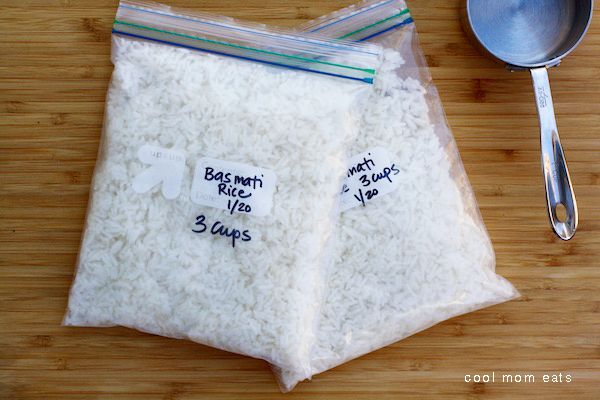 For a double batch of four servings, cook two cups of long grain white rice, which typically yields about six cups of cooked rice (note that brown rice will give you a smaller yield).
Cooking rice can feel like an eternity when your kids are starving. But if you make a double batch, you have minute-style rice at the ready.
To cook rice ahead: Cook according to the package instructions or try my favorite method, Foolproof Long Grain Rice at Epicurious. Once done, let the rice completely cool, then divide it into portions and pack it in resealable bags or airtight containers to store in the freezer.
To reheat frozen rice: Slide the rice from the bag into a microwave-safe container and add a small splash of water to prevent moisture loss. Then, heat in one-minute intervals, stirring between each one. You can also do this in a pot on the stovetop, though it will take a while. Keep the heat low until the rice thaws enough to break apart to avoid scorching the bottom of your pot or the frozen rice.
3. Mix and freeze the sauce.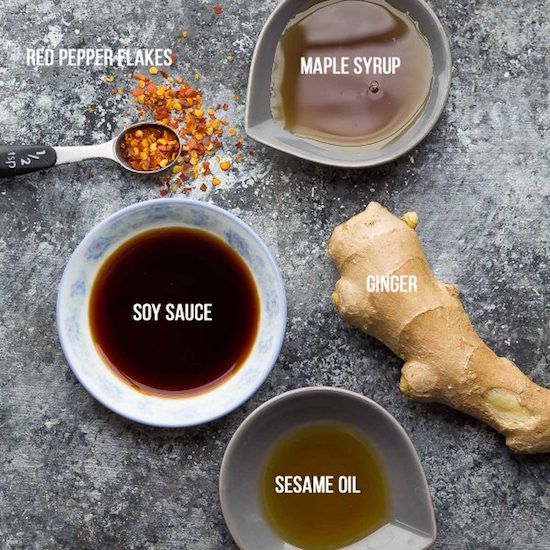 For a double batch of four servings, aim for about one and a half cups of sauce.
To make a stir-fry sauce, simply mix all of your ingredients in a freezable jar, shake, and and pop in the freezer (you can also transfer the sauce to a baggie and freeze it flat if you don't have a lot of freezer space). If you don't already have a go-to sauce, try this kid-friendly Maple Ginger Stir Fry Sauce at Sweet Peas and Saffron (above). Bonus: The post has six other killer sauces and recipes to try.
Or get creative with a recipe like this Best Stir Fry Sauce at Gimme Some Oven. Play around with it by substituting honey for brown sugar, adding a teaspoon of fish sauce (which adds a wonderful, non-fishy savory flavor) or mixing in Sriracha for the grown ups. For two dinners, double the amount Allie lists in the recipe.
Time to make…the stir-fry!

Truth be told, using these stir-fry freezer packs takes a little bit of forethought: The best way to thaw each component is to place a portion in the fridge on the morning of the day you want to eat stir-fry for dinner. (Although, note that the rice can go straight from the freezer to the microwave.)
Once thawed, throw the veggies and a fresh protein, like chicken, steak or tofu, if using, into a wok with some minced garlic, chopped shallot, or sliced onion (if one of those isn't already in your veggie freezer packs). Once nearly cooked, add the sauce, toss, and serve over warmed rice. Unless, of course, you want to go fried rice style, in which case, throw the rice in with the sauce too.
If you want to look at a specific recipe to get a more specific sense of steps and timing, check out this one for Chicken and Basil Stir-Fry at Martha Stewart (pictured). It's one of our favorites, and the process for making it is pretty much the same you'd use for any stir-fry. Done and done!