While brunch is an all-year-around thing, there is something about spring that ups the ante. Between Easter, Mother's Day, and the good feeling that better weather brings, I can't help but get the urge to open the windows and call friends and neighbors over for a delicious daytime gathering at least one Saturday or Sunday a month. But it has to be easy, which is why I love dishes like these easy make ahead brunch recipes. And it has to be delicious, which is why I bring you the ultimate brunch recipe:
No-mess Maple Glazed Bacon.
Related: A bacon lover's survival guide: How to choose & where to buy better bacon.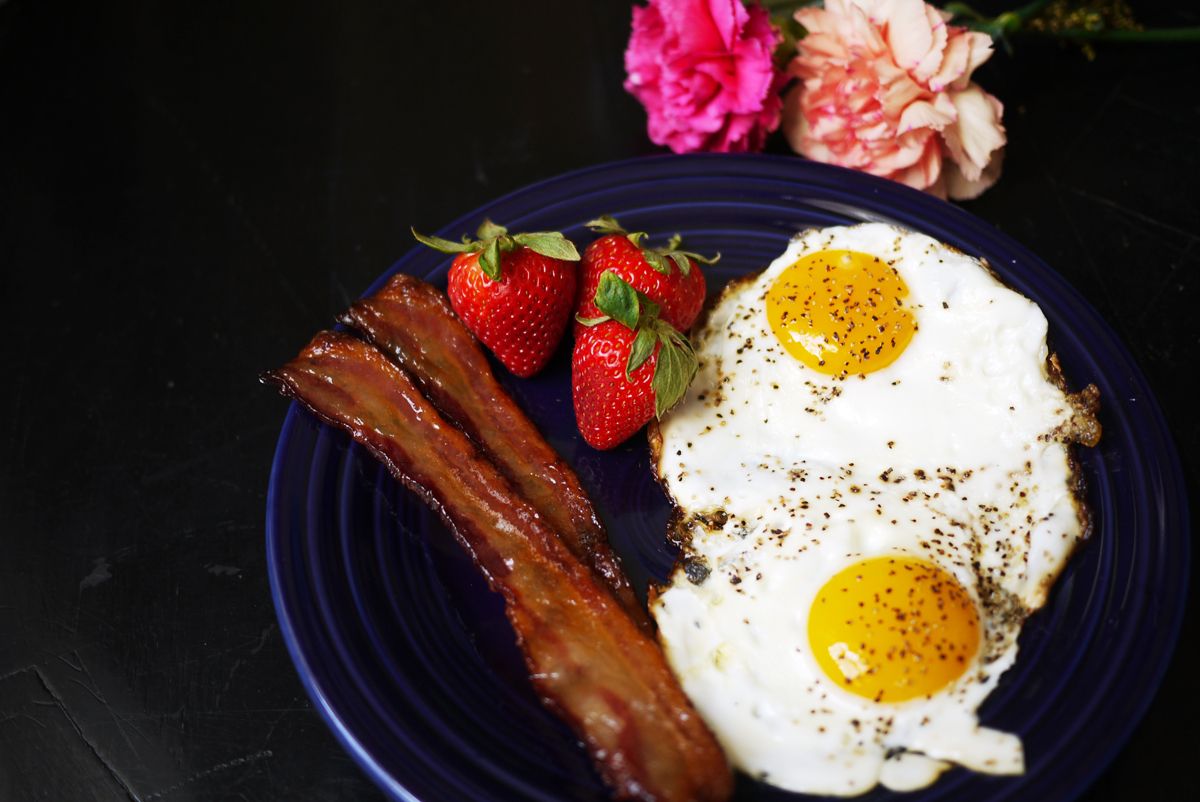 This is the brunch recipe you've been waiting for. No frying pan, which means hands-off cooking and no messy clean up. You just need two ingredients (three if you're fancy). It's as impressive for both an everyday brunch or pot-luck as it is for a holiday brunch. It's sweet and salty perfection.
I mean, what more is there to say?
Add this to your cooking repertoire stat. If you aren't in the habit of hosting brunches on the regular, debut this recipe for Easter. Then, pull it out again for Mother's Day, Father's Day, and whatever birthdays are in between or after, forevermore.
If you want to watch how I whip this good stuff up, check out the video. Otherwise, skip right to the recipe below.
No-Mess Oven-Baked Maple Glazed Bacon
Bacon, ideally thick-cut
Maple syrup, only the real stuff please
Maldon salt (optional)
1. Preheat oven to 400 degrees. If you have a rack that fits inside of a rimmed baking sheet, use that and lay the bacon on top of the rack — as many pieces as you plan on serving. If you don't have a rack, lay the bacon on your rimmed baking sheet. Pour maple syrup — you shouldn't need more than 1/4 to 1/2 a cup, depending on the amount of bacon you're cooking — into a small bowl. Using a pastry brush, fork, or spoon, slather the bacon side facing up with syrup. Pop into the preheated oven for 15-20 minutes, depending on the bacon thickness and how cooked you like yours.
2. Carefully flip the bacon and slather the other side with syrup. Sprinkle with Maldon salt, if using, and return to oven for another 5-10 minutes, again depending on how thick the bacon is and crunchy you like it. If using thin-cut bacon and/or you don't like your bacon crispy, keep a close eye on it at this point. A full 20-30 minutes is a rough guideline for thick-cut bacon.
3. Remove bacon from the oven and allow to sit for about 5 minutes to crisp up further, then serve immediately.