Well of course we're searching for copycat movie theater candy recipes these days! Aren't you? (If not, you've found them anyway.) So many of us are missing the movie theater experience that we've been trying to recreate it at home, you know, just to make things a little more special for the kids while we wait for normalcy to return.
Whether that means popping some fresh popcorn with extra melted butter, or trying to make our own copycat movie theater candy recipes — or hey, just making everyone turn off their phones! — we're finding ways to make a night on the couch something to look forward to. And now with us bingeing every single streaming Oscars nominee before the show next week, that's a lot of movie nights! Not to mention the big one.
So spend a little extra on some good baking chocolate, put on your fancy red carpet clothes (well, maybe after you finish with the candy making)  and enjoy trying out these  DIY movie theater candy recipes. – Kate, with Liz
This post has been updated for 2021
This post contains affiliate links, and sales may generate a small commission to help support our work at no additional cost to you
Related: 5 Oscar party cocktail recipes (that you can sip even if you're watching in PJ's).
Our favorite copycat movie theater candy and treats
Copycat Junior Mints
Copycat Junior Mints | Sarah Jamel for Food 52 | photo by James Ransom
I'm not trying to pick any fights, but the only movie theater candy worth buying is Junior Mints. That is, if buying them is your only option. Thanks to our friends at Food52, though, it's not. This recipe for DIY Junior Mints (above) adapted from Sarah Jampel's blog Taste and Tell allows you to make the creamy, minty chocolates at home in a way all natural. Plus, the recipe yields around 90 mints, which is way more than I get in a box at the theater. Yes, even the big box.
Copycat Reese's Cups
If you can eat nuts, there are two kinds of people in the world: Reeses people and everyone else. If you're in the first group, this fabulous copycat Reese's recipe from Five Heart Home will call your name. It's just three ingredients, including all-natural peanut butter, but don't think they'll whip up in seconds. She has some excellent tips to make sure they come out just like you're hoping.
Oh, and never never skip on the good quality chocolate chips, even if you're working with milk chocolate instead of semi-sweet.
Copycat Kit Kats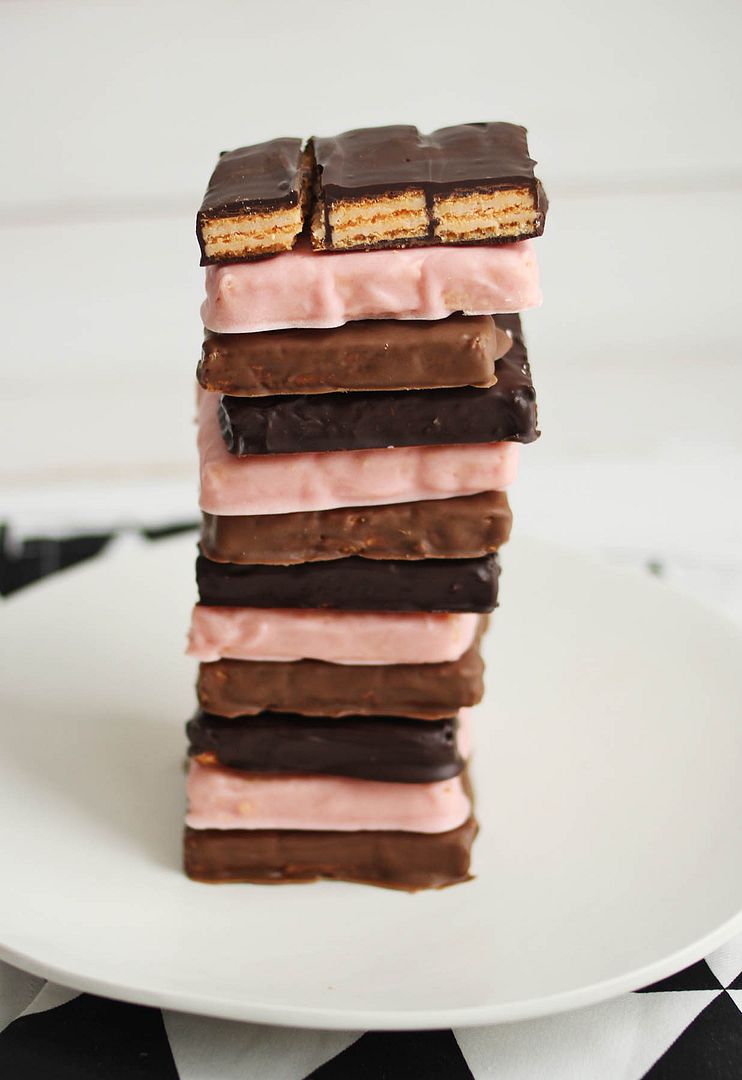 Copycat Kit Kat Bars by Emma Chapman | A Beautiful Mess
Alright, fine: While I enjoy my Junior Mints, you can enjoy your DIY Kit Kats. This recipe for Homemade Kit Kat Bars by Lucy Baker at Serious Eats looks killer, and not all that complicated for a kitchen project. But make no mistake: a kitchen project it is.
While I think that it's worth it, the Copycat Kit Kat Bars recipe from Emma Chapman at A Beautiful Mess (above) are way easier thanks to a brilliant shortcut. And they look like they'll be pretty delicious too. Because how could they not be with those ingredients?
Copycat Snickers
Homemade Snickers via I Heart Naptime
If you've been reading for a while, you know that I'm a big fan of Jaimelyn at I Heart Naptime. The I Heart Naptime cookbook is among my favorites and now this recipe for Homemade Snickers is among my favorite recipes. Whoa! Even though it doesn't look like a bar, it's got all the flavors, which is what really matters.  I might even trade a few of my Junior Mints for a bite…or two. Also, a good way to get the kids to really really put down their phones.
Related: 7 amazing copy cat candy bar recipes.
Copycat Mounds Bars
Copycat Mounds | Kitchen Fun with My Three Sons
I am a sucker for chocolate and coconut together, so these easy homemade, 3 ingredient Mounds bars found on Kitchen Fun with My three Sons are right up my alley.  I mean they are really really easy.  So be sure not to skimp on the chocolate — try Ghirardelli melts which are always perfect.
Copycat Butterfingers
I've always thought Butterfingers was one of those movie theater candies where you're better off not reading the ingredients, ha. Well if anyone is going to make them well, it's going to be a trained pastry chef who's worked hard to get them right — and that's just what I found in these copycat Butterfingers from Jeni Fields, at Pastry Chef Online. She tried them nine times!  I'm blown away by how thorough, and helpful her tips are — and wow, look at this result.
Just scroll way (way) down and you'll find the recipe — though the info she provides up top is really helpful for a more advanced copycat movie theater candy recipe like this one.
Copycat Gummy Bears
Copycat gummy bears | Dessert with Benefits
When given an option, my kids always opt for gummy candies, so this DIY Strawberry Gummy Bear recipe at Desserts with Benefits has earned my attention, especially because there's no added sugar.
Tip: If you don't have the bear molds, pour the liquid into bendable drinking straws to make gummy worms instead. Just tightly pack a bunch of straws into a mason jar so that they remain upright as the liquid cools and solidifies.
For those of you who prefer Sour Patch Kids, roll the finished gummy candies in a mixture of 1/2 cup sugar and 1 teaspoon of citric acid for that tart coating you're craving.
Copycat Movie Theater Popcorn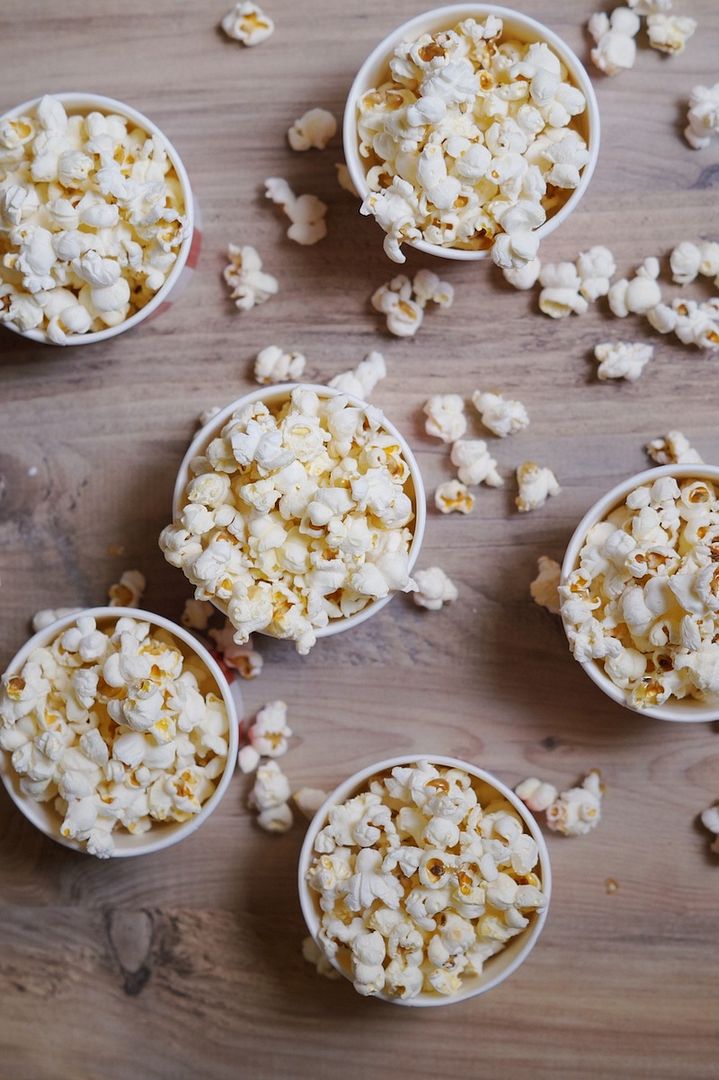 Gourmet popcorn recipe | The Weekend Collective 
Okay, it's not candy, but you have to have movie-theater popcorn while watching a movie — no matter where the viewing. We've shared a solid microwave popcorn tutorial, which is always an option. However I love this homemade movie theater popcorn recipe from Elle at The Weekend Collective because it offers a handful of variations for interesting flavors besides butter. If your metric is a bit rusty, know that 100g of popcorn is about 1/3 cup.
To make the night more authentic with the kids, I would buy this affordable set of movie theater popcorn boxes to serve. Hey, the entire set is cheaper than a jumbo popcorn and a large soda at a theater anyway, right?
And for more ideas, we've got 7 creative  popcorn recipes that are all perfect for award show season. Enjoy!