Those excited first-day-of-school updates and smiling photos have officially started rolling into the parents' social media feeds, while there's plenty excitement around it, you may also be catching complaints about packing school lunches again. Day after day. After day. Which is why it's great to know about resources like Rock the Lunchbox which provides loads of healthy lunch inspiration, and can help make the daily packing routine a little bit easier, and maybe a lot more fun.
Rock the Lunchbox is a collaboration between great brands like Annie's Homegrown Snacks, Applegate Organic & Natural Meats, Rudi's Organic Bakery, and Honest Kids Juice Drinks, and is designed to provide parents options for building healthier lunchboxes, more conveniently.
The site, now in its third year, is packed with hundreds of school lunch ideas and recipes from both the brands and other parents, meaning real world suggestions that parents can relate to, including tons of ideas for special diets like gluten-free and nut-free.
Plus, Rock the Lunchbox offers money-saving digital coupons towards your favorite healthier products for kids, and goodies like fun free printable lunchbox notes that parents love.
They even have a Months of Lunches calendar with weekly themes, healthful reminders, and delicious ideas already planned out for you so you never lack for inspiration.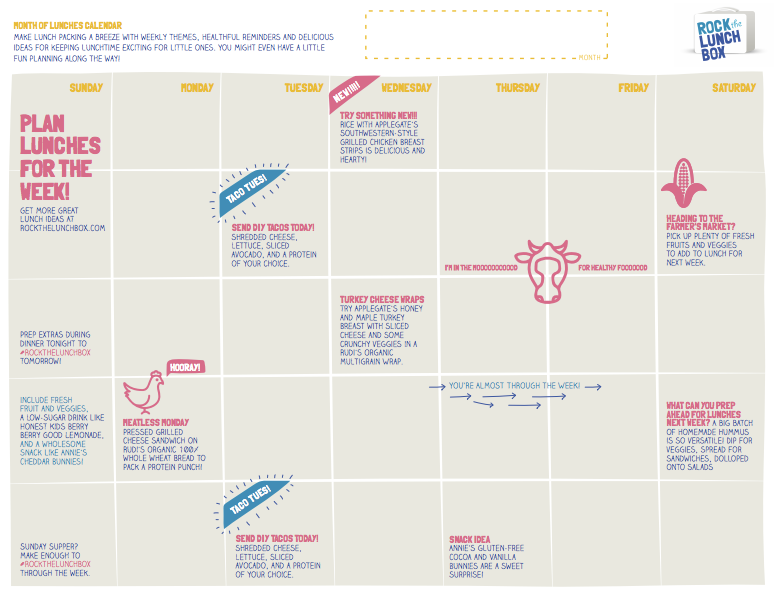 To help make an impact beyond your own home, Rock the Lunchbox also supports FoodCorps, a team of AmeriCorps leaders who focuses on connecting kids to real food. This year's contributions will help support FoodCorps' expansion into New York, so they will bring their educational programs and extend their efforts to bring farm-fresh food to lunch trays across the state.
Which — you guessed it — rocks.
This message was sponsored by Rock the Lunchbox, a place to grab healthy school lunch ideas, download free printable lunchbox ideas, or submit your own inspired school lunch photos for a chance to be featured and help thousands of other parents too.
Just use hashtag #RocktheLunchbox and follow them on Instagram, Pinterest, Facebook and Twitter.