Now that we're in the back-to-school groove, I've noticed one huge change in my kids: they are absolutely famished at the end of the day. They ask me to swing through the drive-thru and get them milkshakes on the way home, every day. Umm, no.
Well, okay, once in a while. (I'm not a monster.)
Every so often I get into the kitchen and surprise them with some baked goods when they need a little extra love.  We are not vegans in our home, so I admit I was a little skeptical about trying Cherryvale Farms's Everything But The . . . baking mixes. I didn't know entirely what to expect when there's no butter, milk, or eggs in your baked goods, let alone when those baked goods come from a mix.
Turns out they're delicious. As in, I ate four of the brownies myself.
The mixes are incredibly easy to prepare — you just add water and maybe a little something extra, so on those days when my kids come home needing a little extra love, I can whip up some blueberry muffins or brownies in a quick minute.
This weekend my daughter made us a batch of their peanut butter cookies (you just add peanut butter which may or may not be okay in your classroom) and the brownies, which only require adding water and optional walnuts.
Cherryvale Farms mixes are fantastic to consider for visiting vegan guests, or for classrooms where classmates may have milk allergies. But you know, you don't have to be vegan to love them.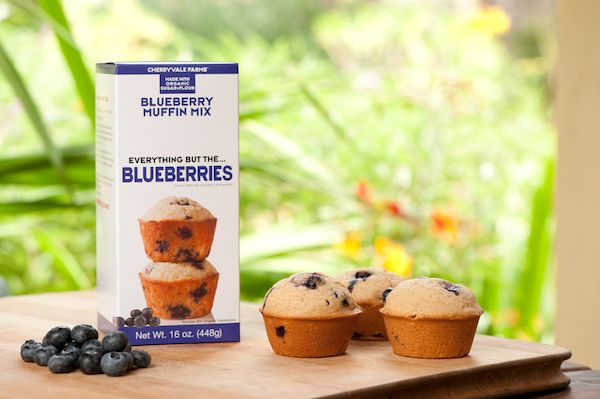 I was so impressed with their Everything but the Corn cornbread mix, I would definitely work it into other recipes; like substituting it as a shortcut for the from-scratch cornbread in Iowa Girl Eats's corndog bites recipe (above). And yes, you can use vegan or vegetarian alternatives to hot dogs, of course.
I would make them as a bigger after-school snack then serve a smaller dinner featuring mostly veggies. Yum.
I also love the ingredients they've selected in the Cherryvale Farm mixes. Every mix is non-GMO verified and uses nothing artificial and no preservatives. They're nut-free, soy-free, and of course, dairy free. If you're wondering, they use their own plant-based formula in place of eggs and milk, but you really won't taste a huge difference in terms of taste.
And, that means your kids can safely lick the spatula. Which mine did. Another after-school score for me.
You can find Cherryvale Farms baking mixes — including yummy fall flavors lie Apple Streusel Muffins and, of course, pumpkin bread — at their website or our affiliate Amazon. Thanks to them for sending samples to CME for review.