Hanukkah is a lovely holiday for many reasons and, as an inveterate foodie, I count the tradition of eating fried foods among them. I in no way mean to make light of the holiday, but I look forward to jelly donuts and latkes every Hanukkah with the same enthusiasm as I do turkey, stuffing, and pumpkin pie every Thanksgiving.
Serving fried foods for Hanukkah is a meaningful symbol that ties the magical story of the holiday with our traditions of today in a concrete—and most delicious—way. There's no feeling guilty about a feast of fried foods with Hanukkah recipes this mouthwateringly good.
Top: Iraqi Funnel Cake with Lemon Syrup at Food52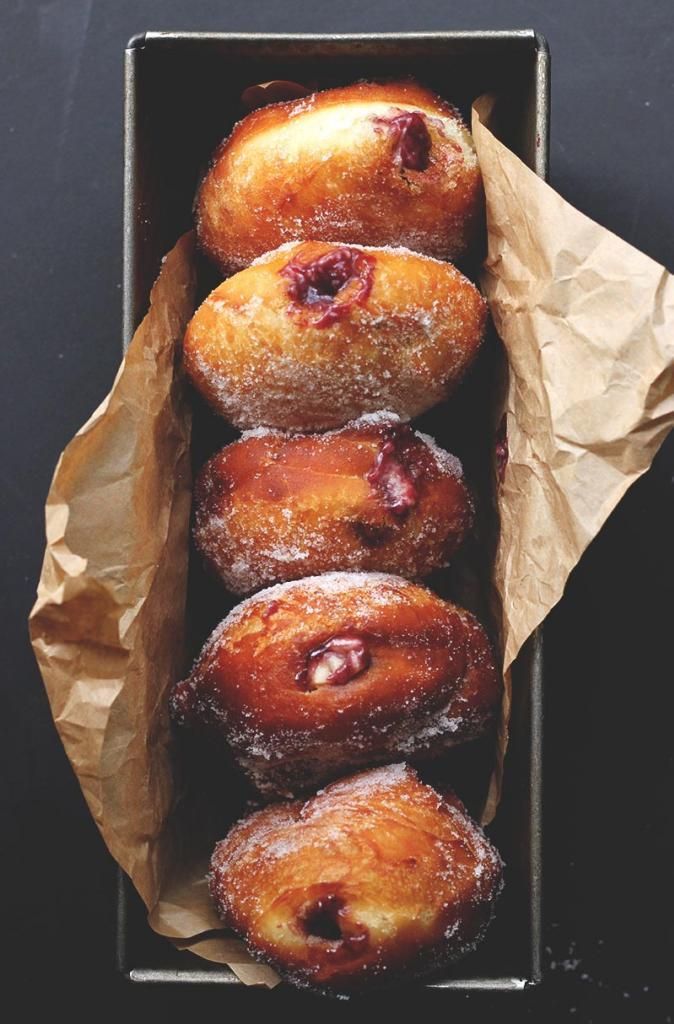 Jelly donuts are a classic fried Hanukkah treat that also happen to be my favorite. I admit that making homemade donuts is a project with a capital P, so if you're going to make them, you might as well go all out with these Blackberry Jam and Custard Donuts that we found at The Sugar Hit. Now these are donuts worthy of a holiday and the extra effort it will take to skip Dunkin' D's.
Related: 8 of the best jelly donut recipes for Hanukkah.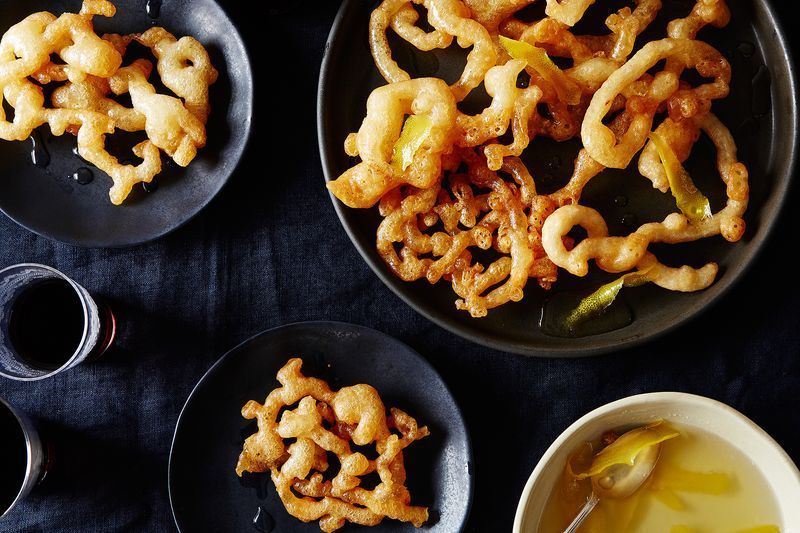 It turns out that Iraqi Jews traditionally opt for funnel cake (that they call Zengoula) over donuts and, well, I approve. I find it hard to believe that you wouldn't, too. Easier than donuts, but with all the same deliciousness, this recipe for Iraqi Funnel Cake with Lemon Syrup (above & top) at Food52 calls for you to steep the fried dough in a lemony syrup that gives the pastry an irresistible zing that will keep you from missing out on donuts—if you skip them, that is.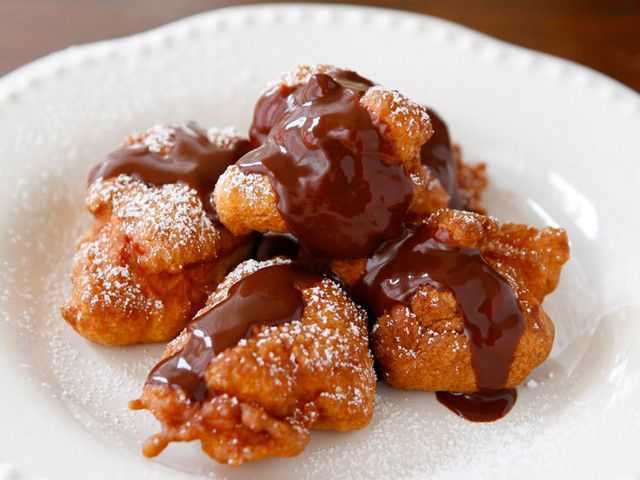 More fried dessert! These Hanukkah Fritters with Warm Chocolate Sauce at Tori Avey are a twist on bimuelos, a sweet fried fritter that is traditional in Sephardic Jewish cuisine. Bimuelos are usually drenched in a simple sugar or honey syrup, but I'm liking this version made with chocolate sauce instead. A delicious twist on tradition never hurt anyone, especially when it means adding chocolate.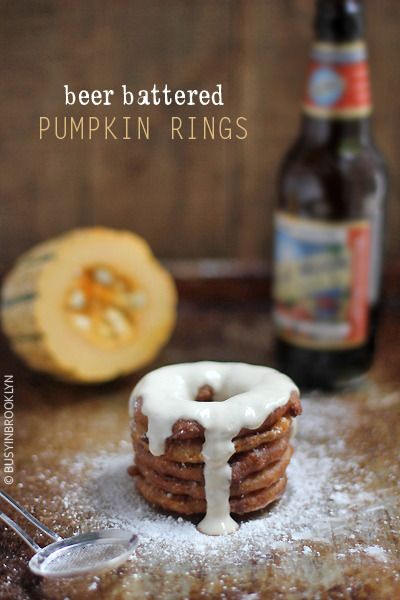 If you're looking for something completely different this Hanukkah, try these Beer Battered Pumpkin Rings with Greek yogurt dipping sauce at Busy in Brooklyn. These sweet treats are made with Delicata squash dipped in a cinnamon-spiked beer batter, which makes them healthy, too. Sorta. Maybe.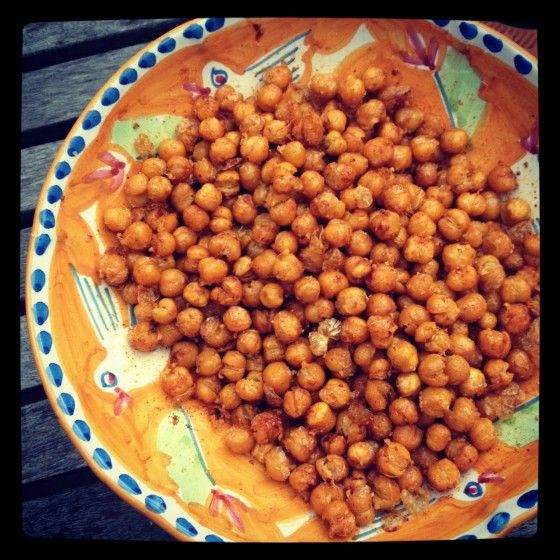 Not all fried treats have to be sweet or require a big cooking project. Case in point, these Smoky Fried Chickpeas at my own blog, One Hungry Mama. Drain some beans from a can, fry 'em up in a pot, season, and serve. Just be careful about how easy these are to make, because they are totally addictive, too.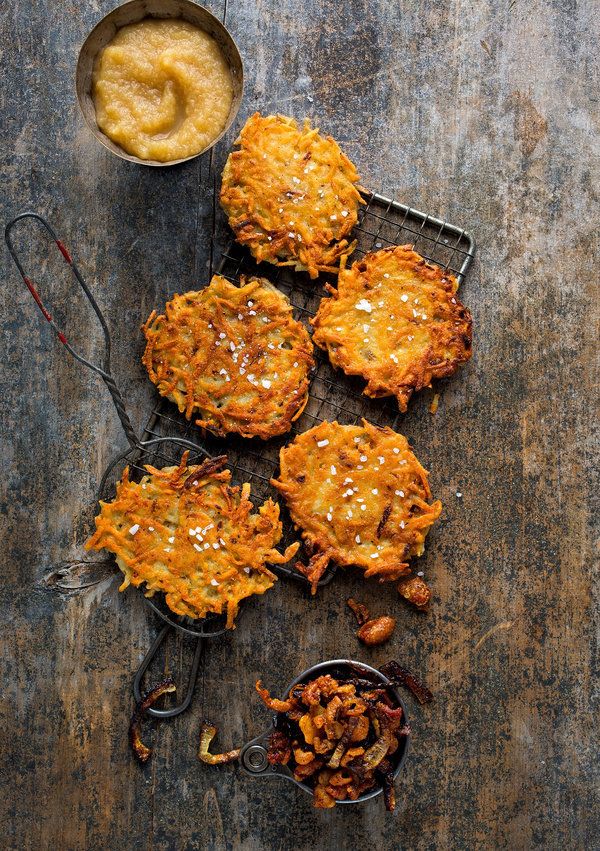 You didn't think I'd skip latkes, did you? If you're going to go classic this Hanukkah, give these spectacular looking Schmaltz Latkes from Melissa Clark at the New York Times a try. You just don't get any better. These are fried food tradition at its best.
Related: Sensational latke recipes for Hanukkah.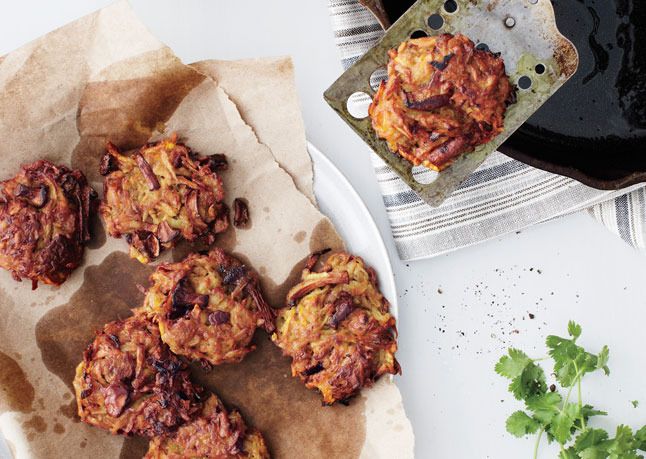 If you already have a traditional latke recipe that you love or you just want to add something new to the mix, these Celery Root and Mushroom Latkes at Bon Appetit are a must-try. The recipe comes with instructions on how to make Onion Applesauce which sounds totally worth it to me, but I'm sure plain apple sauce or even just a dollop of sour cream would do.