I have to confess, I've been man-handling salmon for most of my life. It's such a tender, elegant fish, yet too often mine ended up leathery, dry, or just completely fused to the frying pan and oozing white stuff (the worst!).
Instead of giving up on this beautiful fish and all of its lovely Omega-3s, I decided to do some research on how to stop torturing my salmon and treat it right. The result? Definitive proof that you don't need to be Julia Child to cook amazing salmon. Rather, you just need these 5 tips—all minor, but game-changing adjustments.
Top: Sautéed Salmon with Leeks and Tomatoes  at NYT Cooking | CME is an Amazon affiliate.
Related: How to roast chicken perfectly.
I've learned a lot about cooking salmon correctly from trial and error, but The Food Lab cookbook and this brilliant guide from NYT Cooking have been excellent resources for me, so check them out if you're hungry for extra reading. In the mean time, here are my tips for how to cook salmon perfectly, including a few recipes for when you've mastered the art.
100 Ways to Cook with Salmon | Cooking Light
How to cook salmon: 5 tips for flawless sautéed salmon
1. Fresh is better, but frozen is okay!
If it's at all possible, stick to the freshest fish you can find. I try to arrange my meal plan so that I'm cooking salmon on the same day that I shop for groceries, and I never regret it.
That said, sometimes I can't resist those big bags of frozen salmon at Costco because they're such a fantastic deal; they're especially great if I have a lot of people to feed. Don't be ashamed, either. Some sources, like Cooking Light (above), claim that frozen salmon makes for even better cooking than fresh—as long as you defrost it correctly. That's right, read on for how to thaw your salmon properly.
2. Pat dry. Repeat.
It might be counterintuitive since your goal here is a moist, tender piece of fish, but dry that baby off before throwing it into the pan. Excess water will cause the oil in the pan to cool, and heat is your friend, particularly in the first few seconds of cooking.
3. Heat it up.
One the common pitfalls of pan-frying salmon is failing to properly heat the pan before adding the fish. But if the fish and the pan heat up together gradually, they merge, making it tough to pry the salmon off the surface without losing good meat. (I know this from experience. Lots of it.) Make sure that the oil in your pan is spitting hot before throwing in that filet.
4. Go skin-side down.
There are a lot of sources that will tell you to cook salmon skin side up, but per the sage advice of J. Kenji Lopez-Alt in The Food Lab cookbook, I started cooking salmon with the skin down, and it has changed my world. I find that the skin acts as a nice barrier to make the heat a little gentler and keep the salmon tender. I keep my salmon skin-side down for almost the entire cooking time and then give the other side just a touch of heat at the end. It works wonders.
5. Use a thermometer.
I'm not the first one on Cool Mom Eats to extoll the virtues of the digital thermometer, but seriously, it is the handiest thing. I used to think that I was like one of those chefs who could get a felt sense of when her soufflé was ready, and it took me many ruined meals to realize that I don't have that gift. If you're with me, stick a thermometer in when you think you're getting close and aim for the 120-130 degree Fahrenheit range. Note: if your fish starts oozing white stuff, you've cooked it too long.
Related: How to cook with frozen shrimp, the ultimate time-saving protein.
How to cook salmon: 4 great recipes to use your new skill
There are so many variations of this recipe floating around because teriyaki and salmon are a foolproof combination. It really is amazing, and these Teriyaki Salmon and Broccoli Bowls at Damn Delicious are a perfect example. Quick, healthy, and kid-friendly, these still manage to have a complex flavor that adults will love too.
The kids in my life will eat honey mustard on just about anything, and this Honey Mustard Baked Salmon is no exception. Elise at Simply Recipes suggests baking this salmon in the oven, but if you're just too excited about your sauté know-how, you can also do it on the stove top—just add the sauce after, instead of before, cooking.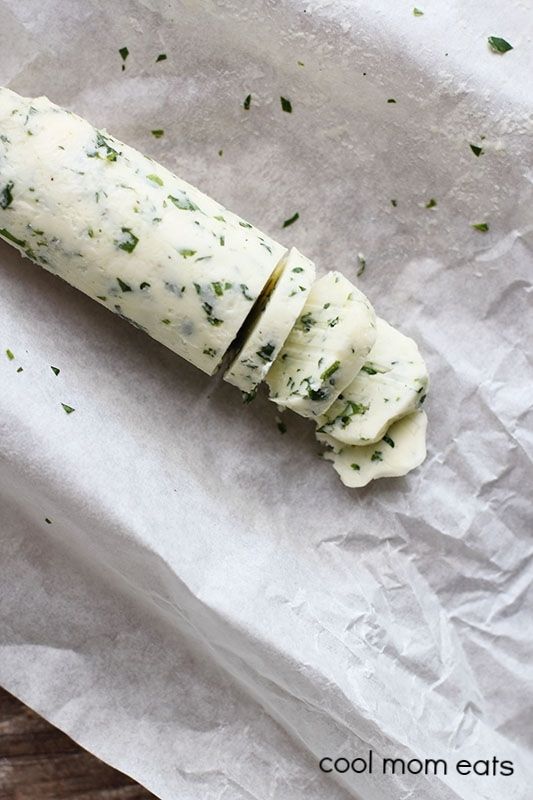 It may not look like it, but the picture above is all you need for an amazing, flavorful salmon filet. Just add the salmon. Jane S. recently showed us how to make compound butter and sautéed salmon is the perfect meal for it. Make the butter ahead of time using garlic, lemon juice, herbs, and whatever else floats your boat, then just throw a pat on top of a freshly cooked filet and watch the melty magic happen. So much easier than making a sauce.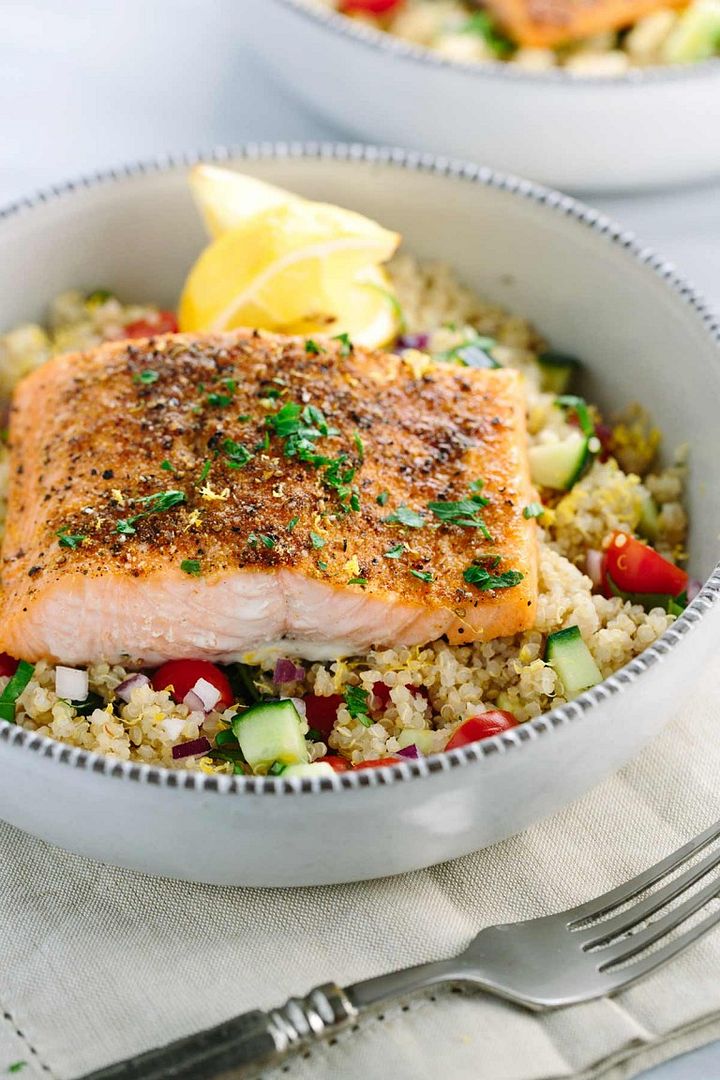 You've already chosen a healthy entrée, so why stop there? Add quinoa and some yummy vegetables to really get the most out of your meal. The seasoning in this Mediterranean Spiced Salmon and Vegetable Quinoa from Jessica Gavin is mild for kids who are still getting used the idea of eating fish that doesn't come in stick form, and the veggie quinoa is a great thing to have around for lunches or leftovers.