My kids love to come home from trick-or-treating and binge on candy the rest of the night. I usually let them, because then they get it out of their systems and don't want much more after that. However, that means we tend to have more leftover Halloween candy than I know what to do with.
I've considered saving all the candy to use for their Easter egg hunt at school, but I can't help but wonder if I'll get a few eye rolls from the other parents. (I guess it is kind of a long time between Halloween and Easter—ha!) So instead, I think that these leftover Halloween candy recipes are the better move.
Top: Gummy Bears Sangria | My Name is Yeh
Related: 10 more fun ideas to help you use up your leftover Halloween candy.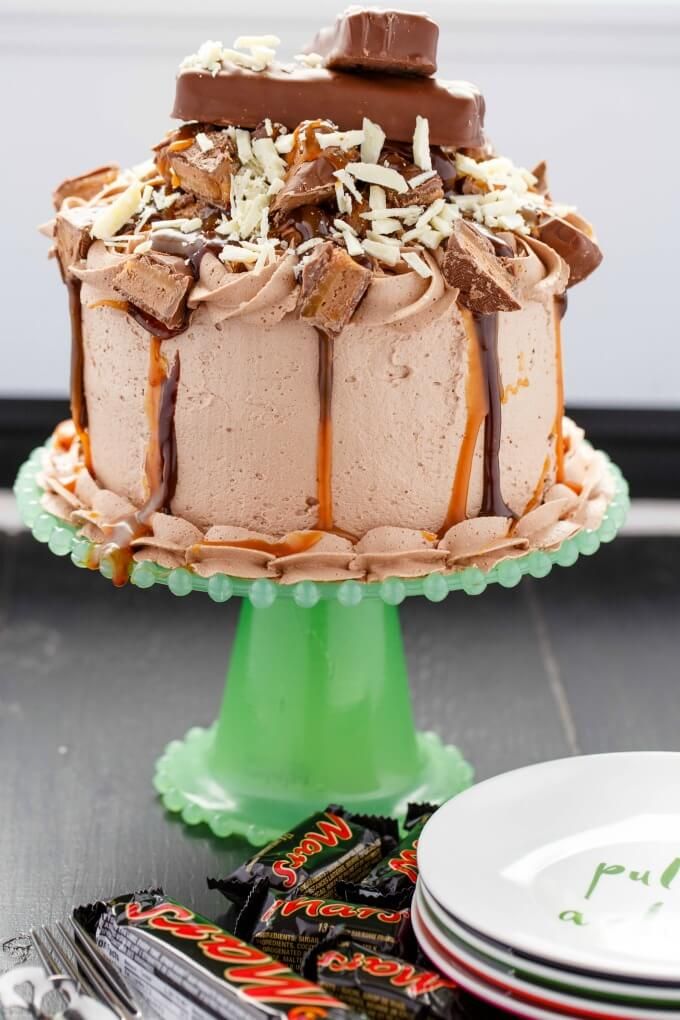 We have three birthdays in our family the week after Halloween, and at least one of them will get this incredibly indulgent, over-the-top Mars Bar Cake that I found at The Cookie Writer. Whoa: Chocolate cake, caramel, buttercream, white chocolate, and layers of chopped up Mars Bars—or any other chocolatey candy bar that's left over from your kid's Halloween stash—make this cake irresistible.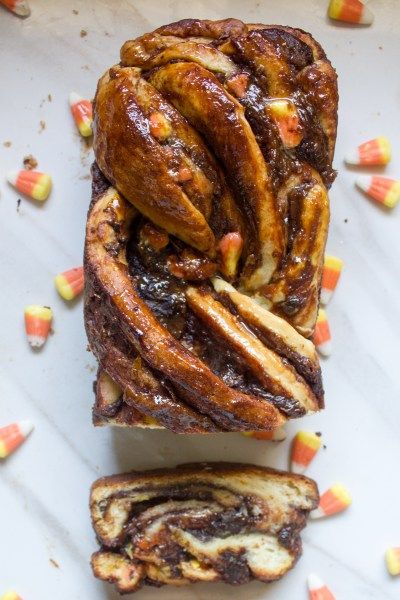 Amy at What Jew Wanna Eat makes me laugh with her story about how her bagel and lox costume was mistaken for a donut in her Texas neighborhood. But this girl knows her Jewish food, so I'm trusting her recipe for Candy Corn Babka. Really, this is chocolate pumpkin babka with a few candy corn tossed in for a little extra sweetness, which sounds good to me.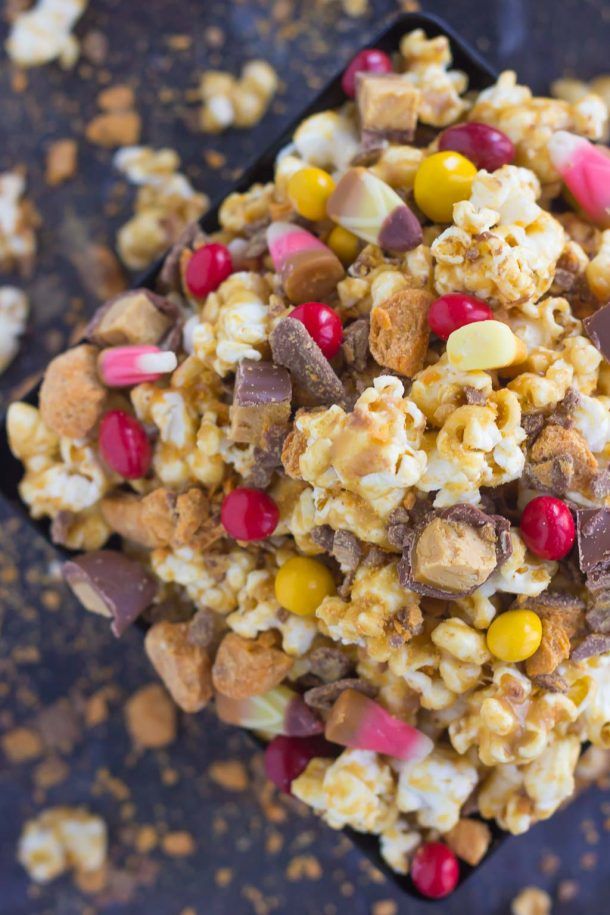 You're going to want to squeeze on the couch with your kids for movie night, because a big bowl of this Peanut Butter Candy Popcorn at Pumpkin 'n Spice won't last long. The salty peanut butter in the candy helps cut some of the sweetness, but just a little—this is for people with a serious sweet tooth. If you're not sure you can handle that much, skip the sugary coating on the popcorn and just use plain old salted butter instead.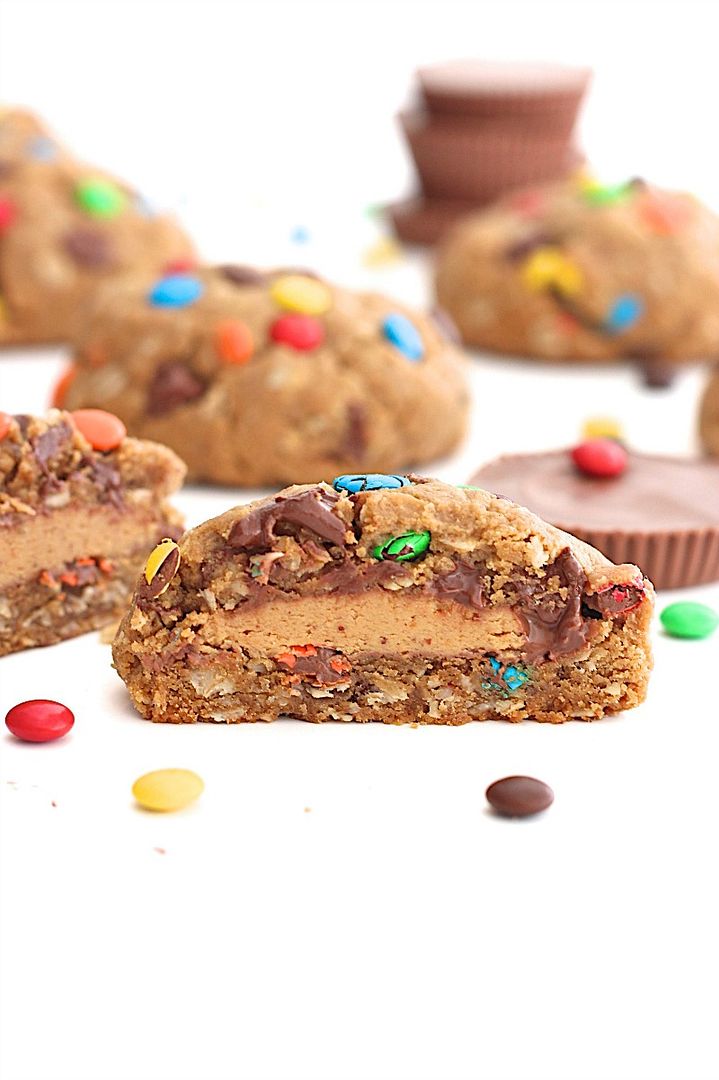 If I can keep myself from eating all of my kids' Reese's Peanut Butter Cups, I'm going to whip up a batch of these delicious Peanut Butter Cup-stuffed Monster Cookies at The Baker Mama. The cookie itself is peanut butter and oatmeal, with M&Ms mixed in. But that hidden, melty peanut butter cup in the middle is where the real magic happens.
Related: 8 deliciously decadent ways to use leftover Halloween candy or, really, and candy
I have to admit, I'm with Courtney at Neighbor Food Blog: Straight-up chocolate bars aren't really my thing, but this Chocolate Candy Bar Cake looks delicious. All you have to do is save up those tiny Hershey's bars from your kids' candy stash to impress your family at Thanksgiving or Christmas. And, no, you don't have to tell them that you're really just dressing up a boxed cake mix.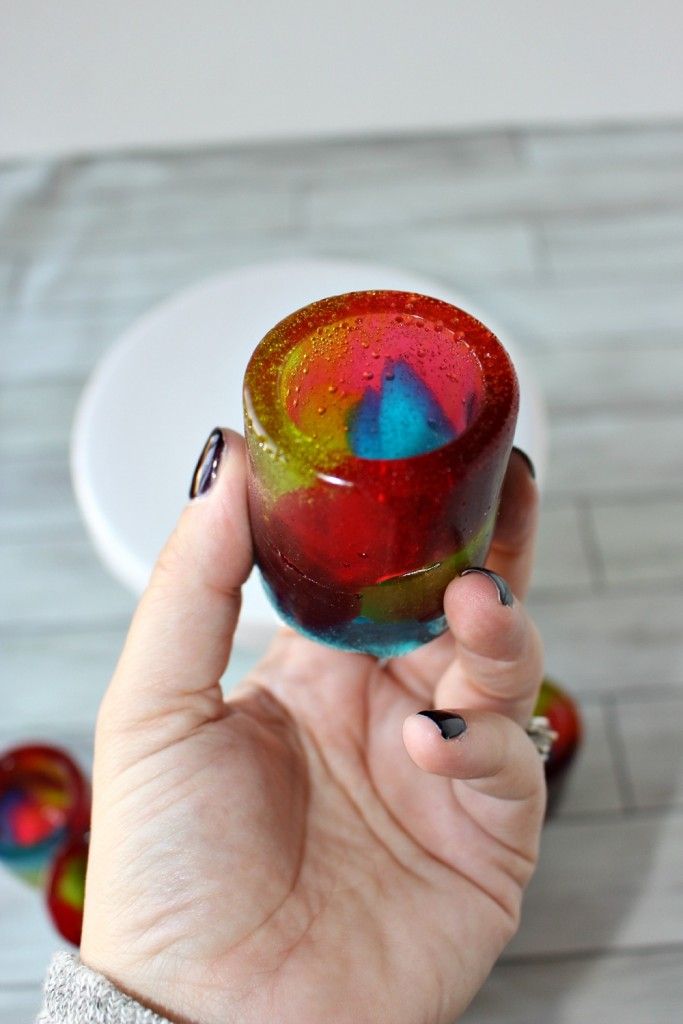 Liz and Kristen have debated the merits (or lack thereof) of Jolly Ranchers on Spawned, but I think that these Jolly Rancher Shot Glasses at Princess Pinky Girl are a pretty good use for something that may not be a favorite candy. Whether you're using them for vodka or orange juice, these are a fun way to use up any hard candies, really, from Werther's Originals to Lifesavers.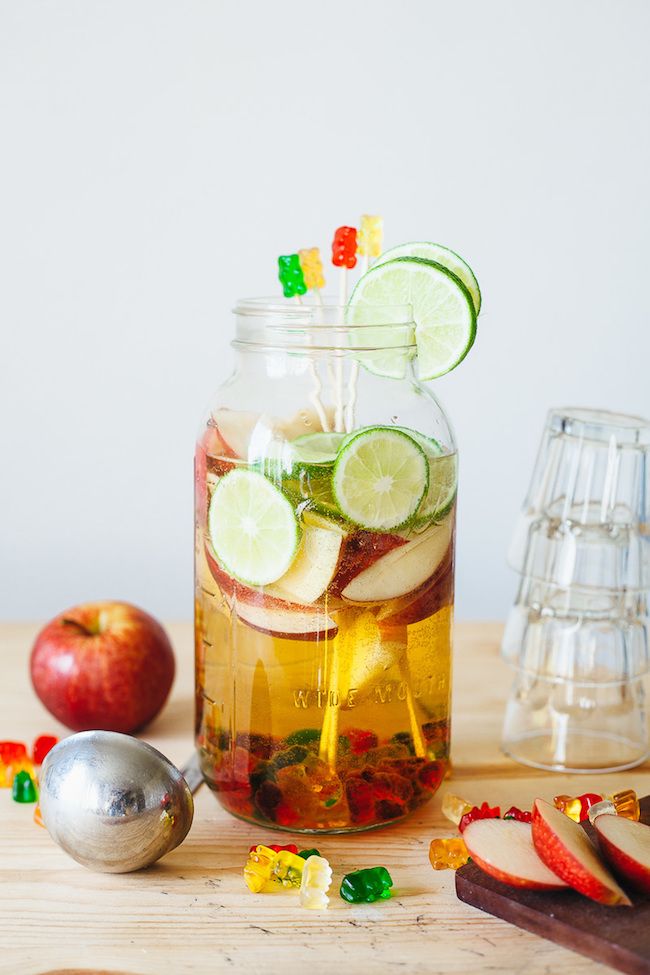 If you've ever added Skittles to your Zima, you'll probably love this sweet, candy-flavored Gummy Bear Sangria at My Name is Yeh (above & top). The gummies are soaked in vodka before being added to the sangria, so yeah, it's strong. And if you want to make this on Halloween night, I'd go with gummy worms or spiders for a creepier twist on those cute little bears.