I know what you're thinking. Will anyone actually eat the dozens of leftover candy canes from stockings, class parties, and gingerbread houses? Won't kids just take three licks and then abandon the candy, leaving me to find them stuck to clothes, carseat fabric, and stuffed animals days later? Or worse, stuck to the bottom of the ornaments box until next year?
Not if you make any of these awesome candy cane recipes. Then they'll be eaten — celebrated even, as a shining star of post-holiday snacking. A real Christmas miracle.
Top: Holiday Fauxreos | Photo by Sarah Jane Sanders for Serious Eats 
Related: 5 smart snacking tips to help keep from over-snacking.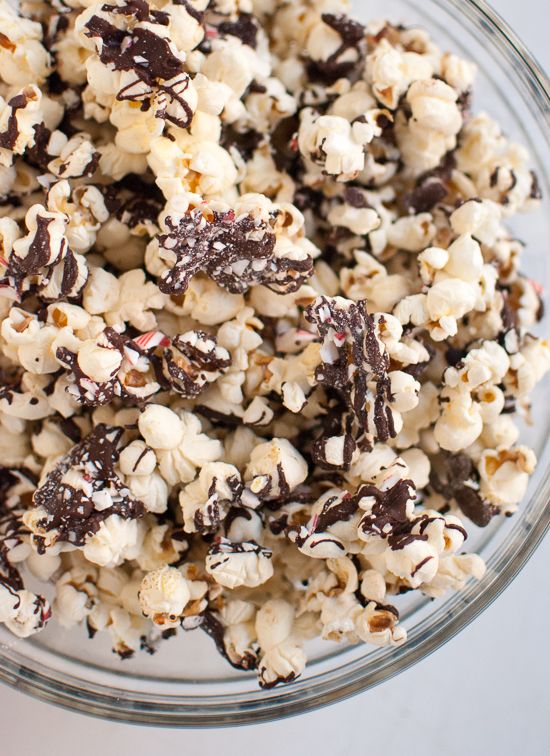 I always love the idea of peppermint bark, but at the end of a long, sugary holiday season, I get a little overwhelmed by the very sweet white chocolate and peppermint combo. So I was happy to find this Peppermint Bark Popcorn at Cookie and Kate, with its delicious mix of dark chocolate, peppermint, and salty popcorn.
A big thank you to Allison at Some the Wiser for dreaming up these Homemade Chocolate Candy Cane Granola Bars. While they're still in the sweets category, she gives this recipe a nutritional boost with wheat germ and rolled oats. Such a clever use of an old favorite.
Hot chocolate on a stick is one of my new favorite things. I love that I can just heat up a cup of milk and then stir away in front of the fire or television until I have the perfect cup of cocoa. And then these Candy Cane Hot Cocoa Pops at Boulder Locavore — even better! Whether or not you finish the whole candy cane stirrer, everyone will have a grand old time making and using these pops.
Related: An Eggnog Smoothie so you can get your fix every day without drinking eggnog every day (because oof).
Holiday Fauxreos | Photo by Sarah Jane Sanders for Serious Eats 
If you haven't checked out the culinary stylings of Stella Parks (AKA, BraveTart) at Serious Eats, you need to stat. She's made a career out of reinventing classic store-bought treats like fudgsicles and Cheez-Its, creating improved homemade recipes. So of course I turned to her for these Holiday Fauxreos (like peppermint Oreos), which look soooo much better than the original — and the originals are pretty great to begin with.
If you're in the mood for a challenge and you're not afraid of eating ice cream at this time of year (I'm looking at you, southern states), this gorgeous Peppermint Stick Ice Cream with Fudge Sauce from David Lebovitz is where it's at. Get your kids involved in the ice cream making process or make it yourself to serve as a special dessert at the end of a holiday party. Either way, I promise that you'll have some very impressed guests.
These simple Candy Cane Biscotti are totally calling my name, and I think that Jessie at Savory Bites has the right idea serving them with a nice cup of chai tea. The slight sweetness and crunchy texture seem like the perfect compliment to the peppermint flavor.
Related: Helpful tips for baking with kids, and 6 recipes to get you started.
Like I said, I'm a big fan of salty-sweet peppermint recipes, and this super kid-friendly Dark Chocolate Pretzel Peppermint Bark at Life's Ambrosia hits the spot. Plus, it requires only three ingredients and a microwave, which is music to my ears after all the holiday baking I've been doing.