Though I'm more of an everything in moderation person, I can't help but try the occassional diet, especially when friends report outcomes like Kristen's Whole30 diet results. With more than just weight loss at stake — I also wanted to boost my energy, cut down on sugar, and take in more veggies — I reluctantly decided to give Whole30 a try.
It turns out that a month of Whole30 was easier to get through than I expected. I think that's probably because I love to cook: The Whole30-safe foods you can make with some time in the kitchen are way more satisfying than any approved foods that are grab-and-go. But for many of us who like to cook, food is more than just functional, which poses a challenge (and a whole lot of boredom) with such a restrictive diet.
Though I'm not sure I can alleviate the boredom, I can tell you that it's possible to survive the Whole30 as a food and drink lover. Here are my six tips for making it through a month on the Whole30 diet as a foodie. Because if I can do it, anyone can.
Related: Getting started on the Whole30 diet: 5 surprising things that happened during the first week.
1. Don't wing breakfast.
To be honest, as a food lover, I don't think that you can successfully wing any meal on this diet. But while I am used to planning dinners and relying on a handful of healthy go-to lunches, I was not prepared for how much work breakfast would require.
Thankfully, I love eggs, but even they get boring after a while and most other easy breakfasts are made with non-compliant foods. Prepping a grain free "oatmeal" like the Oatless Oatmeal at Peanut Butter Fingers (pictured) or Grain Free Oatmeal at Something Swanky was key for me. I also found that sweet potato was a pretty satisfying breakfast bowl base, so I had a few roasted and ready to go in the fridge at all times.
Between these make-ahead "cereals," hard boiled eggs, and other egg breakfasts, I was able to get through the month without stealing bites of my kids' waffles or cereal.
2. Experiment until you find a satisfying coffee.
Okay, I know that not all food and drink lovers are obsessed with coffee, but many of us are and we like it to taste good, no exceptions. I only drink one coffee a day, first thing in the morning, and when it isn't tasty and piping hot, I'm not happy, even if it delivers the caffein.
The good news for us coffee lovers is that coffee is allowed on Whole30. The bad news is that cow's milk and many, many plant-based milks are not (because they contain additives that are not Whole30 approved – check all labels cafrefully). I experimented a lot with my coffee and, to be honest, nothing was exactly right, but coffee with steamed plain coconut milk from a can with a splash of Whole30 approved almond milk came closest. And, yes, it was worth the work to combine the two.
You may find that something else floats your boat, and that's fine — just figure out what it is. You'll be happier for it.
3. Spend time finding (and prepping) snacks you love.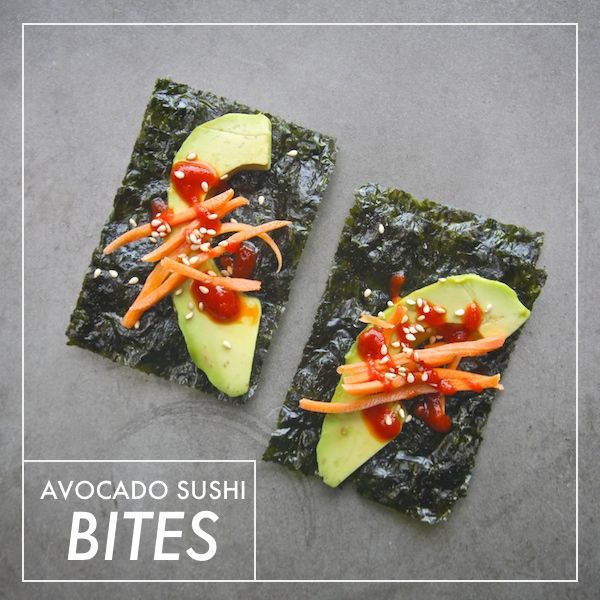 One of the perks of Whole30 is that you can eat as much as you want of approved foods. It's just that the list of approved foods is pretty, uh, limited, especially snack foods. While I was prepared to plan and prep breakfast, lunch, and dinner, I wasn't good, at first, about also prepping snacks, which made afternoons and days when I was out and about much harder. By the middle of the second week, I realized that I had to get serious about preparing snacks that were truly satisfying too.
Start by figuring out what makes a snack satisfying for you. It won't be the same for everyone: maybe it's crunch or saltiness? Or perhaps it's a sweet treat you need to get you through. I found that I needed snacks that I could either take on the go or that felt a little bit elegant. Proscuitto and melon or salami and nuts became my go-to snack at home — I clearly craved salty things and cured meat. For on the go, I fell in love with Rx Bars (check labels to make sure that your favorite flavor is Whole30 compliant), plantain chips, and Whole30 approved date coconut rolls (which I found at Whole Foods).
There are so (so) many Whole30 recipe resources online, but I think that the Whole30 approved snack list at Shutterbean, with super smart ideas like the Avocado Sushi Bites pictured, is one of the best I found. It's clearly curated by a food-lover, which I appreciate!
Related: How to survive the Whole30 diet on vacation.
4. Find a Whole30 approved drink that feels special.
Some days, nothing beats a glass of wine with dinner or a (small!) before dinner drink. I used to think that it was about having a little bit of alcohol, but I learned from Whole30 that, for me, it's more about having a ritual with a drink that feels special after a day of drinking water, water, and more water. In fact, I've been drinking less alcohol, overall, since my Whole30 experience, even through the holidays.
There aren't that many Whole30 approved drinks that feel special, but LaCroix sparkling water totally hit the spot for me. (YES! It's Whole30 approved!) I changed up the flavors all month long and always saved it for the end of the day to keep it feeling special.
5. Go ethnic.
I found that when all you have to work with for dinner is meat, veg, nuts, coconut milk, and any condiments you're willing to make (side note: I made Whole30 ketchup for burger nights — when I used collard leaves instead of buns — and it was totally worth it), cooking ethnic food is easiest. Indian (think coconut-based sauces and cauliflower rice), Italian (skip the pasta and use zoodles or spaghetti squash or cook simple braised meats with roasted potatoes and antipasto-style veg), Thai and Mexican (lettuce cups in all forms!), worked best for me.
Thinking in terms of these cuisines made it easier to come up with meal ideas and also made for Whole30 meals that felt close to regular dinners that I'd make even when not on the diet. The kids appreciated that too.
6. Figure out what makes you feel satisfied.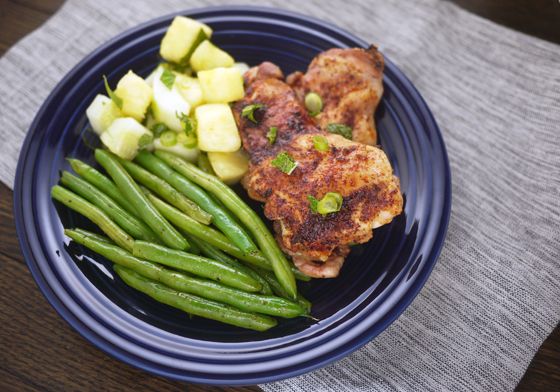 At the end of the day, no food or drink lover is the same! What we have in common, though, is that we eat for the enjoyment of eating—it's not just functional for us. In the first week of Whole30, my husband tried over and over to get full on just veggies and never felt satisfied. He figured out that the fat in nuts and avocados were much more gratifying for him. Once we started blending coconut or almond butter into smoothies and spreading it on apples for him, he started to find that he could handle the restrictions better.
And like I mentioned, for me, it was all about figuring out my morning coffee and snacks. Oh, and also making sure that dinner had some big flavor and spice, like the Spiced Rubbed Chicken Thighs with Pineapple-Cucumber Salad pictured from my own site, One Hungry Mama. Once I figured these things out, eating was (mostly – ha!) enjoyable again, which is what I needed to make it through.
And make it through I did. High five emoji.