You guys, the Olympics start tonight! The Olympics start tonight! (Can you tell that I'm excited?) Team Etue will be gathered around the TV, watching the opening ceremonies, cheering on Team USA. And since my youngest daughter is Korean, we'll be rooting for the host country, as well.
But first, snacks.
We'll be munching on one — or several — of these nine festive Olympic snack recipes to keep the Olympics spirit going strong, even through the long parade of nations. (Go Slovenia and Andorra?)
Top: Olympic Rings Veggie Tea Sandwiches | Thirsty for Tea
Related: Satisfying game-day recipes to snack on for dinner.
Since my kids think Cheetos are one of the major food groups, this Olympic Flame snack at I Heart Naptime will be right up their alley. Be sure to click through to Jamielyn's page, because she has a handful of really clever Olympic snack ideas including a healthy fruit display that cancels out the Cheeto indulgence.
If you want a healthy option, too, these Olympic Rings Veggie Tea Sandwiches at Thirsty for Tea are perfect. They're bite-sized with a delicious cream-cheese spread on them. And if the kids balk at veggies, just tell them that's what the athletes eat. It'll work, right?
I'm speechless over the amazing national flags made from food at Twisted Sifter. Pick the countries you're rooting for — or the food your kids might actually eat (hello, Italy) — and make a couple. And, yes, if you choose South Korea like us, you can always pick up store-bought sushi to DIY this one. (We even found the yin-yang bowl!)
Enlist your kids to help you assemble this Olympics Rings Pizza, or let each kid customize their own personal pizza. I love the clever trick at Style Sisters for making that vibrant blue ring, but what other toppings would you choose? We're leaning toward red tomatoes and peppers, green asparagus and spinach, bright yellow cheddar cheese or yellow tomatoes, black beans, portobello mushrooms or ground beef. Yum!
Related: 5 Instant Pot recipes that make hosting a Super Bowl — or Olympics — party so, so easy.
An even easier way to get the Olympic rings look? Use bagels (because they're already ring-shaped!). This mix of sweet and savory Open-Faced Olympic Ring Sandwiches at Anytime Fitness is one of my favorites. Because, that black-bean bagel looks delish!
Is it just me, or do these fun Spiral Quesadillas at Tasty look like Olympic torches? This is a fantastic snack to make for a grazing dinner because it's easy to assemble and makes a ton of food. Like, enough to last you until South Korea's team enters the stadium.
These Olympic Medal Cookies that we spotted at I Heart Naptime were a favorite while cheering on our team in Rio, and I just have to share them again this winter. Because, so cute and easy. Tasty too (hello, Golden Oreos).  These will make the kids happy and certainly earn us gold medals in parenting.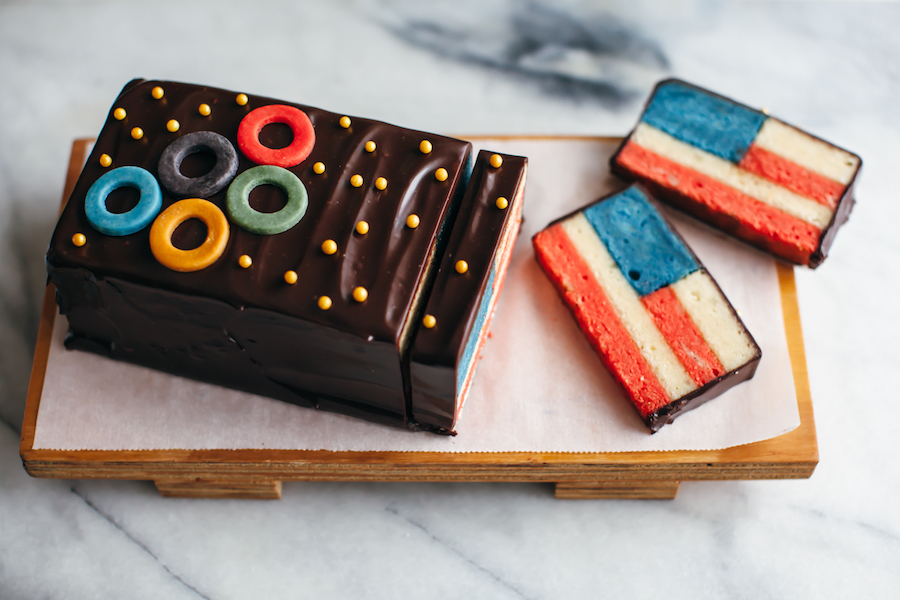 Wow, how delicious does this almond Team USA Cake by Molly Yeh look? I admit that this one requires some serious baking skills (and time) to pull off, but if you're a whiz in the kitchen, you have to make this. Just don't tell the kids what's inside until you cut it. The looks on their faces will be so worth it!
Related: The ultimate Snow Day Survival Guide: Everything you need to keep the kids busy at home this winter.
This Ski Slopes Cupcakes at The Cake Blog are both beautiful and surprisingly simple, as long as you have skiing figurines at home. If you don't, dig through your kids' LEGO buckets and give some of the (washed) minifigs toothpick ski poles, or buy The Cake Girls affordable set. With shipping times, you may have to save this dessert for the downhill skiing finals, but if you ask me, they are so worth it.