With all the pumpkin picking and Halloween pumpkin carving, you won't want to throw away those pumpkin seeds! Once you roast them, they can be turned into more than a crunchy, on-the-go snack! From pesto to chocolate-dipped brittle, these creative recipes will make you wish you had a few more pumpkins to carve on November 1st (ha! just kidding).
Top Image: Pumpkin Seed Brittle at Honestly Yum
Please note that some of these recipes below call for pepitas, which are not the same as pumpkin seeds, but… pumpkin seeds can be substituted. But for a fully detailed explanation of the difference between pepitas and pumpkin seeds read this article from our friends at Taste at Home.
9 ideas for using pumpkin seeds
First things first, it's great to have a simple recipe for Roasted Pumpkin Seeds, like this recipe from Loves and Lemons. Maybe you will want to make some of the recipes below that call for pre-roasted pumpkin seeds, or maybe you will just eat all of these simple roasted seeds by the handful. If you are going to use the seeds in other recipes, skip the chili powder. Also, did you know you can roast any squash seed?! So don't throw out those butternut or acorn squash seeds this fall, but "upcycle" them instead.
Related: How to host a pumpkin carving party for kids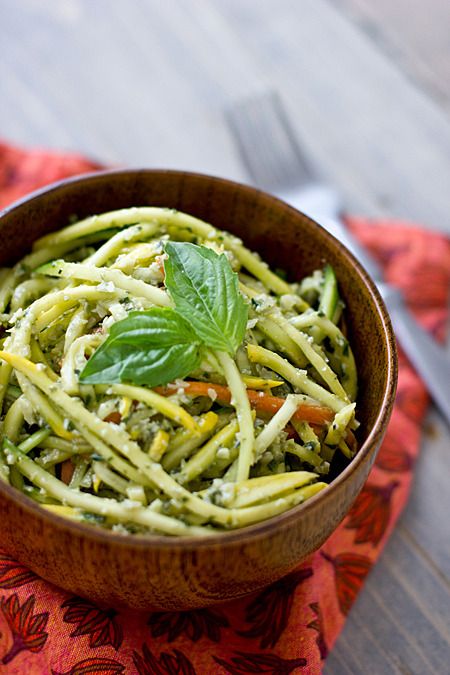 This recipe for Raw Pumpkin Seed Pesto at Oh My Veggies might have you wondering, "raw?" Yes, indeed, made possible by soaking the pumpkin seeds in water. No worries about getting hard bits and bonus: all you have to cook is pasta!
Related: How to cook pasta perfectly every single time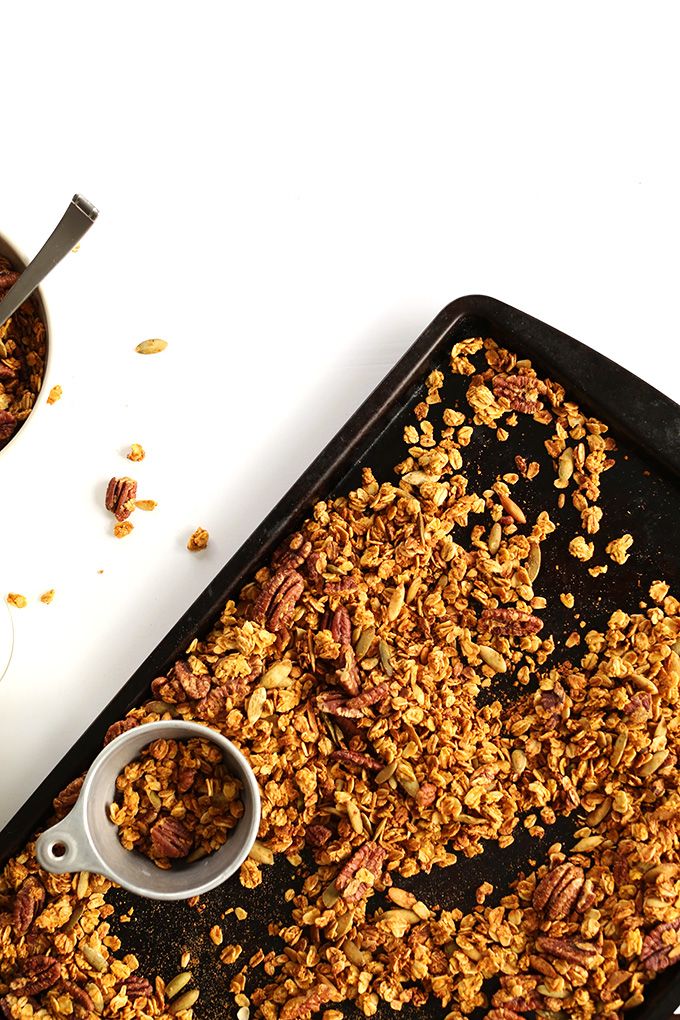 One of my favorite ways to use pumpkin seeds is to turn them into granola. If you're not sure that sounds great, take one look at this healthy Pumpkin Maple Pecan Granola at Minimalist Baker. Five minutes of prep yields a big pile of breakfast and snack goodness packed with pumpkin flavor. This is the perfect recipe to turn to if you have pumpkin puree as well as seeds to use in your cooking.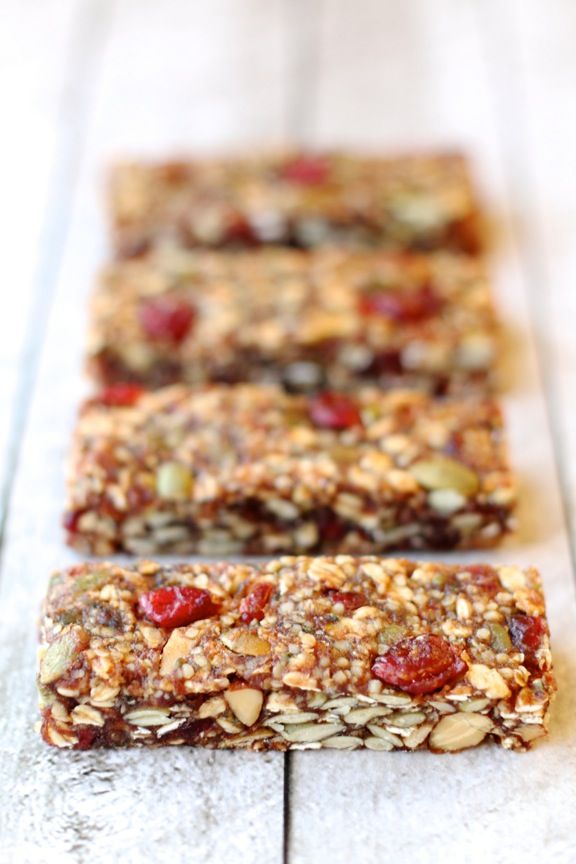 If you'd rather granola bars than loose granola, try these no-bake Fruit and Seed Granola Bars at Running with Spoons. Yummy dates hold all the healthy deliciousness in these bars together.
One of my favorite things is a piece of leftover pumpkin pie and a fresh cup of coffee the morning after Halloween. But this year, I think I will be trying this recipe for Pumpkin Pie Biscotti from Just a Taste because they will be easier to dunk in a cup of coffee than a piece of pie. Also, they look quite festive stored in these clear glass storage containers (affiliate) on the kitchen counter.
Related: 10 fabulous soups that only require 5 ingredients
One way to use a whole pumpkin if you have one is to make pumpkin soup and garnish it with seeds. This Harissa Butternut Squash Soup with Pumpkin Seeds and Crispy Mint Leaves is packed with flavor and you can easily swap in pumpkin for squash. Or, if you don't have a whole pumpkin to work with, follow the recipe as written. It's great either way.
Related: 8 meals featuring November produce
How great is this simple Sunflower, Sesame, and Pumpkin Seed Salad Topper from A Meal in Mind? You can toss together a few jars for yourself to spruce up salads all throughout the fall. And then if you have extra seeds, these would make great gifts for friends and neighbors – although keep in mind they only store for about 3 weeks in an airtight container in the fridge.
For something totally different, make a Sweet 'n Spicy Pumpkin Seed Butter from Smart Nutrition. Instead of sunflower seeds, use pumpkin seeds to make this sweet and savory spread that you can use any way that you would peanut butter or sunflower seed butter.
Related: 5 nut-free spreads we love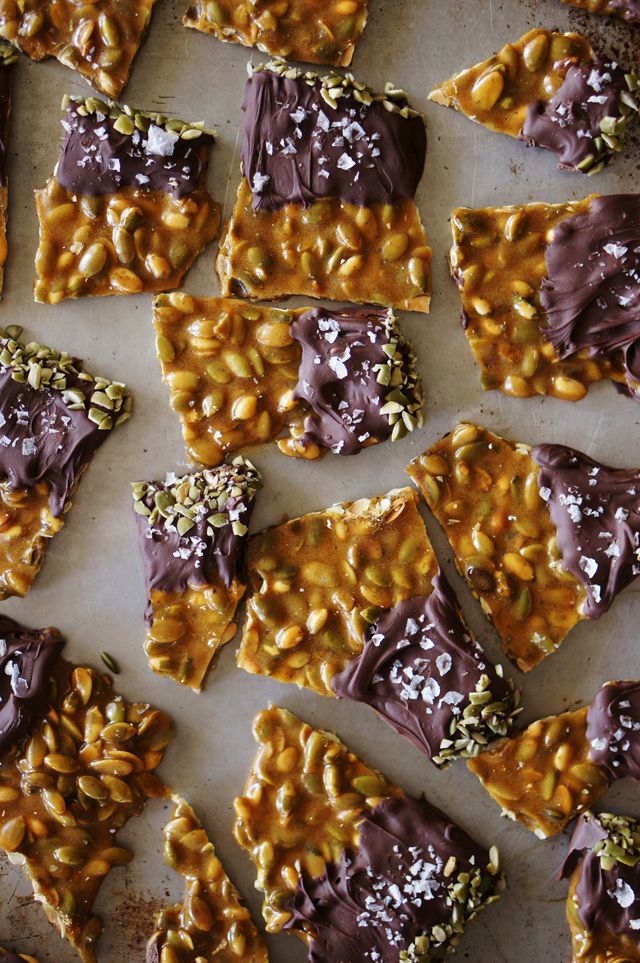 Looking for something more decadent? Making this Pumpkin Seed Brittle at Honestly Yum may take longer than just roasting the seeds, but you end up with an irresistibly sweet and salty snack that will last in your pantry for about a week. And, hey, if you're going to go so far as to make brittle, you might as well dip it in chocolate (though this will be just as good without). By the way, this would make a lovely hostess gift. Wanna come over?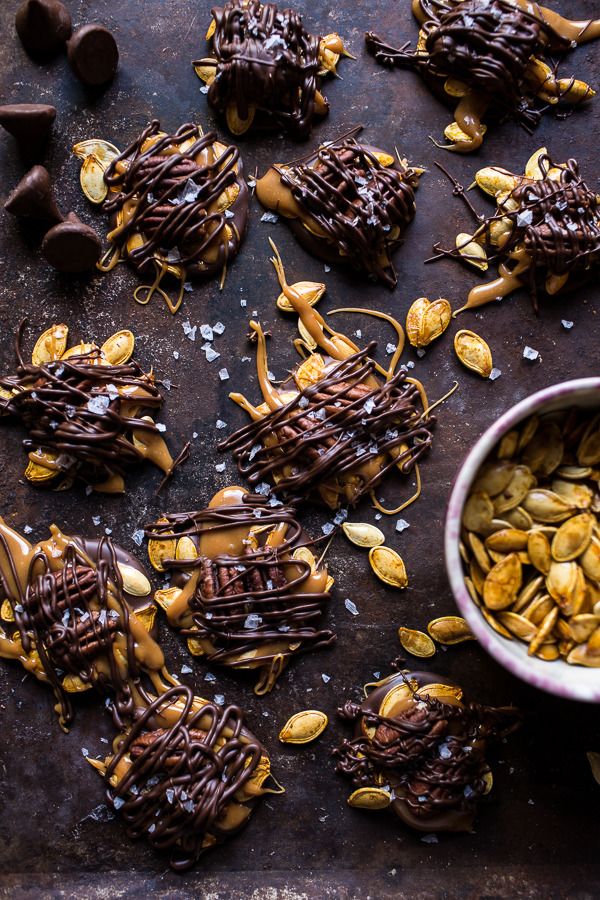 And then there are Chocolate Covered Roasted Pumpkin Seed Turtle Clusters at Half Baked Harvest. Oh my goodness these look delicious and, um, a perfect post-Halloween treat. Hey, why not!