Pancakes get all the glory, but the truth is that their preferred status is based on a lie. See, most folks think that waffles can be made with pancake batter, which makes them nothing more than pancakes in a fussier shape (that requires special equipment, no less). If that were the case, pancakes would win the breakfast battle honestly—but it's not the case and these best waffle recipes are proof.
The key difference between pancakes and waffles is that pancakes are floppy on the outside and cakey on the inside, whereas waffles are crispy on the outside and airy light on the inside. If you prefer donuts and fritters to cake—or just want to change things up—these best waffle recipes should be at the top of your list.
And if you need a good waffle maker, here's a great one under $40! They're so versatile: you can use them for eggs, leftover mashed potatoes, sandwiches… and waffles! (Available at our affiliate, Amazon)
Top: All-The-Blueberries Buttermilk Waffles | Joy the Baker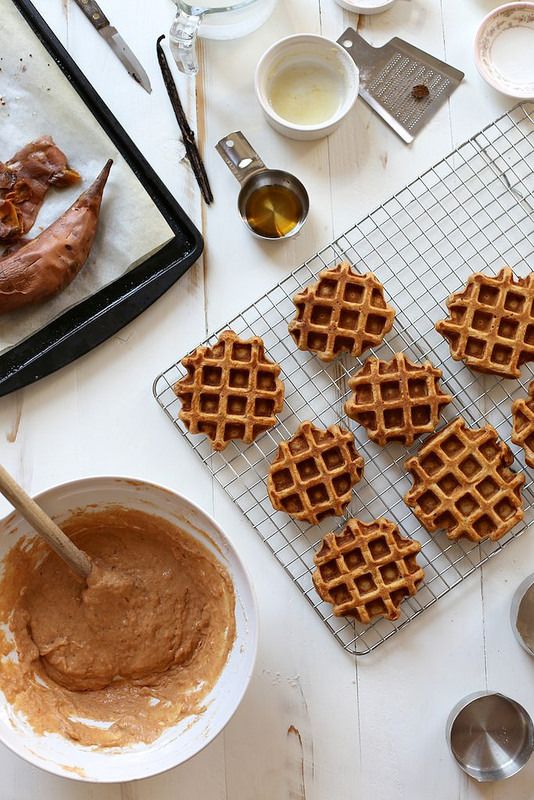 Joy the Baker is one of my go-to sources for breakfast sweets and, when it comes to waffles, she does not disappoint. There were almost too many waffles on her site to choose just one, but I kept coming back to these Vanilla Bean Sweet Potato Waffles. Joy uses sweet potatoes in this recipe for their deliciousness, but they also add a discreet dose of veggies to breakfast. Just saying.
Related: The secret to crispy waffles is easier than you think!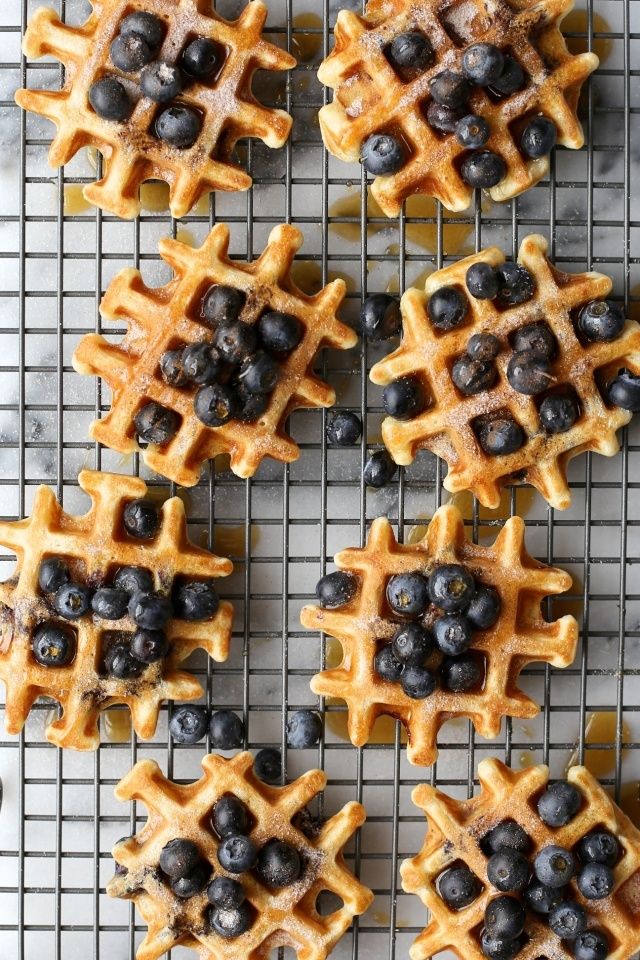 Okay, I couldn't choose just one waffle recipe on Joy the Baker after all. These All-The-Blueberries Buttermilk Waffles (pictured above and top) looked too good not to share. And with blueberry season fast approaching, I'm just trying to be practical. So very practical.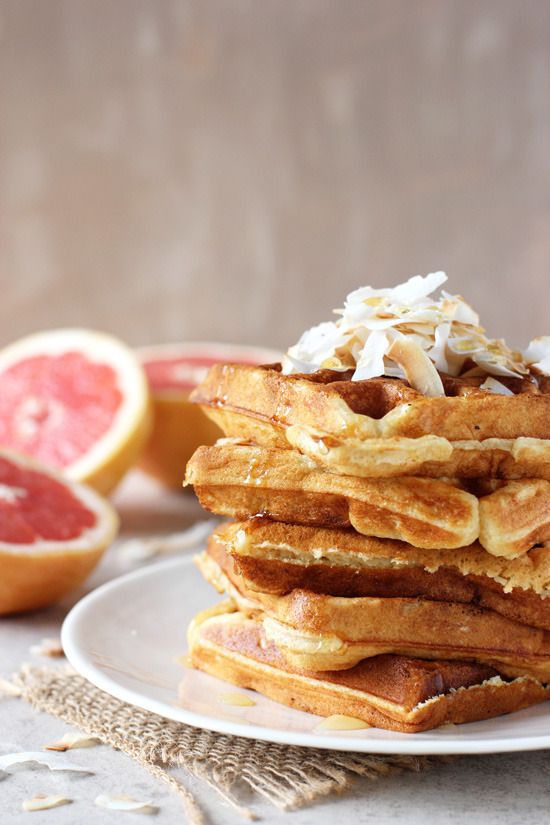 There are certain flavors that you expect from waffles (I'm looking at you chocolate and cinnamon), but these Grapefruit Buttermilk Waffles with Toasted Coconut at Cookie Monster Cooking are an unexpected delight. These are like a bite of sunshine and I can't think of a better way to start the day.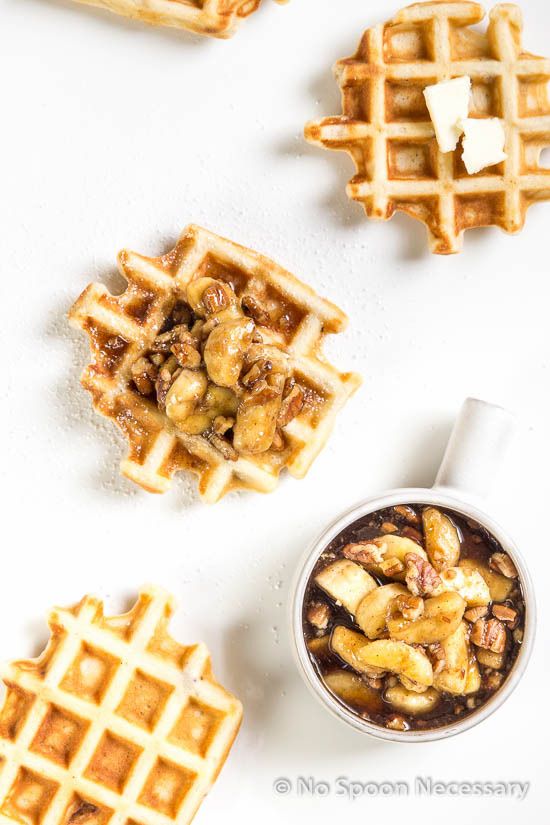 More than chocolate (yes, I said more), I'm a sucker for brown sugary, cinnamon flavors, which is why these Pecan Belgian Waffles with Caramelized Rum Banana-Pecan Syrup at No Spoon Necessary caught my attention. This combination of tastes is like everything that tastes good and right in New Orleans, from pralines to bananas foster, all wrapped up into waffle goodness. It's like a party on a plate, no beads or boozy drinks required.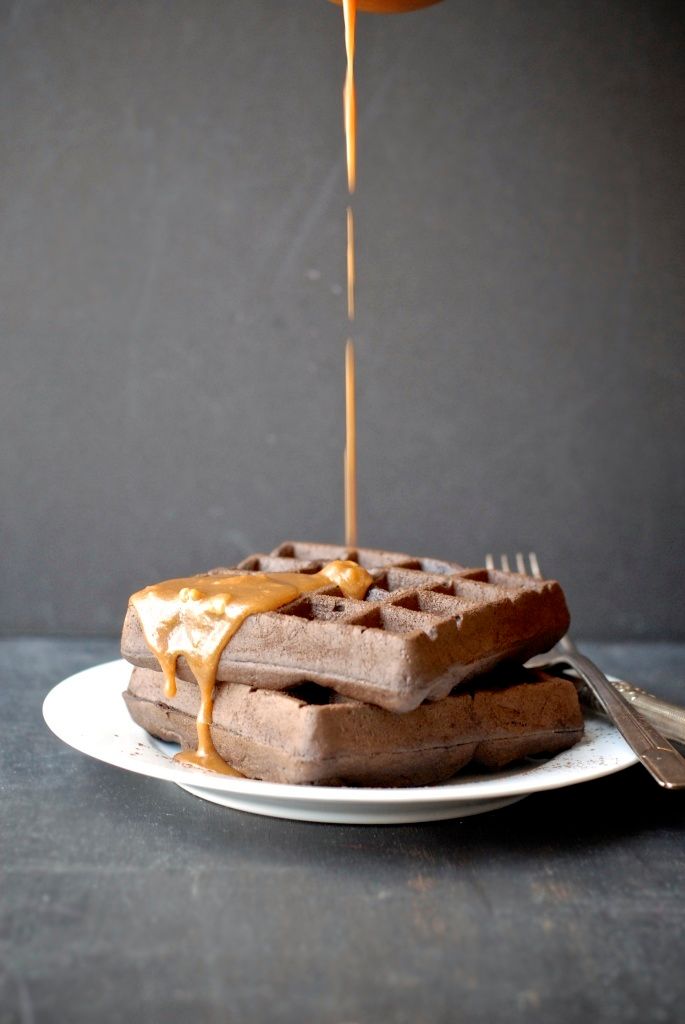 You may not have known it, but you've been waiting for these Chocolate Peanut Butter Waffles with Maple Peanut Syrup at Kumquat. Gretchen brings together the two great tastes that taste great together in this gluten-free recipe using powdered peanut butter. If you don't want to invest in the stuff for just one recipe, I recommend that you use a total of 2 cups of flour—gluten-free or all-purpose—to make plain dark chocolate waffles. Then, use the syrup for the peanut butter flavor. I promise it will do the job.