My motive for wanting to uncover the secret to crispy waffles is a bit selfish: As any family cook will understand, I feed myself last. So when I make a batch of waffles, the hot-off-the-griddle ones are gone by the time I sit down. Lukewarm coffee (the other inevitable consequence of parenting) + soggy waffles = a serious bummer.
So after reading many expert recipes and a few batches of "research,"  I've figured out how to make crispy waffles that will stay crispy. Cue the drumroll. 
Related: The world's best pancake recipes.
Add cornstarch!
Cornstarch, made from finely ground corn flour, is what gives waffles a finer, crispy exterior that plain old flour can't achieve on its own. This easy addition doesn't impart any particular flavor, just texture. And don't worry: Though the cornstarch will make your waffles crispy on the outside, they'll remain soft on the inside, as waffles should be.
When looking for waffle recipes, look for ones that include cornstarch or just use my family's latest favorite: the Everyday Waffles from our editor, Stacie's, cookbook, Make It Easy: 120 Mix-and-Match Recipes to Cook from Scratch—With Store-Bought Shortcuts When You Need Them. Yes, I'm biased, but I honestly find myself going back to Stacie's recipe for a few reasons:
• It makes tender and crisp waffles in both of my waffle irons.
• I don't need buttermilk, which many other waffle recipes call for.
• I don't have to beat any egg whites: hooray!
• And finally, these waffles make a lot. I always make a few extra and freeze them for later in the week and this recipe does the trick without having to double anything.
If you're sold, get the recipe below (and then grab the book — it's so worth it, I promise!), and check out these other tips too. Because a couple more tips can't possibly hurt, right?
Use a very hot waffle iron. The second the batter hits the heat, crispiness takes form and you want it to happen quickly. Preheat the iron for at least 5 minutes; you can do this while the batter rests. Or, do a few dishes while you wait.
If you're making waffles for a crowd — or just a hungry family that won't wait for you unless you insist on serving everyone at once — place cooked waffles on a wire rack and place in a warm 200 degree-oven until the whole lot is ready. Then, everyone can enjoy crispy-on-the-outside, soft-on-the-inside waffles all together. But don't wait too long: You don't want them to dry out!
Related: All the easiest, best dinners you never knew you could make in a waffle iron.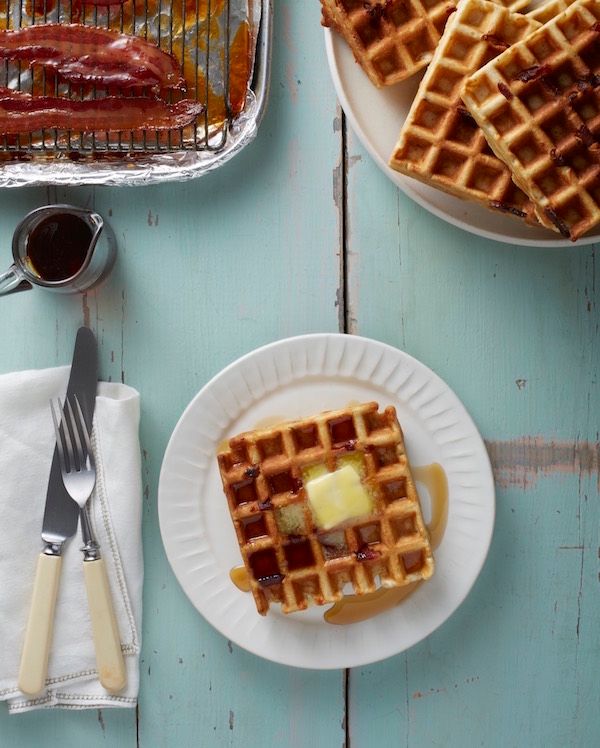 Everyday Waffles from the Make It Easy cookbook by Stacie Billis | Photo by by Naomi McColloch
Everyday Waffles
From Make It Easy: 120 Mix-and-Match Recipes to Cook from Scratch With Store-Bought Shortcuts When You Need Them by Stacie Billis.
Serves 4-6
8 tablespoons (1 stick) unsalted butter
1 cup all-purpose flour
1 cup whole wheat pastry flour (or another cup of all-purpose flour)
½ cup cornstarch
1 tablespoon granulated sugar
2 teaspoons baking powder
1 teaspoon salt
2 ½ cups milk
2 large eggs, lightly whisked (Note: I whisk the eggs right into the milk)
1 ½ teaspoon pure vanilla extract
1. In a small saucepan or in the microwave, melt the butter and set aside to cool.
2. In a large bowl, whisk together the flours, cornstarch, sugar, baking powder, and salt; set aside.
3. To the flour mixture, add the cooled butter, milk, eggs, and vanilla and whisk to combine well.
4. Preheat your waffle iron* according to the manufacturer's instructions, allowing the batter to sit for 5 or so minutes. When ready, cook the batter according to the manufacturer's instructions. Serve immediately, while the outside is still crispy (keeping in mind that if you stack cooked waffles while you finish cooking the batter, they will steam and get soggy), or allow to cool completely before packing in a sealed container or resealable plastic bag in the refrigerator for up to 2 days or in the freezer for up to 3 months.