Finding sweet snacks that serve as tasty treats is easy. The hard part is finding delicious store-bought snacks that are healthy enough—or at least not totally jammed with added sugar or artificial flavors—to pack into their backpacks every day for a little something extra at lunch or to fuel their after school fun. We're always on the lookout for great new, back to school snack products that fit the bill and this year many of them are also gluten-free.
The awesome thing about this year's back to school snack finds is that they aren't gluten-free in a just-for-gluten-free-families kind of way. These are snacks that I buy and that my kids enjoy in our gluten-loving home. In fact, they don't even realize that there's no gluten in them, which I think is a win-win for everyone.
Related: 4 trends for healthy back to school snacks that every parent should know about.
The Better Chip
The Better Chip is a line of gluten-free chips made with non-gmo ingredients including real vegetables like spinach, kale, and beets. Don't worry, there are also corn chips and other varieties like Jalapeño and Chipotle made without hardcore veggies, but I'm telling you that you can't taste the greens or beets—all you taste is good. My kids agree that these chips are delicious and full of flavor without any messy flavor dust. The corn chips taste like actual sweet corn: How can you beat that?!
You can buy these gluten-free chips online at Amazon or find out where to buy them at a store near you at The Better Chip website.
Beanitos Chips and Puffs
We've been fans of Beanitos since discovering them last year and are excited about two new additions to their line of high-protein snacks. Both recently added flavors—Hint of Lime Chips and Real Cheesy Puffs—are high in fiber and have between 4-6 grams of protein. If they taste as good as the rest of their product line, these new snacks will be a staple in my pantry.
You can buy these snacks on the Beanitos website or find where to buy them at a store near you.
Related: Best high protein snacks for kids.
KIND Healthy Grains Bars
KIND has added two new bars to its line of Healthy Grains Granola Bars, both featuring the super grain sorghum and popcorn-inspired flavors: Salted Caramel and Dark Chocolate with Sea Salt. The nutritional virtue of granola bars seems to always be in question, but I find that the right ones sate my kids with wholesome ingredients like whole grains and without too much sugar. The new additions to the KIND line have a modest 7 grams of sugar per bar and 20 grams of whole grains, plus, like most of the Healthy Grains bars, they are gluten-free and made without nuts, making them a no-brainer for allergy-friendly classrooms like ours.
Learn more, including where to buy these snacks, in our introduction to the new KIND Popped Healthy Grains Bars .
Halfpops
Halfpops are my new favorite snack and, thankfully, the kids love them, too. They are exactly what they sound like: half air-popped kernels of pop corn that have the satisfying crunch of a chip, but the lightness of fully popped popcorn. If you ask me, these are the best of both worlds. Halfpops come in 4 flavors: My older son and I are totally addicted to the Chipotle Barbecue, while the little one, of course, prefers Caramel and Sea Salt and Butter. Go figure.
You can buy all four flavors at the Halfpops site.
Justin's Snack Packs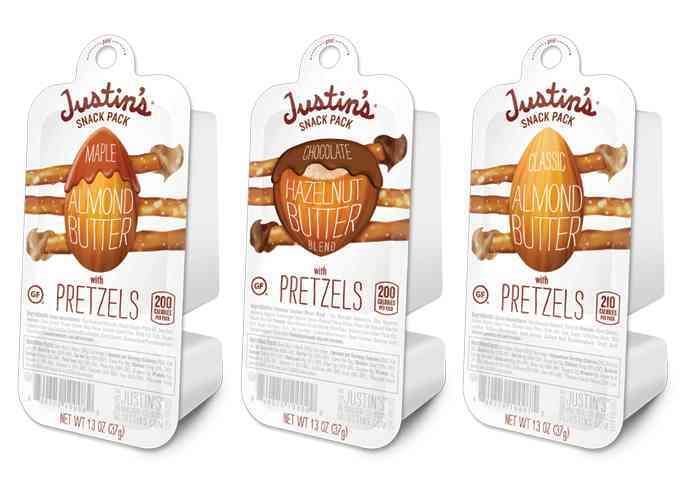 We have to give props to Justin's snack packs, featuring idividual packs of gluten-free pretzels and either Justin's Maple Almond Butter, Chocolate Hazelnut Butter, or classic Almond Butter which are perfect for peanut-free (but not not-free) classrooms; and they are so tasty, that Liz featured this find in a post of its own. One downside is that the pretzels can snap when you dip them into the delicious all-natural nut butters, especially if they haven't had time to warm up. But a small price to pay for a deliciously nutritious snack that you can count on. Though, speaking of pay: The other catch is that these are pricy, so maybe these are your special every-Friday treat.
Learn more, including where to buy these snacks, in our review of  Justin's snacks packs.
Nourish Snacks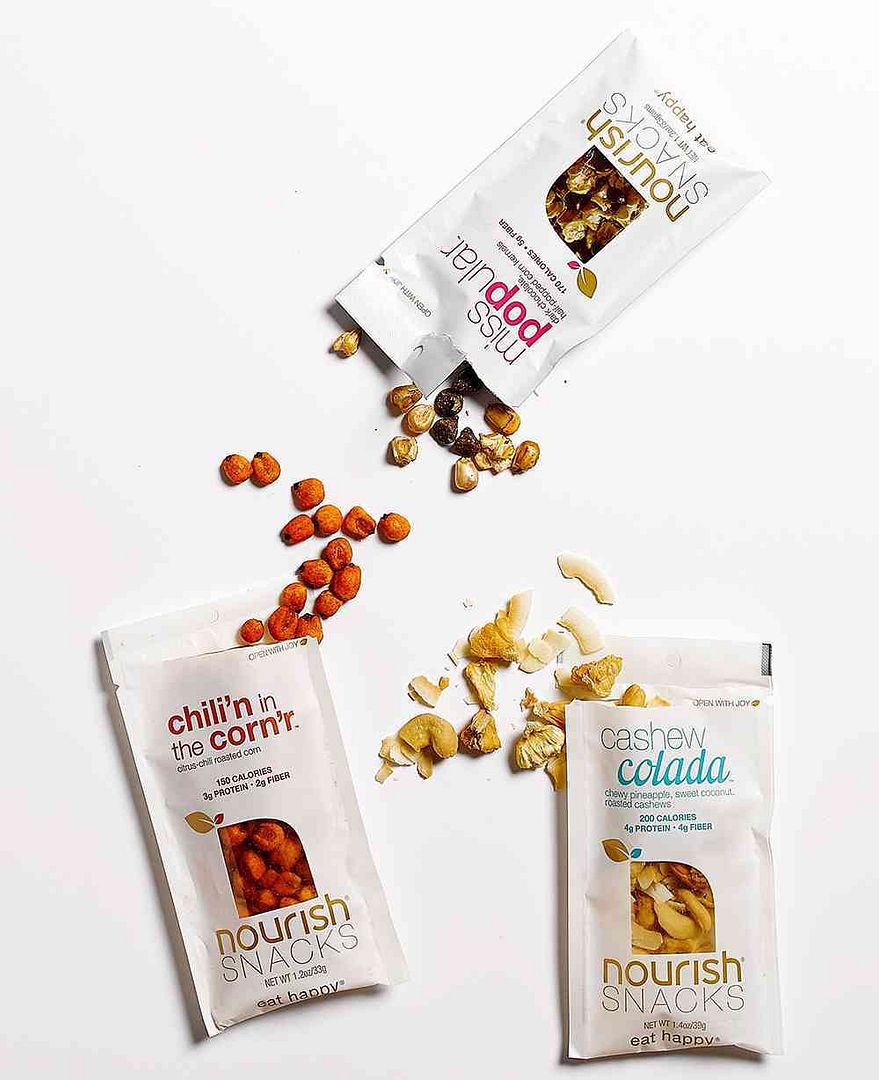 Nourish Snacks is a line of individually packed snack packs created by Joy Bauer, a registered dietician and NBC's TODAY Show nutritionist. Each pack is a flavorful combination of nuts, oats, popcorn, roasted corn, granola, and other non-GMO, gluten- and dairy-free snack ingredients paired to create flavors like Cashew Colada (chewy pineapple, sweet coconut and roasted cashews) and Cinn-Sational (cinnamon spiced apples and almonds). You can buy your favorite flavor in a pack of 5 or grab a collection made of 20 packs of several flavors that Nourish puts together for you. The Kids Collection is a great place for families to start, though we dig the Beach Collection. Endless summer, baby!
You can buy these snack packs at the Nourish Snacks website.
Related: Best lunch box snacks that kids will love.
Crispy Green Fruit Snacks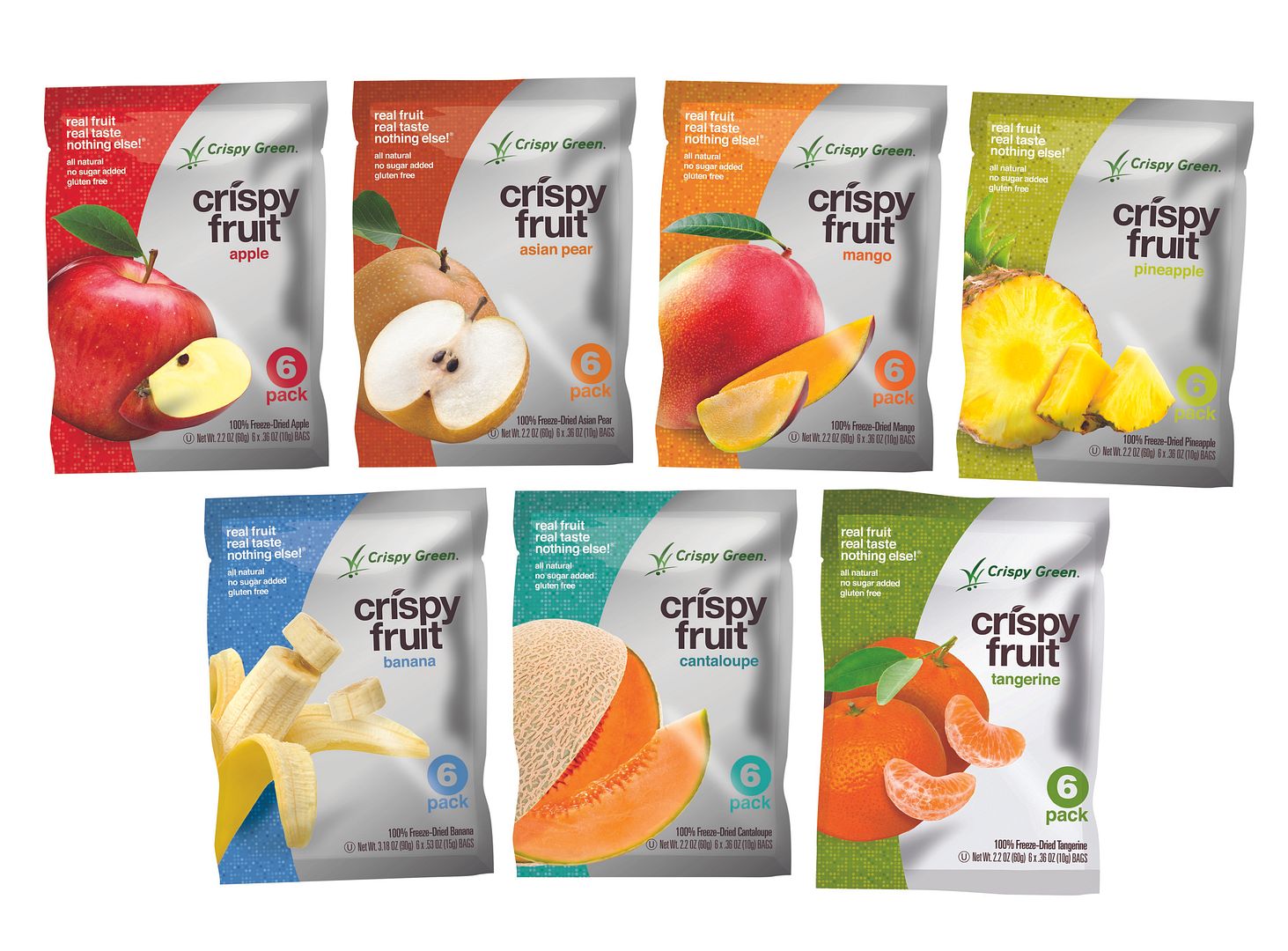 Many freeze dried fruit snacks cater to toddlers thanks to their low sugar content, but we finally found one that's great for big kids, too, in Crispy Green Fruit. These snacks are nothing more than non-GMO freeze dried fruit, which retains many of the nutrients of fresh fruit and is much lower in sugar than dried. They taste a little like space food to me, but my kids love them, which is good enough. This brand has no added preservatives and comes in 7 flavors. My kids love the Crispy Asian Pears and Crispy Mangoes best; I think Crispy Tangerine sounds cool.
Find where to buy these low-fat fruit snacks at a store near you at the Crispy Green website.
Peeled Apple Clusters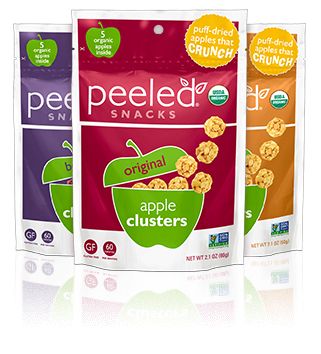 Speaking of fruit snacks, we've been fans of Peeled since way back and are psyched about one of the latest additions to their product line: Apple Clusters. They are nothing more than clusters of puff-dried apple sightly sweetened with apple juice concentrate, but somehow they are particularly yummy. I thought that my kids would think these seemed like baby snacks, but they totally dig them, especially in the cinnamon flavor.
Find out where to buy Apple Clusters at a store near you at the Peeled website.