It's mid-November. Yeah. We can't believe it either. We only just got over our summer s'mores obsession a few weeks ago and now here comes Thanksgiving, with all its trimmings, staring us right in the face. It's time to talk turkey — literally — and for many busy parents, that means turning to smartphones and devices for ideas, how-to's, recipes, and over all food tips and tricks. So, we've rounded up 6 cool apps for Thanksgiving cooking help. We're seeing Best Meal Ever status in your future.
Related: Your Thanksgiving cooking schedule: A sanity-saving holiday meal prep plan.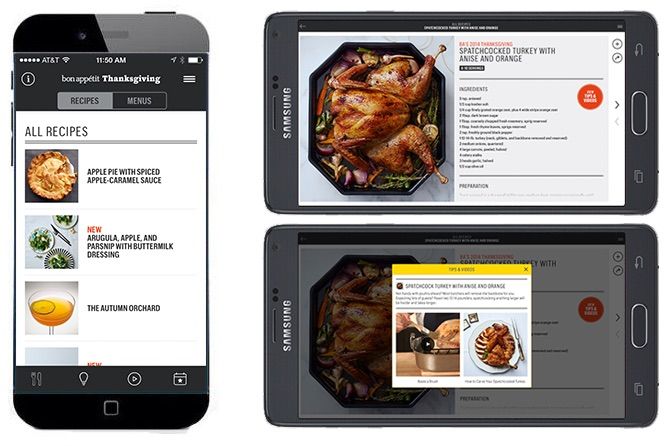 You really can't go wrong with Thanksgiving: A Bon Appétit Manual (top) on your side. Sure, the free app for iOS and Android is from last year, but it's such a classic you can roll it out time and again. We're talking 101 recipes from turkey to pie, plus tips and tricks, how-to's, and easy-to-follow videos from the tried-and-true Bon Appétit Test Kitchen.  (Free download on iTunes and Google Play.)
Some folks (not naming any names!) might tell you that their favorite kind of wine is wine. But for the many others who might feel a little overwhelmed when it comes to wine selection, there's the Hello Vino app. The free app for iOS and Android has tons of cool features like the wine label scanner that lets you snap a pic of the bottle and gives you the lowdown on it in return, or the super deep database that includes more than 6 million wines in its search engine. Plus, there's a "wine pro" on call so you can speak to a human person about the schmancy-looking bottle you want to pair with your delectable Thanksgiving dinner. (Free download on iTunes and Google Play.)
We've leaned on the MealBoard app before when looking for easy weeknight dinner-planning ideas. It helps take the guesswork and stress out of meal planning by providing a customizable space to store recipes, create meal plans, pull together grocery lists, and keep track of what you have in your fridge and pantry. And if you're hosting Turkey Day this year, that kind of organization is exactly what you need. Another cool bit: The app supports many major grocery store chains, so you can price things out ahead of time and figure out how much you'll be spending when you get there. (On iTunes for $3.99.)
Related: Easy turkey recipes for Thanksgiving that are just as good as the hard ones.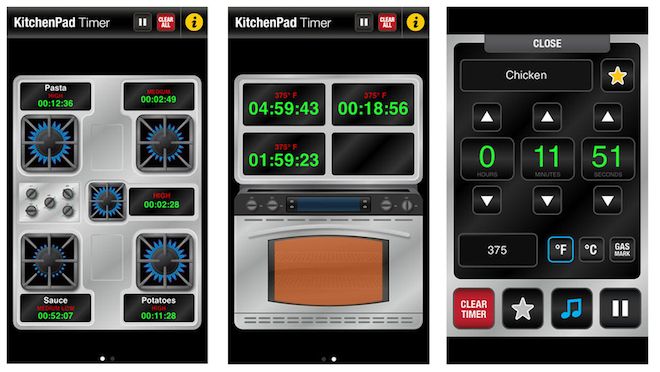 When it comes to Thanksgiving cooking, timing is (almost) everything. It's when you move past the cute pig-shaped wind-up timer on the windowsill and get super serious about what you're burning (or not burning). This is where the KitchenPad Timer app comes into play. This visual kitchen timer lets you stay on top of multiple fires at once. You can set up 9 timers (that's 5 stove-tops and 4 ovens) and have all your critical cooking info right under your nose. Nothing's getting well, well, well-done on this app's watch! (On iTunes for $1.99.)
Say you wanted to try something a little different and off the beaten drumstick path this year. Then the Epicurious app should probably be your first stop. Of course the popular app has loads of classics, but there's also an impressive choice of alternatives and unique takes on the usual Thanksgiving fare. Right now,  Epicurious has dedicated sections to everything from Turkey & Gravy and Stuffing and Sides to Vegetarian Thanksgiving options and, of course, Desserts. I wonder if  there's a recipe for sold-out, make-you-wanna-sing, sweet potato #PattiPie in that last category. Ha! (Free download for iPhone, iPad, Android, Windows, and Kindle and $4.99 for Nook at Epicurious.)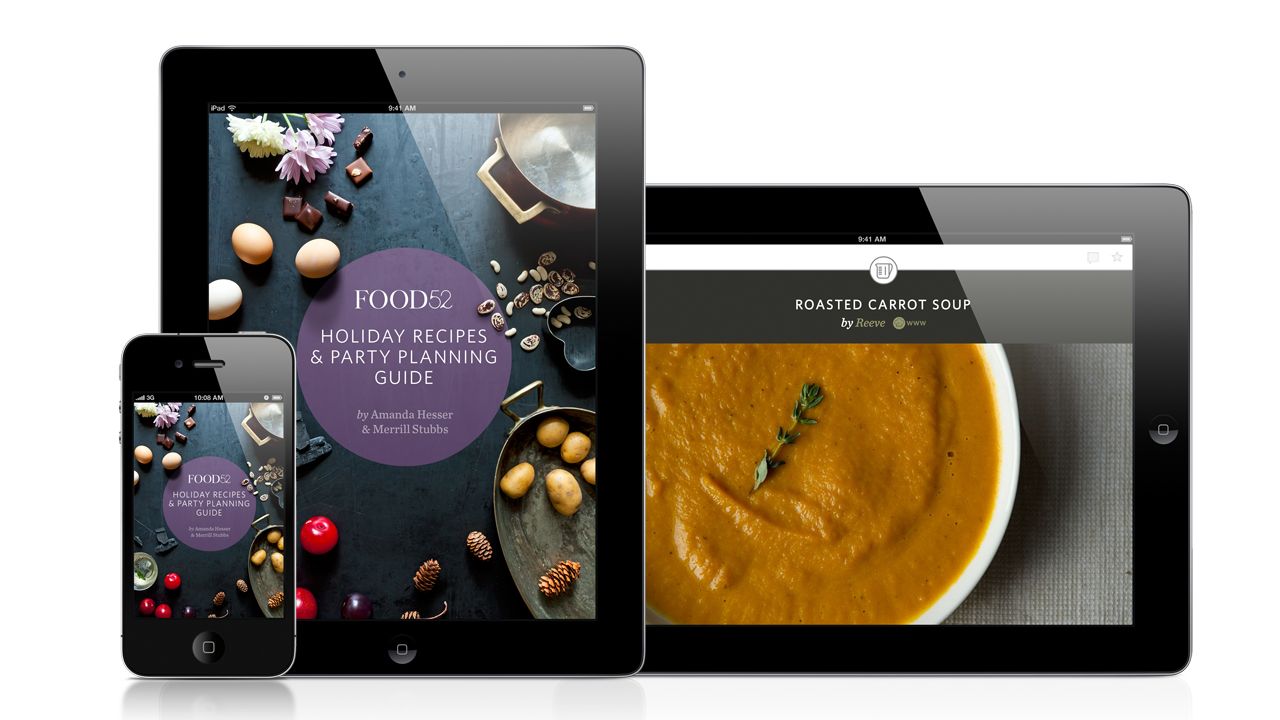 Another one of our favorite food sites, Food52, also has an app that's the perfect resource to help you put together a fabulous Thanksgiving meal. Though the Food52 Holiday Recipes & Party Planning Guide hasn't been updated in a couple of years, the app, widely considered one of the best for holiday cooking when it first came out, still has tons of excellent holiday recipes, video tutorials, full screen technique photos (over 800 of them for serious inspiration!), event planning tips, and key references, which are especially helpful if you're putting together your first holiday spread—but even if you've done it a million times, too. With experts, New York Times food writers, and Food52 co-founders Amanda Hesser and Merrill Stubbs in your corner, you're sure to put together a killer Turkey Day Spread. (On iTunes for $3.99.)