You may think the only question related to Thanksgiving stuffing is, "To stuff or not to stuff?" There are, however, many other pressing questions to be answered: Add meat or keep it vegetarian? What kind of bread to use? Use interesting veggies or stick with carrots and celery? There are no right or wrong answers to these, except for the question of whether to make stuffing homemade. To that, I say YES! It's the only way.
Homemade stuffing is easy to customize without a lot of effort and always tastes better. Like, way better. It's forgiving enough that you can experiment on your own—sauté some vegetables, toss with dried bread cubes—or use a recipe. We found 7 of the best stuffing recipes for Thanksgiving that are simple and awesome, as any stuffing—in the bird or out, vegetarian or not—should be.
Also, consider picking up a couple of casserole dishes like these Staub Ceramics Rectangular Baking Dishes that retain heat incredibly well, and look gorgeous so they can go straight from the oven to the table.
Top: Super Veggie Sage Stuffing | With Food and Love
Related: How to cook a turkey: Tips and a foolproof guide to roasting the perfect Thanksgiving bird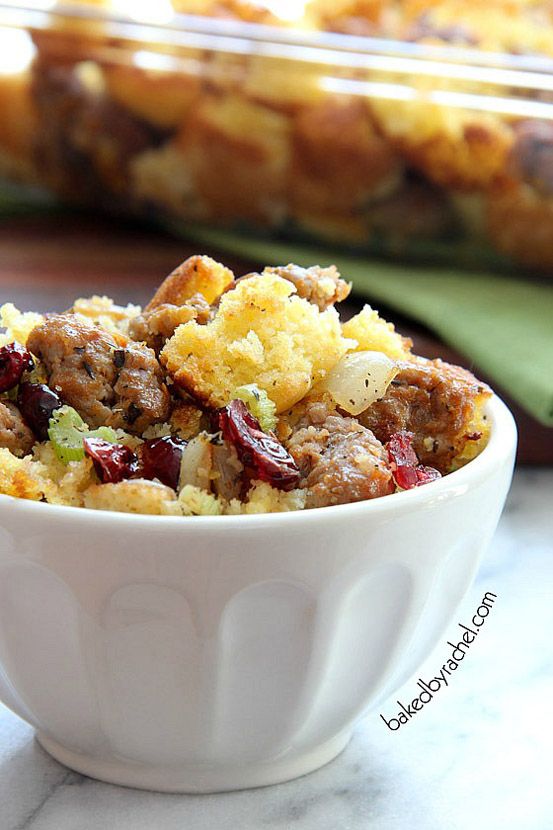 A fun way to mix up your stuffing routine is to use cornbread for the base. This Cornbread and Sausage Stuffing at Baked by Rachel is a great version that uses Italian sausage to boost the flavor. Because, you know, sausage makes everything better. Especially stuffing. In fact, you can even swap in fresh chorizo or merguez lamb sausage to give this another fun twist.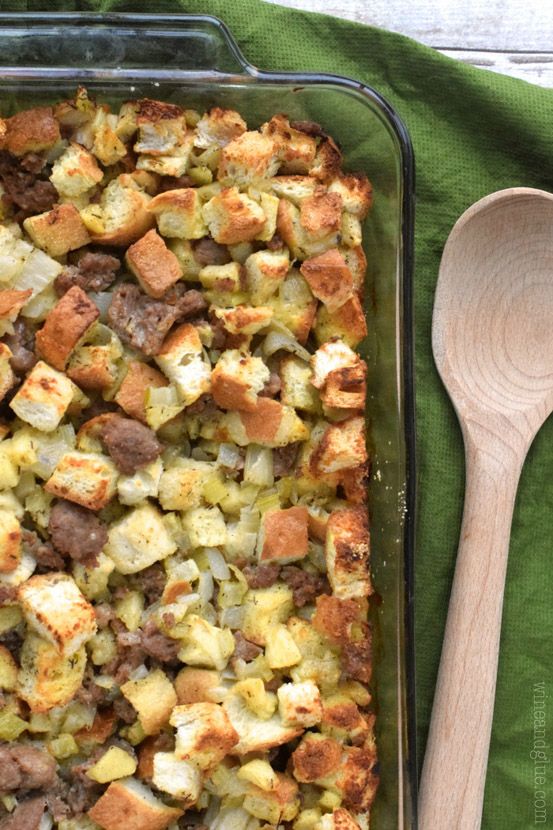 More sausage! This time paired with apples in a simple recipe that saves you major time. You can whip up this Make Ahead Stuffing at Wine and Glue the day before Thanksgiving, then take it out of the fridge to warm up a few hours before dinner. Anything to reduce prep time on Thanksgiving Day is a winning recipe in my book.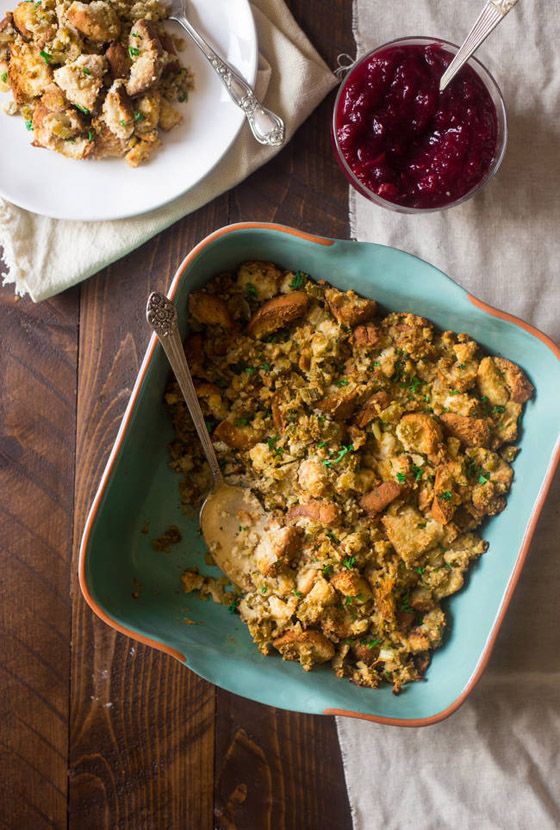 You'd think that making tasty gluten-free stuffing would be hard. After all, it's essentially bread! This Gluten-Free Stuffing at Food Faith Fitness is anything but. Made with a super simple list of ingredients, it only takes 15 minute to prep and manages to feature all the deliciousness of stuffing without any of the gluten.
Related: 5 easy cranberry sauce recipes that break the mold this Thanksgiving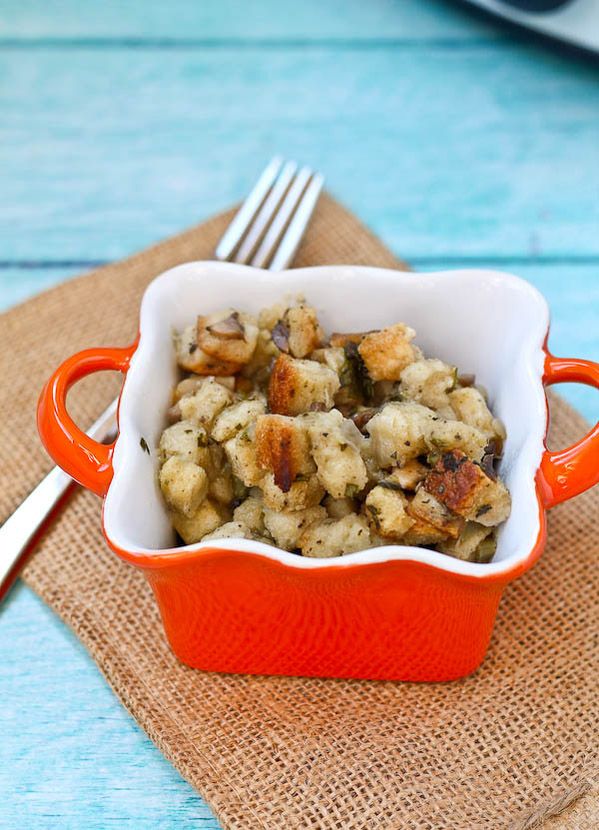 Skip the oven entirely with this Slow Cooker Stuffing at Rachel Cooks. That's right, just toss the stuffing ingredients in the slow cooker and let it do its thing while you make the rest of your Thanksgiving feast. The result? Moist, delicious stuffing ready when you are.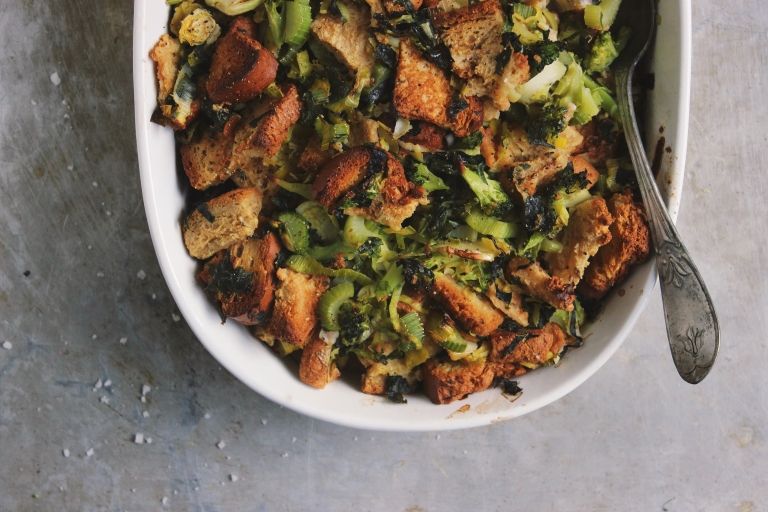 If you love veggies—and especially if you're hosting vegetarian guests—up the ante and add a few more vegetables to the mix. This Super Veggie Sage Stuffing (above & top) at With Food and Love features Brussels sprouts, broccoli, and kale. And don't worry: Sage gives it that classic Thanksgiving flavor we all crave.
Related: Colorful fall salads to brighten your Thanksgiving table or really, any table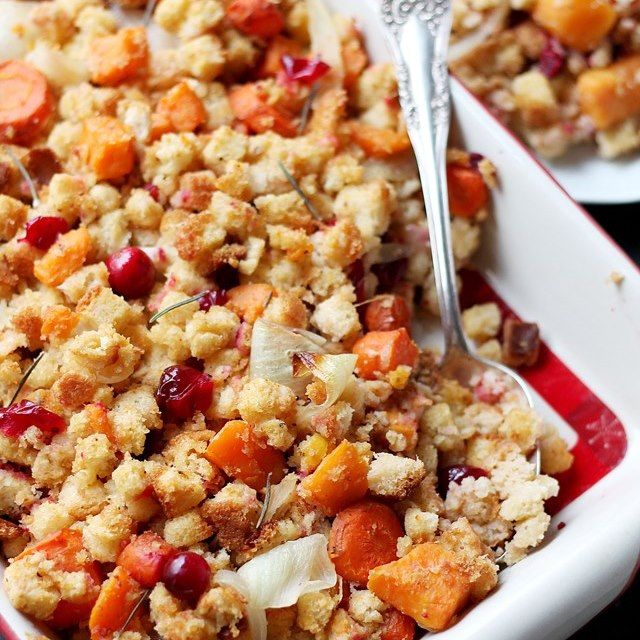 This Sweet Potato Cranberry Stuffing at Diethood practically screams Thanksgiving. Sweet potatoes, cranberries, and cubed bread combine for true Thanksgiving greatness in this simple, tasty recipe.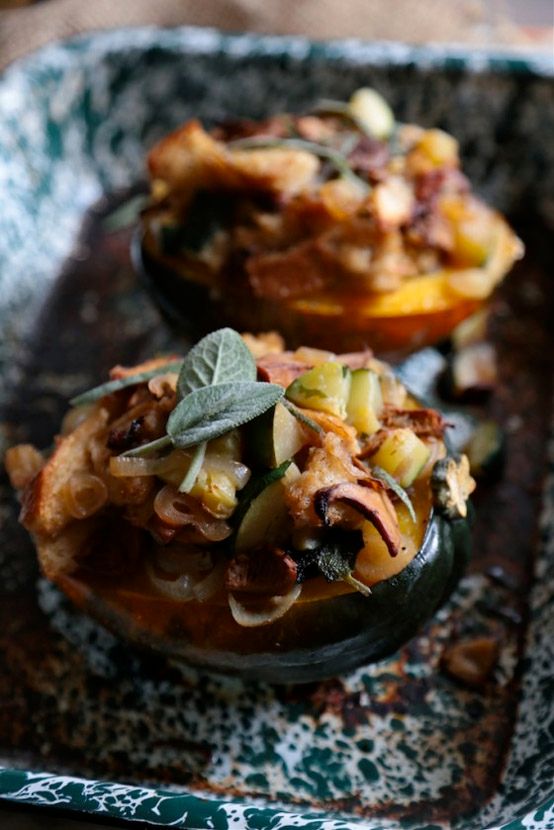 This Chanterelle Sage Sourdough Stuffing at Country Cleaver may look and sound super fancy, but it's not any harder to make then a classic stuffing. Use sourdough bread and add a few fancy mushrooms to get a gourmet stuffing without a gourmet amount of work.