After my recent success testing a recipe for a killer two-ingredient frosting, I decided to try another seemingly magical recipe: two-ingredient cookies. I've seen variations of this recipe ricochet across Pinterest for years, but was always a little skeptical. Now I needed to know for sure.
I kept a handful of cookies made with the recipe as written, and then I did what any cookie person with integrity would do: I added chocolate chips! Read below to see if these dairy-, sugar-, and flour-free cookies actually worked and what the kids thought of them, which is the real test.
Related: 10 easy no-bake dessert recipes for warm weather.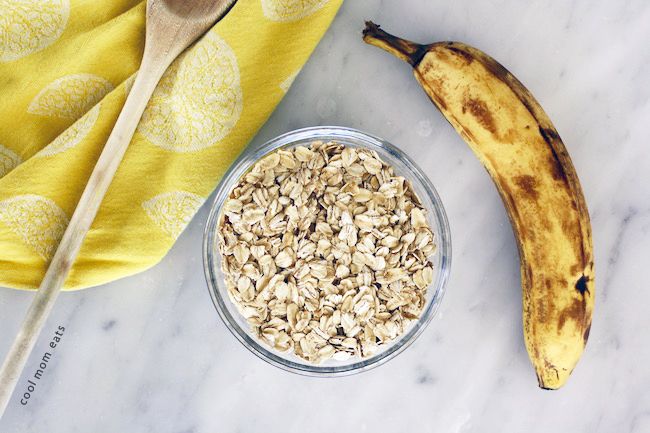 Two-Ingredient Cookies: The recipe.
I studied quite a few variations of this recipe before coming up with this one. Some versions call for quick-cook oats, while others double the amount of banana or even require you to blend the oats in a food processor. In the end, I used regular old-fashioned oats because of the texture they add, and kept it easy with a 1:1 ratio of oats and banana.
I also found that I like the cookies more after they've had a few hours to rest.
Dairy-, Sugar-, and Flour-Free Two Ingredient Cookies
Yields 10 small cookies
1 cup mashed banana (1-2 very ripe bananas)
1 cup old-fashioned oats
1. Preheat oven to 350 degrees. Prep a cookie sheet with baking spray or line with parchment; set aside. In a bowl, mash the bananas. Add the oats and mix well. Let the "dough" rest a few minutes while you wait for the oven to finish heating up (yup, these come together that quickly). Drop spoonfuls of dough onto the prepared cookie sheet and bake for 12-15 minutes, or until the tops look golden and a little crisp.
Related: 5 healthy 3-ingredient snacks that won't ruin your kids' dinner.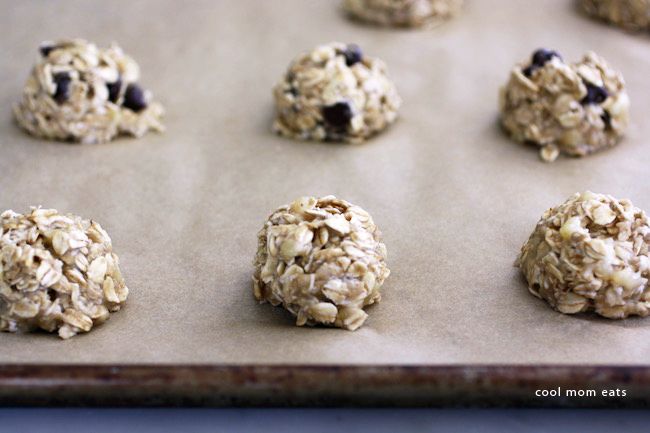 Two-Ingredient Cookies: The verdict.
I personally thought that the plain cookies were good, but not amazing. I missed a little salt and craved a mix-in of some sort – chocolate, raisins, cinnamon, or toasted nuts. Just something more. My husband thought that they were better than expected, my oldest daughter liked them with chocolate chips (surprise, surprise), and the little one happily ate both the plain and chocolate chip versions.
I couldn't help wishing that I had made these when my girls were infants. They make a terrific on-the-go snack for little eaters.
Related: Low-sugar baby cookie recipes that you can feel good sharing with your baby or toddler.
Two-Ingredient Cookies: The bottom line?
Though not the tastiest cookies in the world, these two-ingredient cookies are brilliant for kids given that they are an inexpensive, quick, allergy-friendly, and nutritious snack. And with the right mix-ins, they can swing from healthy breakfast or snack (walnuts, cinnamon, dried fruit, almond butter) to a more dessert-worthy treat (coconut, chocolate, peanut butter chips, etc.).
My advice is to mix in one or two ingredients — adding more will prevent the "dough" from holding together — and give this recipe a try. Given how fast it comes together, it's totally worth it. Plus, the kids can do all the prep!
Now if I could only get them to do the clean up too.