Those of you who already have Genevieve Ko's popular new(ish) book, Better Baking: Wholesome Ingredients, Delicious Desserts, know what a gem it is. At the heart of her unconventional approach is swapping many standard baking ingredients with natural, better-for-you options. The results are still indulgent and delicious, but legitimately healthier, making you wonder if Ko is either crazy or a genius.
I vote genius.
Take, for example, the two-ingredient frosting that Genevieve spreads on her School-Party Sheet Cake (scroll down; the recipe is published right on Amazon!). Her rich and creamy frosting is made with chocolate and only one other healthy — and totally unexpected — ingredient and contains no added sugar. As in, NONE!
To squash my own skepticism — and answer to your  raised eyebrows — I went ahead and tested this curious two-ingredient frosting. Read on to find out what it's made of  and how it stood up to three tough critics.
Top: Photo by Romulo Yanes for  from Better Baking: Wholesome Ingredients, Delicious Desserts
CME is an Amazon affiliate.
Related: A complete guide to the best frosting recipes for all your cakes and cupcakes.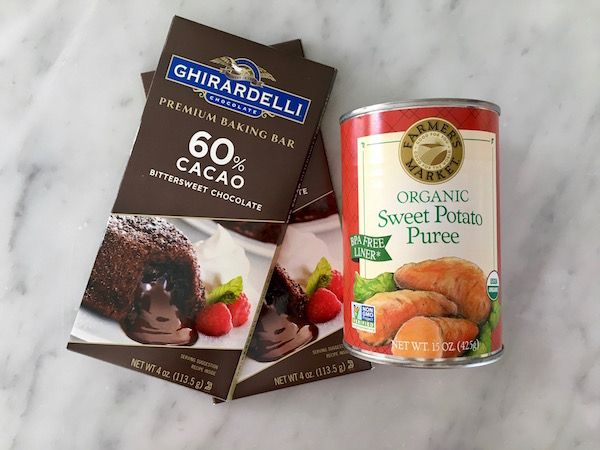 Healthy, two-ingredient frosting: What's in it?
Genevieve's creamy two-ingredient frosting is made with chocolate and sweet potatoes! You just melt finely chopped bittersweet or semisweet chocolate and mix into warmed sweet potato puree. Within seconds, a decadent chocolate frosting forms right before your eyes. Just be sure to use pure, canned sweet potato puree (freshly cooked sweet potato will affect the texture) and chocolate with a cacao content between 55 and 60%.
Related: One bowl baking recipes to keep it easy. And delicious.
Does this healthy, two-ingredient chocolate frosting actually work?
Well, it's definitely the quickest frosting recipe I've ever made, and quite probably the healthiest. I used 10 ounces of finely chopped bittersweet chocolate (60% cacao), but bittersweet and semisweet are often used interchangeably, so don't stress if you're not sure which one to buy.
The frosting also had a beautiful, silky texture. So far, so good.
Related: Healthy, low-sugar baby cookie recipes that you can feel good sharing with your baby or toddler.
But how does it taste?
On its own, the flavor of this frosting falls a little on the dark side, with some bitter notes — which I love. But what about my girls?
My 5-year-old said that it tasted like chocolate chips, and although she thought it was a little dark, too, she licked the entire spoon clean (with competition from her younger sister). So I think they approve.
Then, when we used it to top cake, it hit the perfect sweet spot.
The girls and I agreed that given the near-magical ease of making it, the creamy dark chocolate-y flavor, and, uh, the fact that it's made with SWEET POTATO, this frosting recipe is definitely a keeper.
SO I was right, Ko is a genius.
Related: Healthy baking substitutes, so that you can eat more of what you bake. (Right?)
A few tips for when making your own healthy, two-ingredient chocolate frosting.
There's so little to this easy recipe that you hardly need pro tips, but just a couple of pointers should help.
First, use a serrated knife to finely chop blocks of chocolate. And, once the frosting is made, keep in mind that it will solidify after it sits for a few hours, making it hard to spread. I tested re-warming it over low heat and it quickly returned to its silky state. Just be sure to stir often.