My love of everything coffee started at 6-years-old when my dad would make me a cup of Sanka before bedtime. When other kids were ordering chocolate or vanilla cones, I was getting two scoops of coffee ice cream. What I'm trying to say is, Lorelai Gilmore has got nothing on me. I love coffee.
So when I saw a recipe for Coffee Butter at Tasting Table, I had to try it. Not to be confused with Bulletproof Coffee, in which you add butter, we're talking butter that tastes like coffee. That you can spread on bread. Or waffles. Or pancakes. Or maybe even spoon right out of the container.
Not that I would do that. Probably.
Top: Coffee Butter | Photo by Michelle Sun for Tasting Table
Related: The secret for how to make coffee less bitter.
Coffee Butter: How to make it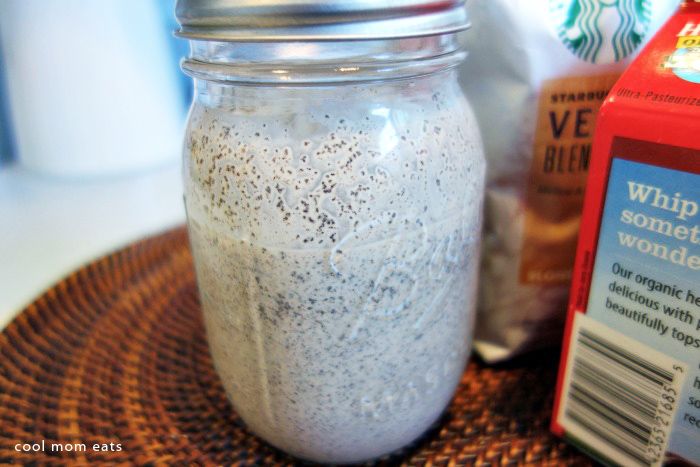 It's surprisingly easy. Similar to making cold brew, you let coffee grounds steep overnight. In this case, though, they steep in heavy cream instead of water and this happens in the refrigerator.
The next day, you just strain the cream to remove most of the grounds, add some powdered sugar, and whizz the infused cream in a food processor until it magically turns into butter. A second straining in a cheesecloth will remove any liquid left and then it's ready to spread on toast — or whatever your fancy.
Related: Homemade chocolate shell: Just 2 ingredients and 5 minutes.
Coffee Butter: The verdict?
Honestly, even this coffee crazed woman wasn't a huge fan of coffee butter. I couldn't get past the grounds in the spread.  And while the taste and buttery texture were good, I guess I prefer my coffee in a cup.
I did come across another recipe for coffee butter spread at Epicurious, which uses instant espresso powder, which would solve the grounds issue, so I plan on giving it a try. Which I guess says something: Even though I wasn't wow'ed, I'm not quite ready to give up on the idea of coffee butter.
If you feel the same even after reading this, then you should definitely give the recipe at Tasting Table, which has a ton of positive reviews, a try. The effort is worth finding out for yourself. And you can always move on to the recipe at Epicurious, too, and we can coffee tawlk about whether or not it's worth it.