We've all been there. Your son has invited twenty of his best buddies over for his birthday party, or your daughter has asked very sweetly if she can host the entire soccer team over for the season-ending celebration. And so you panic, wondering: How on earth can I feed a party full of kids without going insane or cleaning out my bank account?
Or both?
In my case, I hit peak panic when I volunteered to have fifty high-schoolers (and some of their parents and teachers) over to our house for the cast party after the spring musical wrapped.
Our answer: An easy, smart, and totally crowd-pleasing pasta bar.
Top Photo: © Marsha Takeda-Morrison
Related: 25 creative pizza toppings for the most awesome DIY pizza party.
Here were the things I considered in making our choice.
1. My girls were adamant that they didn't want to "just" serve pizza. (They're foodies, what can I say? They're good kids otherwise so I keep them around.)
2. Then there are the quantities that growing tweens and teens can eat, which is huge. LIke, unbelievable amounts – somewhere between massive and otherworldly.
3. Also, some of the kids are picky eaters and don't like anything that has a sauce. Or a color. Or a flavor.
4. I had to keep in mind there would be adults here, too.
5. Money. Because, money.
Pasta was the logical answer.
Almost everyone likes pasta, right? And by laying out the pasta, sauce and toppings all separately buffet-style, everyone could make their own dish to their liking. We put out trays of penne, two kinds of sauce, grilled chicken strips and a variety of toppings to provide a lot of different choices – and it was a huge hit!
Here's how I did it.
Pasta Bar Party Ingredients and Quantities: A Helpful Guide
Lots of food = happy kids! Photo: © Marsha Takeda-Morrison
Pasta. Specifically penne.
You may have your own pasta preferences, but penne pasta is easy to serve and eat and it's designed to hold all kinds of sauces, which is perfect.
I started off using the standard 2 oz. per person rule, but that proved to be woefully inadequate when feeding teenagers.
In fact, I calculated I would need six pounds of pasta, and I bought ten pounds instead. But we still ran out three-quarters of the way through the party at which point the kids started eating the sauce by itself, which was horrifying.
So depending on your kids, I would recommend using a 4 oz per person rule, knowing you can always freeze leftovers.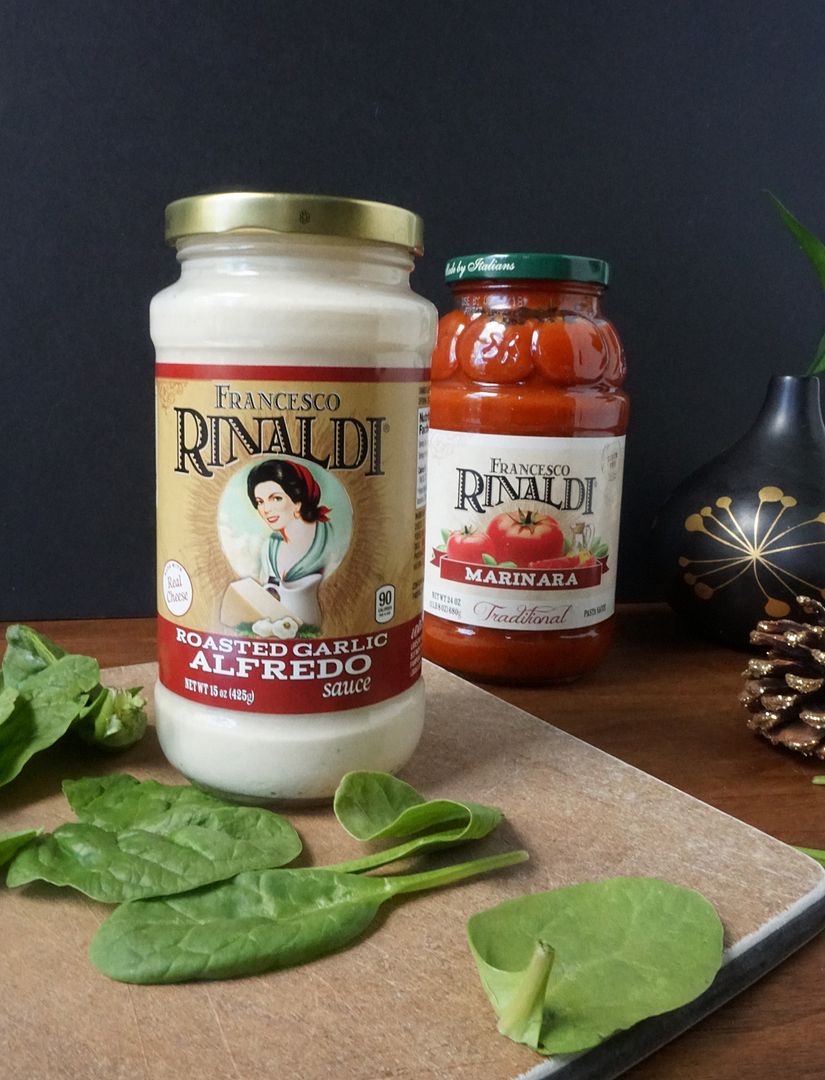 Sauces
Unless you're a masochist, I really would stick with a good jarred sauce; lots of Francesco Rinaldi fans around here, but try Rao's Paul Newman's…whatever you like. Any of them sure beat spending days in the kitchen making your grandmother's homemade marinara from scratch.
Marinara is a must, with or without meat, and we also put out Alfredo sauce since a lot of kids prefer that. Pesto can be a big hit as well, and is so easy to make homemade, especially if you're making a smaller quantity mainly for the adults.  (Ed note: Costco offers a really affordable, good jarred Kirkland brand pesto that my kids love.)
Related: How to make a mouthwatering pesto, and 4 recipes to help get you started
As for quantities, it's probably safe to stick with the standard half-cup per person rule, since the sauce seemed to last better than I would have expected. In fact a lot of our teen guests even preferred their pasta plain. (Those savages!)
Protein
If you decide to put out some meat in your pasta bar, it's easy to microwave meatballs or, frozen, grilled chicken strips from Costco. (Though hey if you want to go fresh and homemade, more power to you. ) Stick with the package's recommended serving size — we even had some leftovers.
Toppings
Photo Geo Darwin on Unsplash

Use your imagination and your kids' tastes as a guide! Consider pasta bar toppings like:
-fresh and sun-dried tomatoes
-olives
-red pepper flakes
-chopped parsley
-parmesan
-pine nuts
-roasted garlic
-caramelized onions
-small steamed broccoli florets
-small, sliced roasted red peppers
-olive oil, butter and sea salt (for the no-sauce crowd)
Pasta Bar Serving Suggestions
Having done this a bunch of times now with great success, here are my best pro pasta bar tips for you.

Hugh Acheson's pesto spaghetti recipe with salami and Parmigiano-Reggiano: Find the full recipe at  Cookbooks365 and 3 more great pasta ideas on our helpful pesto how-to post.
Use chafing dishes
Sterno will help keep all of the food warm, and so that everyone could eat throughout the night (and they did.) I used two trays for the pasta, one tray each of marinara and Alfredo sauce, and two trays for the chicken.
If you don't have a chafing dish, you can find affordable, heavy duty aluminum pans at places like Party City or your local supermarket.
Cook the pasta the night before
This way, you can store the pasta in Ziploc bags for minimum prep the day of the party, then reheat before serving.
To reheat, stick with one pound of pasta at a time in a large glass bowl in the microwave. Pour into the chafing dish, tossing with a little olive oil to keep it from sticking together.
Time-saving tip:  If you want to spend a few more dollars and save one more headache, have plain pasta delivered from your local Italian restaurant or pizza place. We've done this and it was a big timesaver – and they'll often deliver it in catering pans, which you can pop right onto your chafing trays.
Defrost chicken and meatballs the night before
They can also be heated up in the microwave as you do with your pasta.
Chop and pre all the toppings ahead of time
You can store your veggies, shredded cheese and other toppings in the dishes you'll use to serve. This way, when all of the hungry hoards are descending on your house you can just pull the dishes right out of the refrigerator.
Heat up the sauces in saucepans
Trust me, you want to use your stovetop, because it will take way too long for it to heat up all that sauce in chafing dishes. Cold sauces = yuck. And you don't want to be dealing with a mad last-minute scramble when you've got a roomful of hungry guests!
The finishing touches…
We rounded out our pasta bar party with a big salad (pre-packaged greens save time), crusty baguettes, and cut-up fruit bought in bulk from Costco.
Photo: Tanalee Youngblood on Unsplash
We also served a bunch of sugary, indulgent desserts that the kids picked out. (It was a celebration, after all.)
We've used this party pasta bar idea many, many times since then, often switching out the ingredients and changing quantities depending on the crowd.
Plus, it's a great idea for your younger kids, with parents handling the serving and limiting the toppings to those that satisfy more basic palates.