We're sharing our favorite picky-eater dinner hack, because oof. Picky eaters. We know we're not the only parents who don't want to spend time cooking dinners our kids won't eat, or resorting to chicken nuggets or plain pasta for the entire family at home, just to appeal to the lowest common denominator eaters in the house.
So, we've found a clever way to have slightly more sophisticated dinners at home, only serving them in a way that kids with…particular palates can enjoy eating them too: Food bars!
Yes, really!
These 4 food bar ideas are not hard at all, and will definitely make mealtime go smoother. In fact, while food bars may look like more work to prep, they're often a lot less work to put together. That's why they're a favorite hack of those of us with bigger families, or those who entertain a lot.
By the way, this is also a great hack for families with vegetarians, gluten-free or lactose-free eaters, or any gathering where you want to please everyone, but without feeling like a short-order cook.
Related: 8 reasons to appreciate your picky eaters. We've got silver linings galore!
80s salad bar
Kristen and her family came up with the idea of 80s salad bar for dinner, and I think it's brilliant.
We adopted it at our house too, and it's been a hit with the kids and the adults, hearkening back to trips to those massive salad bar restaurants in the 80s and 90s when we were kids.
Just put out some greens along with your choice of fun, kid-friendly salad bar toppings like ham chunks, cheese cubes, tiny corn cobs, bacon bits, crispy Chinese noodles, croutons, fresh fruit, and cherry tomatoes.
Then of course, you'll want add some grown-up topping options too: grilled shrimp, garbanzo beans, sun-dried tomatoes, pepitas, avocado slices, or anything else that you're craving.
In fact, start with what the grownups want (like a spicy Thai shrimp salad or a grilled skirt steak salad) then add in a few alternatives for the kids to make it easy on yourself.
This way, everyone can DIY their own, and everyone — even the picky eaters — are happy.
Make-your-own pasta bar
One of the things picky eaters hate the most is when ingredients are mixed together or you know, "touching," which tends to happen with pasta dishes. So, serving all the ingredients separately and letting your diners mix their own choices together gives you the freedom to only add what you want.
And even keep it separate.
For inspiration, take a look at some of our favorite pasta salad recipes, or read Marsha's tips for how to create an amazing DIY pasta bar for your family and friends. You don't have to do everything she suggests if it's just for a weeknight dinner for a small family, though. Get creative, choice a few sauces and toppings, and do what works for you and your own family's tastes.
The best part: everyone gets practice being their own chef, as they mix and match the ingredients they like.
Custom burrito or taco bar
This picky eater dinner hack idea could not be easier! All you need are some tortillas (flour, corn, or crispy taco shells — or a combo if you'd like), and toppings like various grilled meats or fish, shredded cheese, salsa, sauteed veggies like bell peppers or onions, diced cukes, olives, jalapenos, and rice and beans.
And of course, some sour cream, guac and salsa — whether you prefer homemade salsa or pico de gallo, or just your favorite brand of jarred salsa to make things easier.
Hint: Jane Sweeney's recipe for rainbow salsa (above) happens to be awesome if you're going homemade, and might be a way to get kids to sneak in some veggies.
Another reason this is so great, is that for extra picky eaters, they can just put some shredded cheese into a tortilla, fold it over, then nuke it for 30 seconds for an instant quesadilla.
Custom tortilla soup bar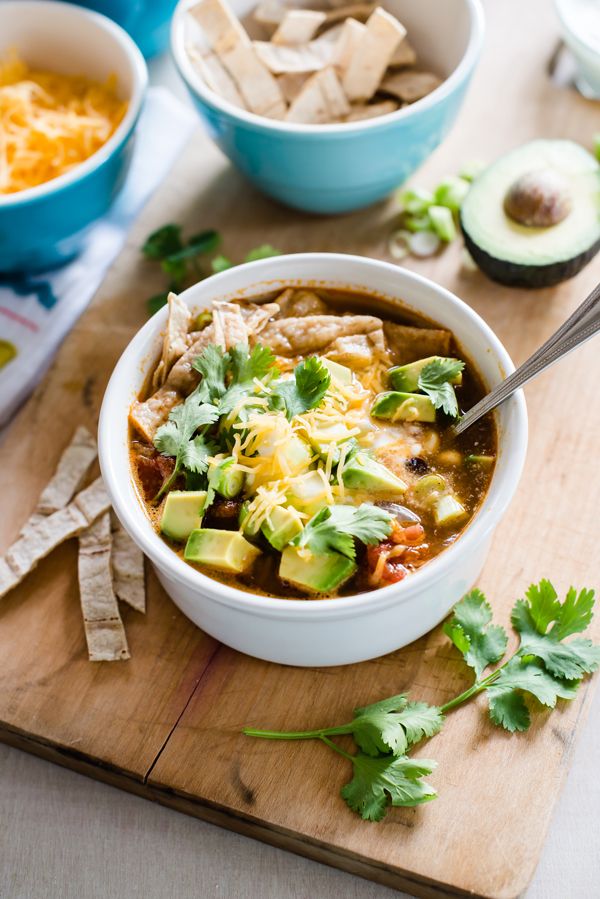 Tortilla soup recipe: Oh My Veggies
When it starts to get cooler outside, my family loves our DIY tortilla soup bar. I set some chicken or veggie broth to simmer and stir in a packet of taco seasoning. Next, think add-ins.
Start with this amazing recipe for tortilla soup at Oh My Veggies which is easy to make in your slow-cooker and a great base if you have vegetarians in the family.
As far as ingredients to add, channel your inner Chipotle server. Like with the burrito bar above, you can serve Spanish rice, black beans, pinto beans, corn, avocado, chicken or beef, chopped tomatoes, olives, jalapeños, diced cucumbers, onions, all of which can go right into the soup.
Set everything out all the fixings on the counter, let the kids add their favorites to their individual bowls, then pour the stock over the top. Voila! Tortilla soup.
Serve with chips, guacamole, and queso dip, of course.
Top image: Anna Pelzer via Unsplash