I love the idea of starting my day with inspirational quote mug — and yes, I admit I've become that person — but oy. Have you seen what qualifies for inspirational sayings these days? I can't get into The only thing stopping you are your dreams, which might be totally cool if you don't have, you know, responsibilities. Or like a budget, or a demanding job, or kids to feed and clothe and keep alive.
Don't even get me started on Smile, it's free therapy!  
Um, no. It freaking isn't. Some of the people I know who are most in need of therapy smile a whole lot.
I'm not entirely cynical though. It's just that I want to be inspired by truth, humor, honesty, and maybe a realistic little nudge. That's when the real smiles come. After my first cup of coffee, of course.
CMP is an rstyle affiliate
Related: 10 funny mugs to help you celebrate your love for coffee
Manifesto Mug, Emily McDowell
If Emily could stop making perfect, inspirational quote coffee mugs for the real world, maybe I could stop writing about her all the time!  I love this entire litany of quotes that may not be traditionally inspirational, but let us start the day by going easy on ourselves. More of that please.
Be the Kind of Woman Mug, Wahoo Graphics
Now that's the kind of inspiration I like in the morning.  PS feel free substitute "the devil" in your mind with "your boss," "that coworker gunning for your job," or "that English teacher who told you you'd never be a writer, never, and here you are working on your novel." (TMI?)
Small Steps Every Day Mug
I love love love this notion! Because it's just so true, isn't it? No need to check every single thing off your to-do list…maybe just one. No need to finish that book you started in 2017…maybe just read the next page. I love an inspirational quote that presents an achievable goal. Boom.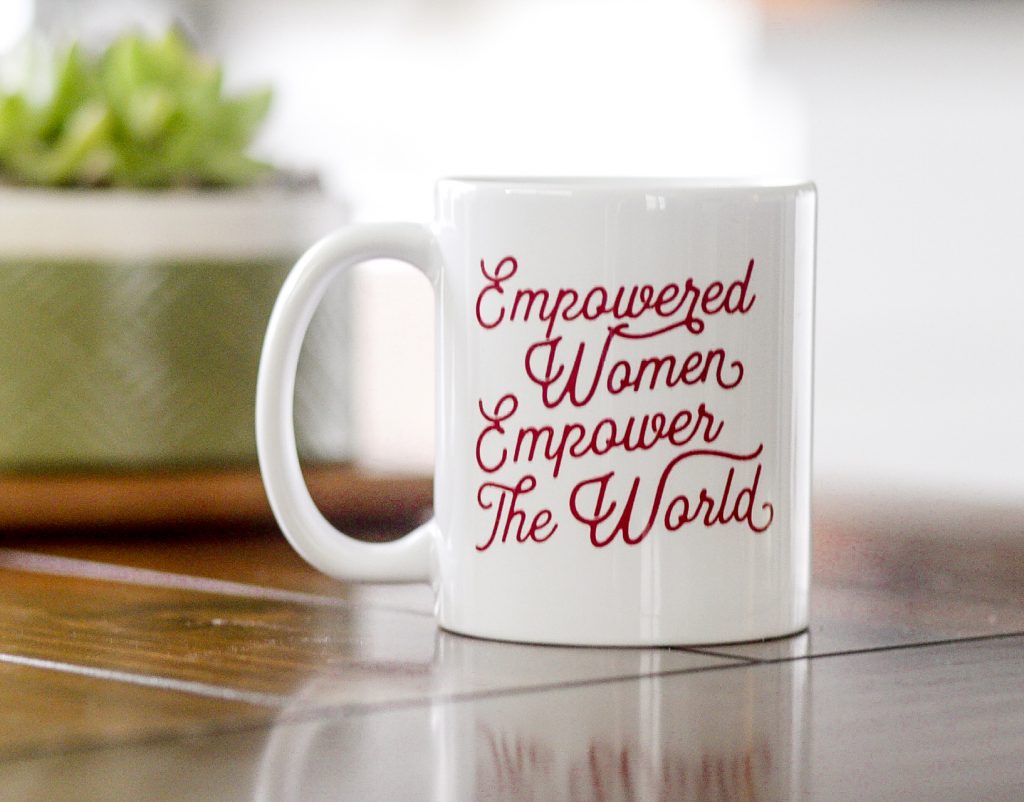 Empowered Women Empower the World Mug, Polished Prints
I always take comfort in the idea that I'm part of an amazing community of women doing some pretty great things every day. Big and small. It's inspirational for me to remind myself that I'm empowered and in control of at least some aspects of my life, if not all of them at every given moment. That has a ripple effect.
Related: The ultimate funny mom mug. Because it's true.
Doing the Work Mug, Being Black at School
I love this mug, celebrating the work you've done, and the work you have left to do. And by you I mean we. And by we I mean me. In fact, I own this mug, and love starting my day with this quote. Best of all, it supports the work of our friend Kelly Wickham's org, Being Black at School, which is doing the work to create more safety and equity in US schools.
Don't Let the Hard Days Win Mug, Homegrown Wildflower
This quote by author Sarah J Mass is pretty awesome because it doesn't tell you to "win" your day or "ignore the haters" or "smile, it makes you prettier." It simply acknowledges that yeah, we all have hard days, and today may be one of them. But tomorrow is a new day. I love that.
WWRBG Do? Mug, Salty Fox Printables
If you're on #teamfeminist, you too may often channel Justice Ginsburg: daughter of immigrants, highest-achieving female student in her class at Cornell, proud mother and grandmother, lifelong fighter for equal protection under the constitution. While I will never be the person who doesn't miss a day of work for a quarter-century (and will definitely never sit on a court of any kind), I still love channeling her — and plenty of other women icons through history — when I feel I'm going against the impossible.
In a World Where You Can Be Anything, Be Kind Mug, Half Pint Prints
You might be surprised to know that I included this totally non-snarky, not-funny-at-all mug in my list, but I think it's beautiful. And true. Being kind makes you feel good, and in a lot of situations, it's not our first instinct — say, toddler at the restaurant who won't stop screaming, or person who walks extra slow to the elevator while you're holding it open and late for an appointment. If we can all remember to take a deep breath and be kind, we feel better — and make other people feel better too. Perfect.