Just a head's up: this weekend is Labor Day. It's not exactly like we're taking a break from anything to celebrate, but I'm always up for a chance to grill out. So, this week's meal plan gives you some ideas for a simple Labor Day with the family, as well as some other meals to get you through the rest of the week.
So get your pen and shopping list ready, because it's time to plan another week of meals!
At top: Bahn Mi Hot Dogs from My Name is Yeh; Butternut Squash Green Curry Rice Noodle Bowls at Spices in my DNA
Related: All the Labor Day recipe ideas, from burgers to sides to ice cream
When you're planning for Labor Day, be sure to check out our huge roundup with tons of appetizer, mains, and (of course) dessert ideas for Labor Day. Since we're keeping it simple at our house, I'll be going with hot dogs with killer toppings, like these Bahn Mi Hot Dogs from My Name is Yeh.
I shared on Instagram this week about how my kids are watching through the Marvel movies with their grandma, and this weekend's movie was Black Panther. In honor of Chadwick Boseman, we went all out and I made this Wakandan Jeweled Vegetable Pilau with Berbere Braised Lamb at Tasty. You guys, this is SO good. We ate every bit of it and have been talking about it since then. We made a couple tweaks for my vegan husband: vegan butter, vegetable broth, and vegan sausage instead of lamb. I think you could use beef instead of lamb too, and our "quick fix" on the 1 hour cook time for the meat was to use the Instant Pot.
Take it easy one night this week, and go with grilled cheese for dinner. Jane's post on how to upgrade your grilled cheese makes this a legit weeknight dinner. I'm looking at that Honey, Apple, Cheddar and Bacon Panini at Halfbaked Harvest, myself. I'll grab some fancy tomato soup from the grocery to go with it, and it's a no-fuss dinner that really hits that comfort-food spot right now.
Related: Easy comfort food meals that won't kill your diet
For one plant-based meal during your week, try this hearty and spicy Butternut Squash Green Curry Rice Noodle Bowls at Spices in my DNA. My kids love ramen and noodles, so I serve them a deconstructed version of this with the ingredients separated out. Then my husband and I can treat ourselves to a relatively easy meal (just 20 minutes prep/cook time) that feels like we treated ourselves to a fancy Thai restaurant.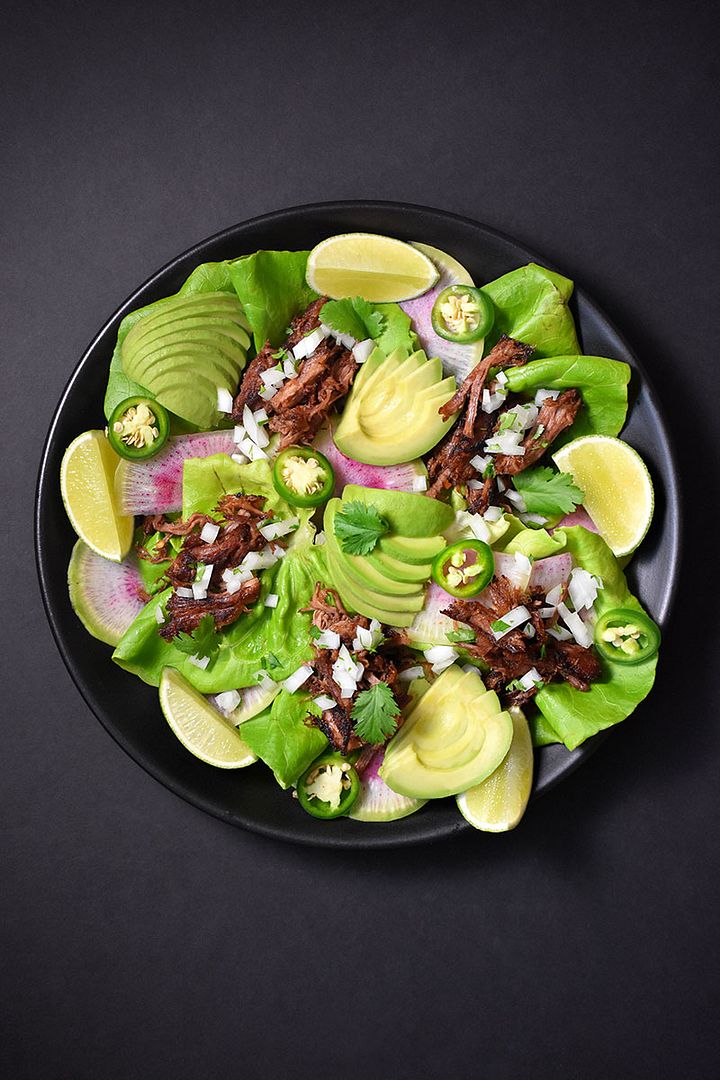 If I'm craving tacos but also want a fix-ahead meal, I always pull up a favorite carnitas recipe. These Instant Pot Carnitas at Nom Nom Paleo are a great option, because they work for anyone following a paleo diet but can also feed your carb-friendly eaters who want to use tortillas instead of the lettuce wraps. Save extra for salads, nachos, tortilla wraps, or casseroles later in the week. The meat is so flavorful and tender, you'll love it.