Learning how to make perfect pesto will definitely save you money over store-bought brands, plus you avoid all the extra preservatives that you don't need. This is one of those cases where making your own fresh really is better than anything you can buy. As in, you'll lick the bowl clean — or at least use a piece of crusty bread to get out every last drop.
You might even want to double or triple this recipe to use it all week long. There are so many options!
Cool Mom Eats is a reward style affiliate
Related: How to cook pasta perfectly, even ahead of time.
The Ingredients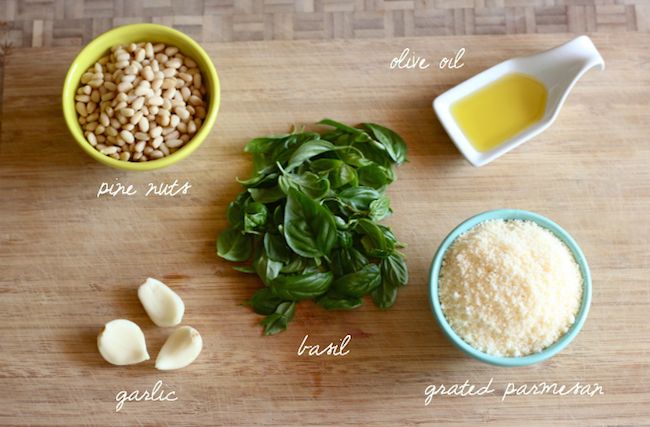 Traditional pesto ingredients—a mixture of basil leaves, pine nuts, garlic, parmesan cheese, and the very best olive oil possible—captured beautifully by My SoCal'd life (above), are my favorite. But if you scroll through Pinterest you'll see variations like spinach pesto, parsley pesto, and even lettuce pesto found on My Millennial Kitchen which is a great way to use up that lettuce in the crisper.
Not so sure about that one, but who knows?
While I'm a purist when it comes to pesto, I absolutely understand that it's not exactly the least expensive sauce you can make. Walnuts are pretty tasty substitutes for pine nuts if you're wanting to save pennies, or just use what you already have on hand to avoid a trip to the store with the kids. We get it. And if you need a nut-free version, my favorite is Spinach Basil Pesto from Two Peas & Their Pod. However, the one thing you don't want to skimp on is a really good Parmesan Reggiano cheese. Use the best kind you can afford, because any recipe is only as good as its ingredients, especially when there are so few of them.
Nothing from a can, okay? Promise?
The Equipment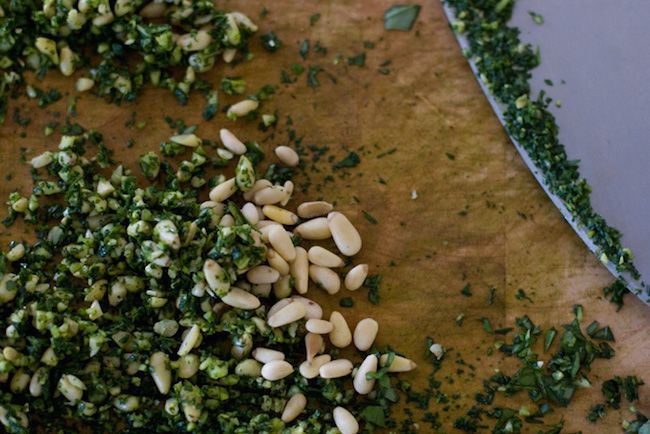 While I'd like to say that I spend half an hour chopping baby basil leaves freshly picked from my herb garden with a razor-sharp mezzaluna as I gaze over the Italian countryside, that's not generally the case. Actually, that's not ever the case, although Heidi at 101 Cookbooks makes a pretty good argument for it in her post How to Make Pesto like an Italian Grandmother (above). The benefit of chopping by hand is that your ingredients stay somewhat separate so that they don't blend into a muddy paste.
But hey, I'm a parent.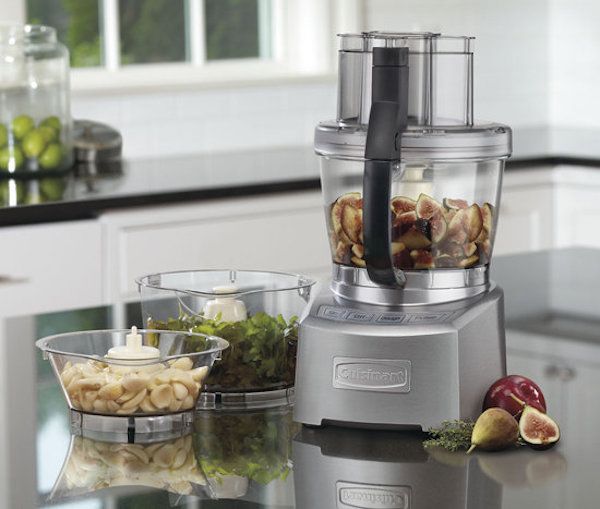 With three kids running around my kitchen, convenience usually wins out, and I consistently make perfectly tasty pesto in my Cuisinart which is what I suggest you do too.
Just watch carefully and only pulse it a couple of times to make sure that you don't overdo it and turn your ingredients into a mushy cream. In the end, you want your sauce to still resemble a paste of chopped basil and nuts. Thus… pesto!
Pesto: The Recipe
Traditional Pesto Sauce
Makes 1 cup
1 large bunch of basil, leaves only (no stems)
2-3 whole garlic cloves, peeled (to taste)
1/3 cup pine nuts or walnuts
1/4 cup extra-virgin olive oil
1/2 cup (2 ounces) freshly grated Parmesan cheese
Salt and ground pepper, to taste
1. Combine basil, garlic, and pine nuts in the bowl of a food processor and pulse a few times until all the ingredients are coarsely chopped.
2. Turn on the food processor and, through the handy opening in the lid, add the oil in a slow, steady stream. Keep it running just until all the oil has been added; be careful not to over-process.
3. Add the Parmesan cheese and pulse 2-4 more times, until it is well incorporated. You may have seen recipes that add the cheese and oil at the same time, but the heat of a running processor can break down the proteins in the cheese making the pesto pasty. Serve immediately, or store in the refrigerator for up to 5 days.
Freezing pesto
If you end up with some leftovers, or want to make the most of summer's basil bounty into fall, pesto freezes beautifully for up to 3 months. I freeze it in these souper trays so that I can easily portion out just what I need when I need it; or any airtight container, like a freezer-safe mason jar, will do.
Pro tip
If you know ahead of time that you'll be freezing pesto, consider leaving out the cheese. Then you can blend it back in when you're ready to serve and it will taste fresh and fabulous.