During the summer, I love to have some fix-ahead meals that I can take with me to the pool or park for dinner. While a juicy burger is delicious on the back porch, when it's this hot outside I crave something cold and refreshing. These great gazpacho recipes hit the spot and are so easy to make. Most don't even require cooking and they all go great with almost anything on the side, from grilled chicken to grilled cheese. Mmmm.
The other great thing about these gazpacho recipes is that your kids can make them while you supervise. You pretty much just toss everything in the food processor and go. And if yours are like mine, they're more likely to try unfamiliar foods when they've had a hand in preparing them. Plus, they get to beam, "I made it," while the rest of the family enjoys it at dinner time. Totally worth the extra mess in the kitchen.
Related: 6 no-cook dinner recipes for easy no-cook nights.
I love the way watermelon added to your gazpacho lightens the flavor. It also give a slight fruity taste, which can be nice if you're not used to cold soup. This Watermelon Gazpacho with Avocado Salsa from Drum Beets looks delicious. Our editor Stacie recommends pairing it with prosciutto toast for a completely no cook meal, because yum.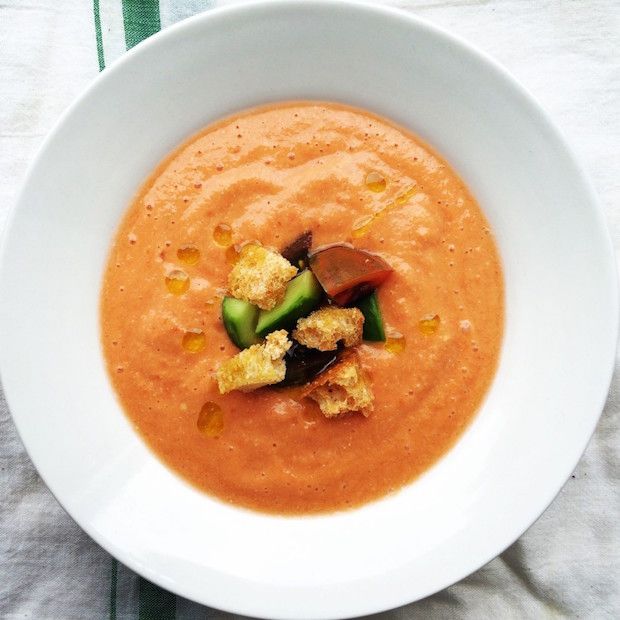 If you prefer a creamier version of gazpacho — less salsa and more tomato soup — try this Creamy Vegan Gazpacho recipe from No Milky Whey. She gets that creamy texture from almonds, which gives this soup a nice protein boost. Perfect for giving you a last bit of energy to join the kids for pool games after eating. (With a rest in between, of course.)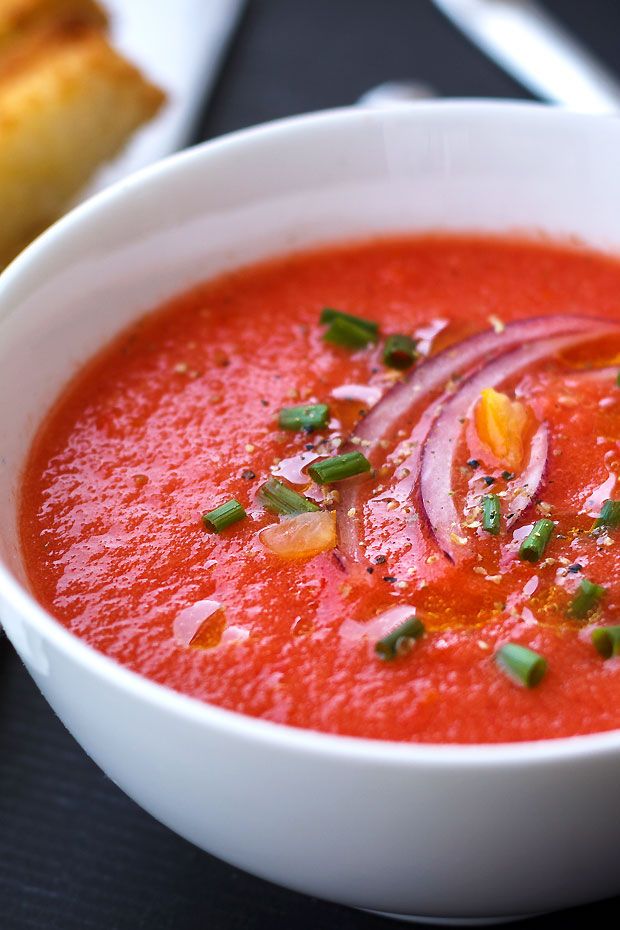 This sweet and spicy Tomato and Strawberry Gazpacho from Eat Well 101 (above & top) is a perfect refreshing meal for a hot, humid day. We made it recently (the kids and I together!) and I'd use about half the amount of black pepper called for in the recipes. Also, if you want the strawberry flavor to come through, consider doubling the amount. Otherwise, if you're looking for a traditional gazpacho flavor with just a hint of sweet, this is the ticket.
Related: 4 delicious, make-ahead grain salad recipes that make summer dinners so easy.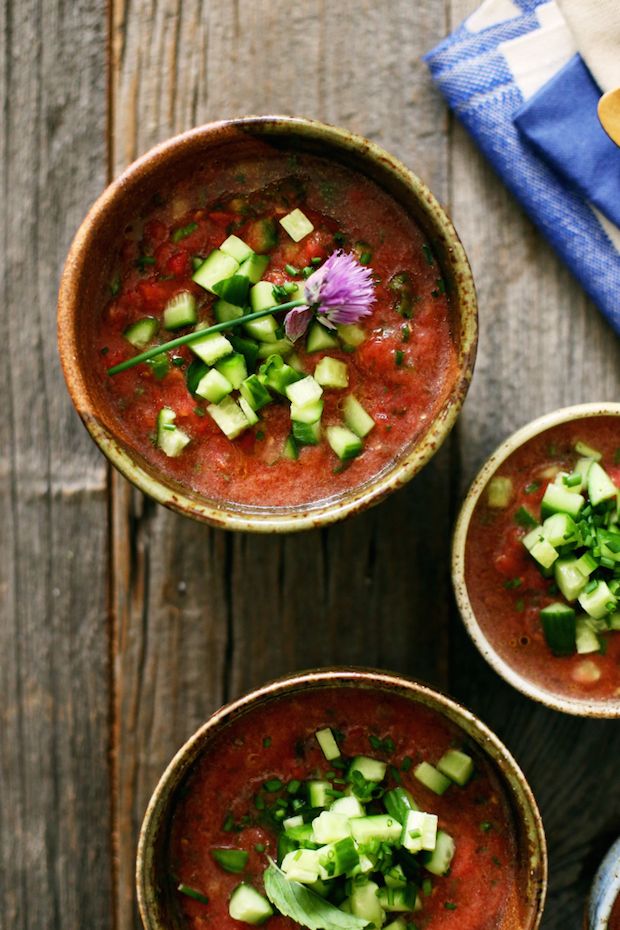 Allison Day's Tomato Mint Gazpacho recipe at Yummy Beet is a chunkier, salsa-like soup with lots of mint and cucumber and a bright splash of vinegar. This is a great one to try if you don't like your gazpacho sweet.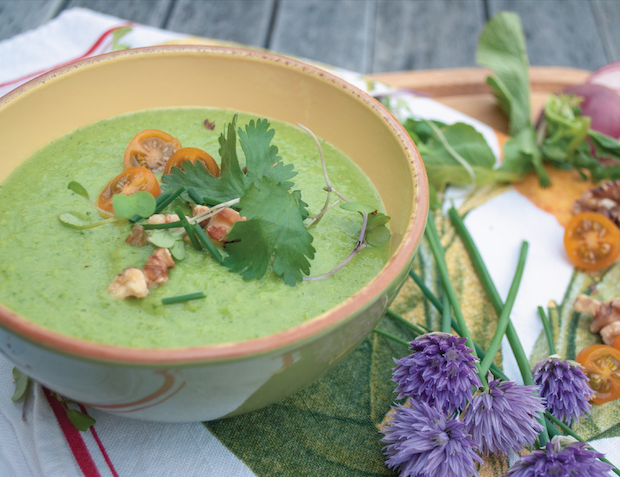 What do you think about green gazpacho? This Garden Green Gazpacho recipe from Summerfield Delight has a creamy texture from avocado, brightness from cucumber, and some serious kick from the poblanos and radishes. It might make a nice variation from traditional tomato gazpacho if you find yourself becoming addicted to the stuff this summer. It's easy to do.