We like to think of this as a safe space for busy parents, a place where you'll find delicious, healthy recipes and ideas that are reasonable to execute, with some fun treats thrown in because, well, you only live once. We do not expect you to spend hours making elaborate meals (unless you want) or fussing with precious food art. But, let's be honest, presentation makes a difference and cute bento boxes are hard to resist—or leave untouched. So, yeah, we're going there.
These 9 bento box art ideas are adorable and, more importantly, easy to do. No art degree or craft skills are required. Believe me: I have neither. These are just simple ways that take an extra few minutes to make your little one's school lunch more fun and appealing. And when her lunchbox comes home empty, it will be worth it.
But hey, a lot of these are best served right at home, or they're great for kids party snack ideas. School mornings are sometimes too busy even for for cutting crufts off bread. We totally get it!
Related: Where to find healthy school lunch inspiration galore.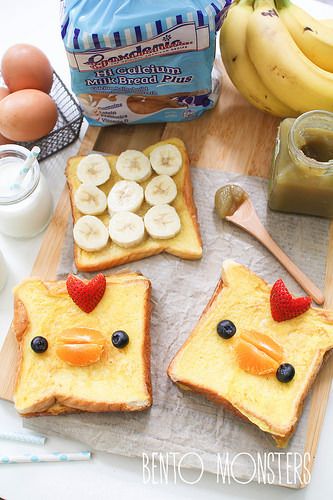 I'm not all that into cute food, but I cannot get enough of Bento Monsters. Get ready to freak out over Ming's creations. Most are way more involved than anything I'd consider—or suggest—but a handful of her bento creations are super simple. My little one is really into baby chicks so I'm partial to this Banana French Toast Chick (above and top) which also makes breakfast-for-lunch: two of his favorite things in one!


If your kid isn't into chicks, maybe an easy puppy dog pizza? I'm telling you: Everything on Bento Monsters is so crazy cute.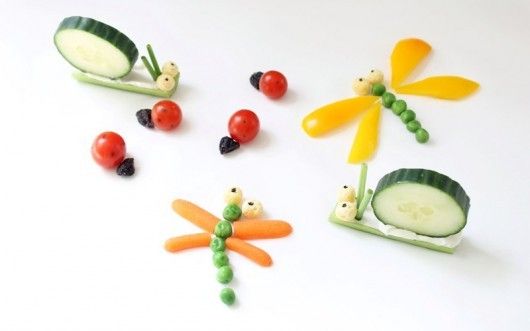 Sometimes, all it takes is a little something cute to turn a boring lunch into something exciting, and even better when the little something cute is made of veggies. Maybe they'll actually eat vegetables if you turn them into these simple vegetable bugs that we found at The Decorated Cookie. There's some detail involved, but when you break it down, they're actually pretty simple.


Owls seem to make frequent bento box appearances, but I haven't seen one as easy to make as this owl sandwich at Kids Activities Blog. I'm not exactly sure this is the one meant for a lunch box—I'm thinking a snug fit might do the trick if you're game; or, before you decorate the outside, try popping the sandwich into the microwave with a piece of cheese in the middle. Then, as soon as it comes out, peel the top piece of bread back just enough to place the pretzel wings and legs so that the melted cheese helps keep them in place. Or you know…just make this at home. It certainly is easy enough.
Related: The coolest lunch boxes and bags for kids | Back to school guide 2015.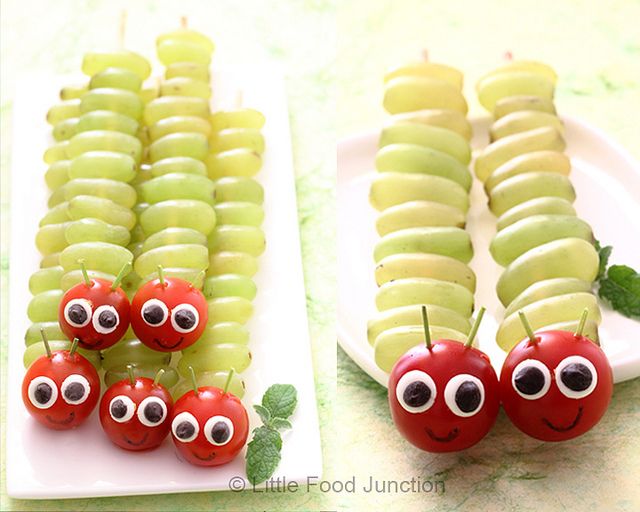 These Hungry Caterpillar skewers made of green grapes and a cherry tomato are so cute and very simple business. The only tricky part is the eyes. Smita uses royal icing which requires you to have, uh, royal icing and also to plan ahead. Don't worry if neither of those things works for you since she also provides other ideas for how to make your caterpillars as cute as hers. Wouldn't this be adorable for an Eric Carle party snack?
Related: 10 fantastic outdoor party themes for kids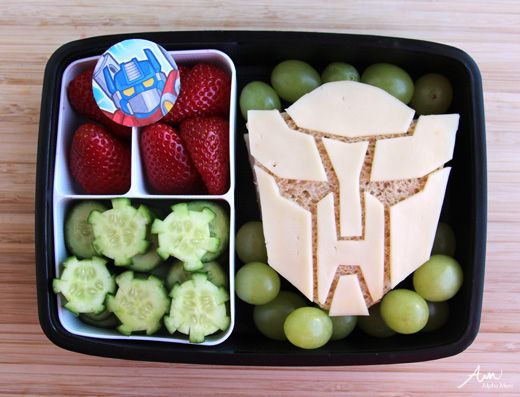 Alright, this one seems like it might be a little tricky but, if you're good at cutting out shapes, you can make this happen. Other than cutting out the cheese, the rest of this tutorial at Alpha Mom for a Transformers Bento Box is dead simple. We first discovered it last summer, and we still think it's so easy and fun.  Definitely click over for all the instructions, because if you ask me, this one's definitely worth a shot.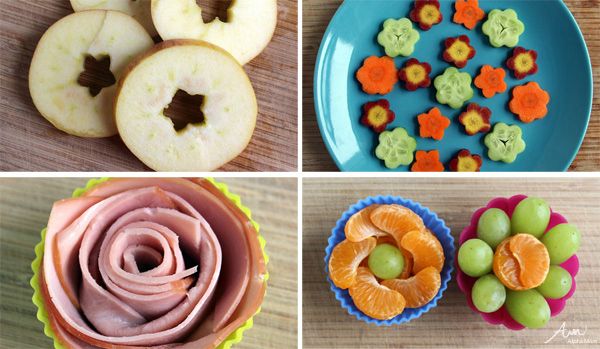 If your kid is more hippie than Optimus Prime, a flower bento box might be a better use of your time. These 4 easy, floral bento box art ideas, also from our friends at Alpha Mom are made simply with just a few, small cookie cutters and cupcake liners. You'll find the instructions right there.
Related: 2 weeks of gluten-free school lunch recipes, with inspiration for plenty more.

Babybel cheese—those soft rounds of cheese wrapped in red wax—is a school lunch staple in my house, so I'm thrilled to find cute ideas for how to make them even more fun. These cheese monsters at Danya Banya are so easy to make that a 5-year-old made them, so you might even be able to file these under school lunches that kids can make themselves. Love that.


I can't resist more Babybel ideas, this time without googley eyes that you have to buy at the store. While more civilized, these cheese people at 100 Layer Cakelet are just as fun, though you'll have to make them yourself. The 5-year-old DIY look doesn't wear quite as well on these as it does on the the monsters!


It seems only right to end on this monster sandwich made by Sheri Chen and posted on Happy Little Bento. This monster's face looks like mine when I have to pack the 99th lunch (which is not even that far into the school year!). But, for now, with these ideas in my back pocket, I'm feeling ready to go. Even ready to get a little food crafty. But just a little.