With Halloween coming up, I've got chocolate on my mind. But I'm craving good chocolate. Really good chocolate. While my kids enjoy their annual pass to gorge on the junkiest candy they can get their hands on, I'll happily indulge in my private stash of awesomely high-quality, ethically made bean-t0-bar chocolate thanks to Choco Rush, a new chocolate bar subscription service that delivers goodies from the world's finest chocolate makers to your door. And not just in October.
— Don't miss an exclusive Choco Rush offer below — 
Every month, Choco Rush send subscribers a box with 4 glorious dark chocolate bars of different cacao origins, each produced in small batches using whole cocoa beans that they get direct from a single origin farm.
Most of the bars are made with nothing more than cocoa, cacao butter, and sugar (which makes all of them gluten free and most of them vegan), and the chocolate contains 60-80% cacao which actually is way more healthier than the cheap stuff, with legit health benefits. Perfect excuse?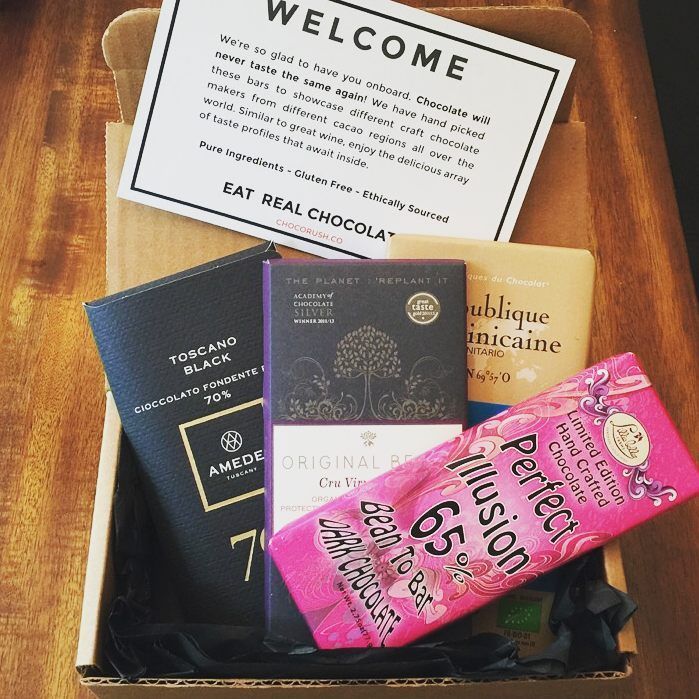 Though I could be ousted from Brooklyn for this, I admit that I'm the type who chooses a plain Hershey's bar over the super fancy, world-renowned, hipster chocolate made in my backyard, which is often too bitter or intense for me. But Choco Rush has completely turned me around.
Turns out super high quality chocolate can be delicious without being super sweet, when it's rich, creamy, and well- balanced. In fact, one of the bars that I tried from Choco Rush was so velvety that it didn't even snap when you broke off a piece.
Instead, the bar, nearly as soft as cocoa butter, practically melted into little, mouthwatering pieces.
Opening the box is like opening the door to a whole new world—an exciting and delicious new world. My husband, who has much more sophisticated taste in chocolate than me loved every bar we got from Choco Rush, too. Trying them together was like have a mini-wine tasting but, if you ask me, even more pleasurable.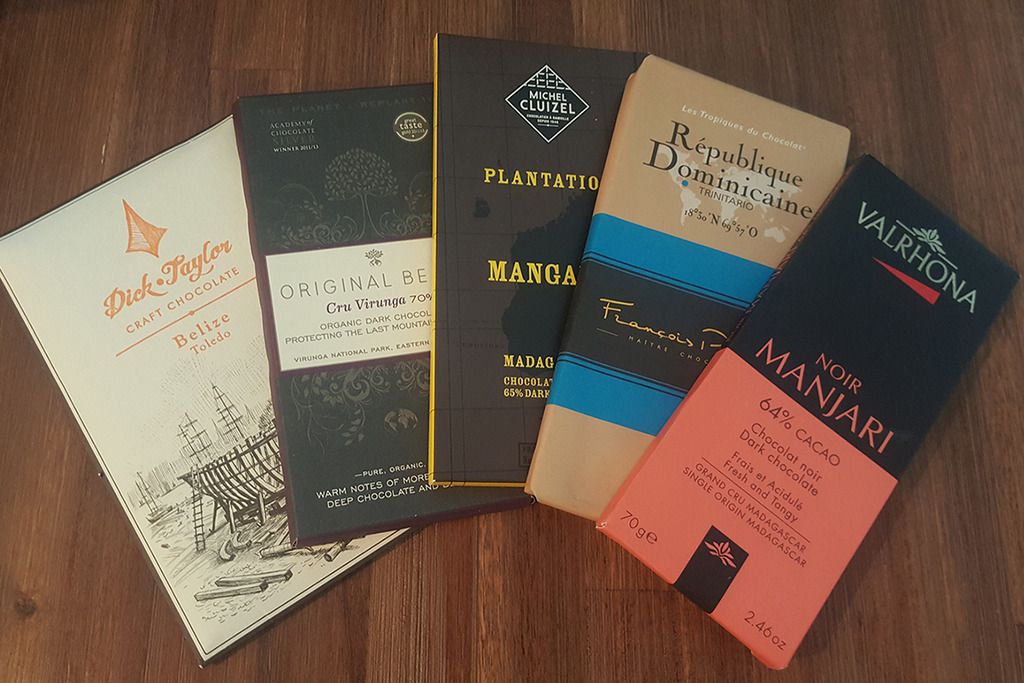 For what you get, I'd say that Choco Rush is fairly priced, with each bar from around the world coming out around $8, but I can hardly pretend that isn't a splurge. If you love dark chocolate (and this is truly about dark chocolate — and not for you if you're a milk chocolate person) and think it's worth treating yourself or someone you love, you might find Choco Rush a deal considering that just a couple of little pieces of each bar is plenty to cap off a busy day.
If you're not into dark chocolate, though, or can't imagine budgeting $31.95 a month for chocolate that you can't even share with the kids (then again, that may not be a bad thing), this is not be the subscription service for you.
It does make a great present, though. I ordered a three month subscription to a friend after trying Choco Rush for myself and she says she's enjoying every bite. I can't say that I'd complain either if someone did the same for me.
Choco Rush is available month-to-month for $31.95/month with the ability to cancel or pause your subscription at any time. There is also a 3-month prepay package for $93.00 and 6-month prepay package for $179.00. Get details and choose your plan at the Choco Rush website, where you can also use a 10% exclusive Cool Mom Eats discount code "COOLMOM" on your first box.  Thank you to the company for providing me with a sample box for review.