Whether this is your first time hosting Thanksgiving or you're a seasoned pro, your focus will probably be on the turkey. Too often, vegetables are last minute or uninspired. Unintentional, maybe. Big mistake, definitely. With a little bit of love (and butter?), they can be the best dishes of the day, so I went on the search for Thanksgiving vegetable recipes for vegans, vegetarians, meat-lovers and picky eaters alike.
Whether everyone shares the same diet or you make one recipe from each of these categories, these crowd-pleasing sides will make everyone at your table happy… well, as long as nobody brings up the election.
Top: Parchment Roasted Potatoes at Kitchen Konfidence
Related: Your Thanksgiving cooking schedule: A sanity-saving holiday meal prep plan.
Vegetables for Vegetarians
One time I ordered sushi—you know, the kind with fish—for a vegetarian co-worker. I kid you not. I've come a long way since then and often eat meatless simply because there are so many great vegetarian dishes. These three recipes are perfect examples of veggies made without meat that everyone will love.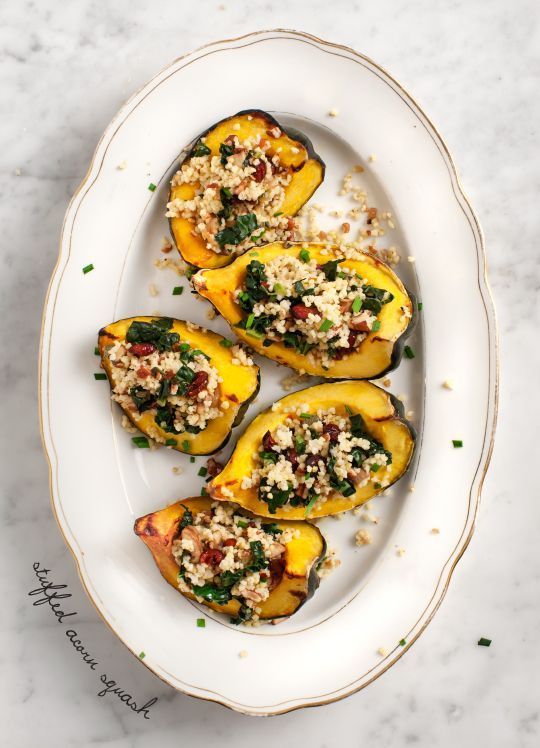 This hearty and flavorful recipe for Stuffed Acorn Squash with Kale and Creminis at Love and Lemons looks perfect, especially for the hungry vegetarian at your table. There are only so many greens and sprouts a girl can eat, right? And if you don't have any millet on hand (like myself), I like the suggestion to use quinoa instead.
Related: How to cook quinoa so that it's mild, fluffy and delicious—kid-friendly, even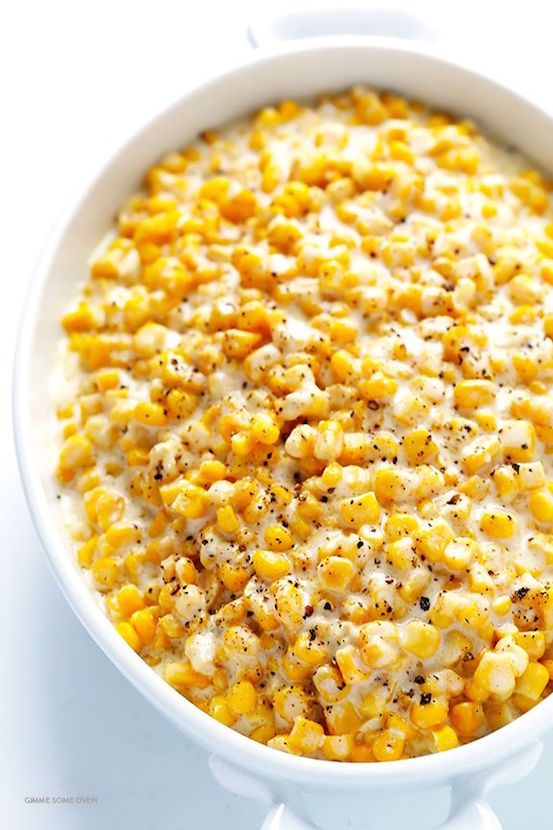 This Slow-Cooker Creamed Corn at Gimme Some Oven looks so ridiculously easy and so mouthwateringly good that I immediately put it on my Thanksgiving menu for this year. P.S.: It's also naturally gluten-free.

My mother-in-law cannot stand mashed potatoes (yes, this makes her insane, I know), so we're always thinking of other ways to serve potatoes during the holidays. These simple Parchment Roasted Potatoes at Kitchen Konfidence (above & top) are not only a cinch to make, but the lovely shape of fingerlings and the green herbs make them a pretty option for entertaining, too.
Related: How to make mashed potatoes in a slow cooker: Perfect for holiday meals!
Vegetables for Meat Lovers
I probably should have named this category Vegetables for Bacon Lovers since all of these side dishes contain some form of my favorite cured pork, but I guarantee no one will complain. In fact, they might just ask for seconds.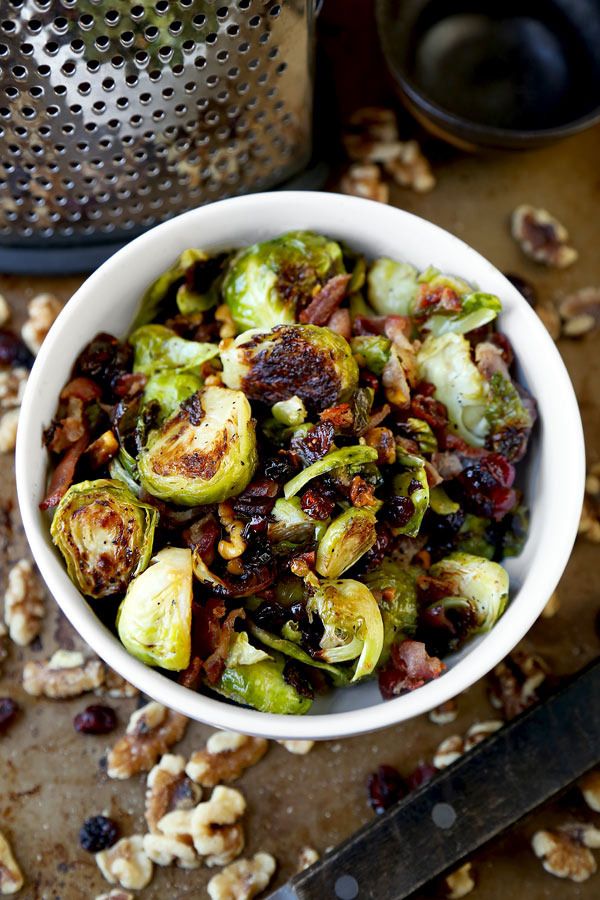 Look no further! There are so many variations of this side dish, but these Oven Roasted Brussels Sprouts at Pickled Plum hit all the right notes. Earthy, tart, salty, and crunchy; even the sprout-averse will want to try them.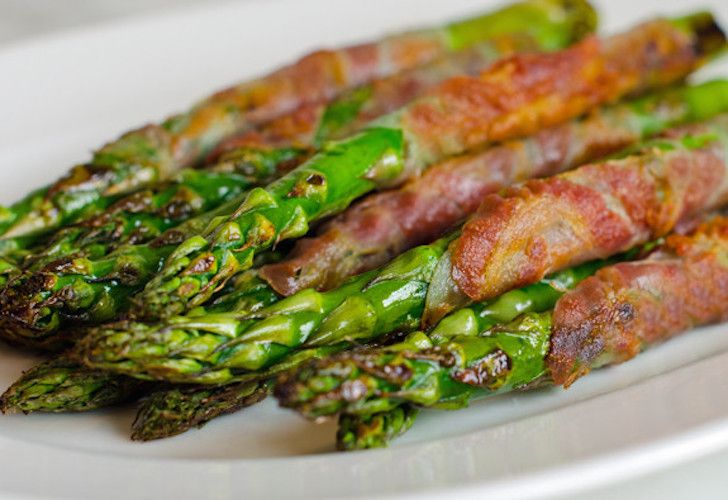 A gorgeous (and delicious) recipe with only two ingredients? Sign me up! These Pancetta-Wrapped Asparagus at Once Upon A Chef are so easy and beautiful, you may want to keep the recipe in your back pocket for whenever guests drop in. Tip: Don't buy the super thick asparagus, as it may take longer to cook than the pancetta.
Related: How and where to buy better bacon: A bacon lover's survival guide.
If you like sweet and savory, this recipe for Roasted Delicata Squash and Lady Apples at Martha Stewart is calling your name. Being an ex-Martha girl myself, it's hard to imagine not including one of her traditional recipes at Thanksgiving. The aroma of apple, squash, bacon, and thyme wafting from your kitchen may make guests think Martha is in the kitchen herself. If only…
Vegetables for Vegans
There are plenty of delicious vegetable recipes out there that are naturally vegan, so if you have any vegan-phobes, don't even tell them. They won't know the difference!

Tell Aunt Sally to leave the green bean casserole at home. Seriously. It's 2015 and green beans should be bright in color, crisp in texture, and at the very least, visible on the plate. These Sautéed Green Beans with Mushrooms and Caramelized Leeks at Tasty Yummies are just that. And I love how Beth outlines the steps you can prep ahead of time. See 'ya, soggy beans!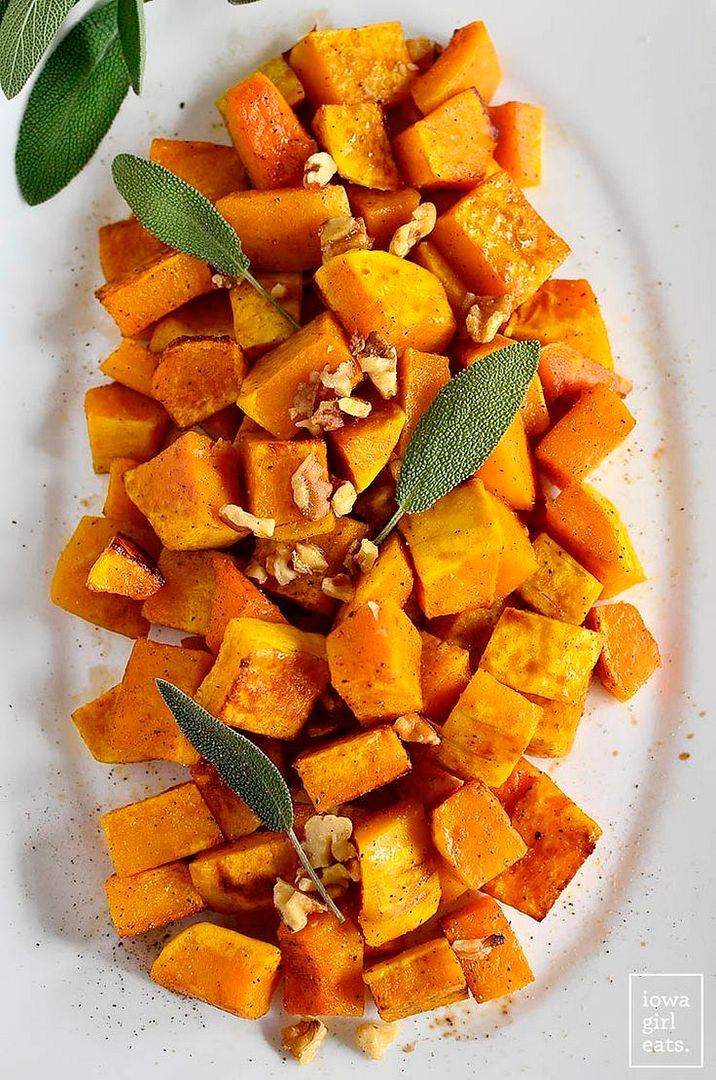 Balsamic and sage give a pop of flavor to this Roasted Balsamic Butternut Squash at Iowa Girl Eats. Butternut squash is a great prep-ahead vegetable and if you've never cooked one before, Kristin shares a helpful tutorial on how to go about it. Be careful not to overcrowd the pan, you want the squash to get nicely caramelized.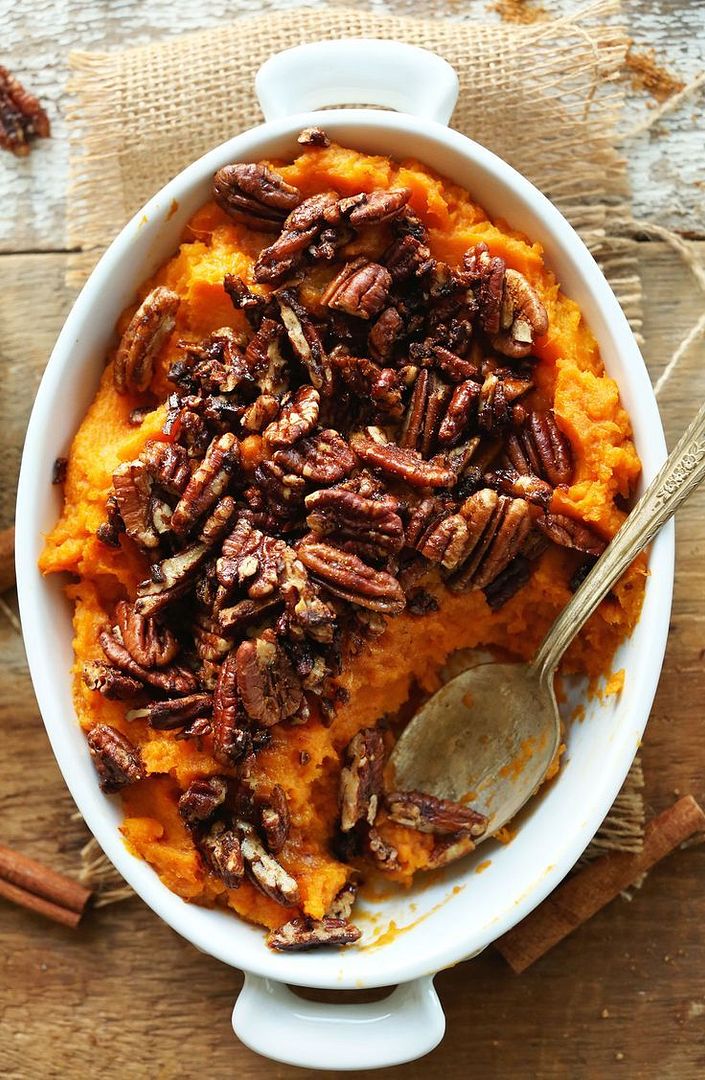 Sweet potatoes are combined with cinnamon, maple syrup, and pecans in this showstopper Butternut Squash Pecan Sweet Potato Casserole at Minimalist Baker. But, be warned: there are several vegan-friendly ingredients you will need to have on hand like coconut oil and vegan butter. If you are a vegan yourself or really want to impress your vegan daughter, this is a must-try. Even worth a trip to the store for those unfamiliar (but easy to find!) vegan substitutes.
Related: Easy, stress-free turkey recipes for Thanksgiving.
Vegetables for Picky Eaters
Vegan or bacon, nothing makes vegetables particularly appealing to selective eaters (big or small). These vegetable sides are something that you can put on your Thanksgiving table for the kids and anyone else who is picky. Or as my best friend, who has never eaten a strawberry, calls them, "discerning" eaters. Because, really, Thanksgiving is not the meal to worry about who's eating their greens.

My kids are actually awesome eaters, but they don't really love Thanksgiving turkey. This indulgent, make-ahead Butternut Squash Mac and Cheese at Kitchen Konfidence is a great way to please the underage crowd. Tasty comfort food that still incorporates a veggie? Score.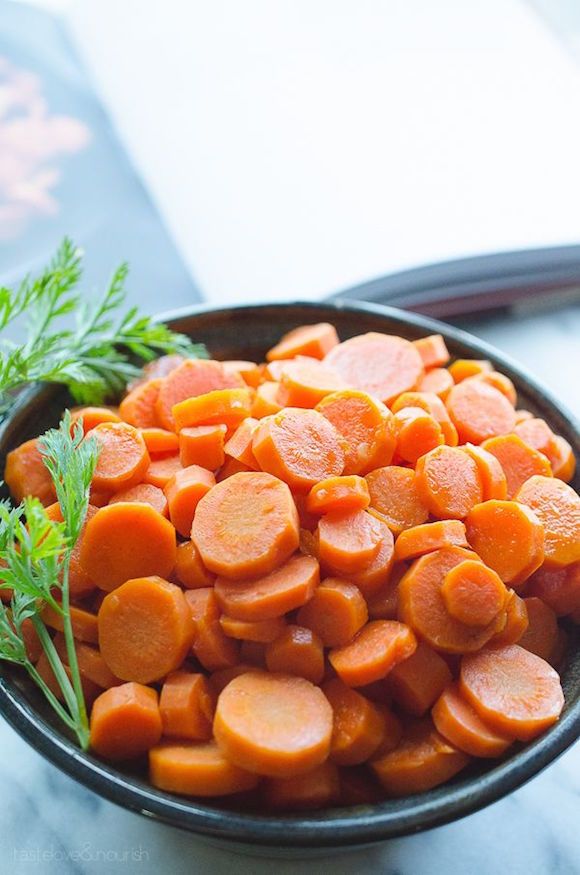 Maple and cinnamon elevate these carrots beyond the standard everyday snack. And with a cook time of about 10 minutes, these Maple Glazed Carrots at Taste Love & Nourish are a no brainer, even if you make them as an extra side just for the picky folks.

If you're overdoing it this year, cross off one of the more complicated sides on your list and make these Apple-Cider Glazed Sweet Potatoes at Oh My Veggies instead. Roast the sweet potatoes, reduce some cider, pour yourself some wine. Sometimes, even very simple recipes can feel inspired. This fits the bill for me.