I don't know how winter is wearing on you all in Arizona, Southern California, and all the other warmer places around the country, but we could use a pick me up where I live. The blizzard has passed, the sledding has been done, and now we're left navigating huge piles of snow and wading through enormous puddles of slush. So I'm thinking pecan pie recipes. Because nothing puts a smile on my face faster.
Yours, too?
I realize that not everyone finds comfort in baking a pie from scratch the way that I do—or maybe there's just no time—but that doesn't mean you can't also indulge. If you're game to take the time, start with our simple tutorial on how to make pie dough; we break the process down into 5 easy steps and have the best all-butter crust recipe. Otherwise, grab a pie crust from the supermarket or make one of the recipes that riffs on the classic, like easy pecan pie truffles. Trust me, it'll still do.
Photo: Bourbon Pecan Pie | Vanilla and Bean 
Related: 10 delicious twists on apple pie recipes to have your pie and eat cake, bread, and cookies, too.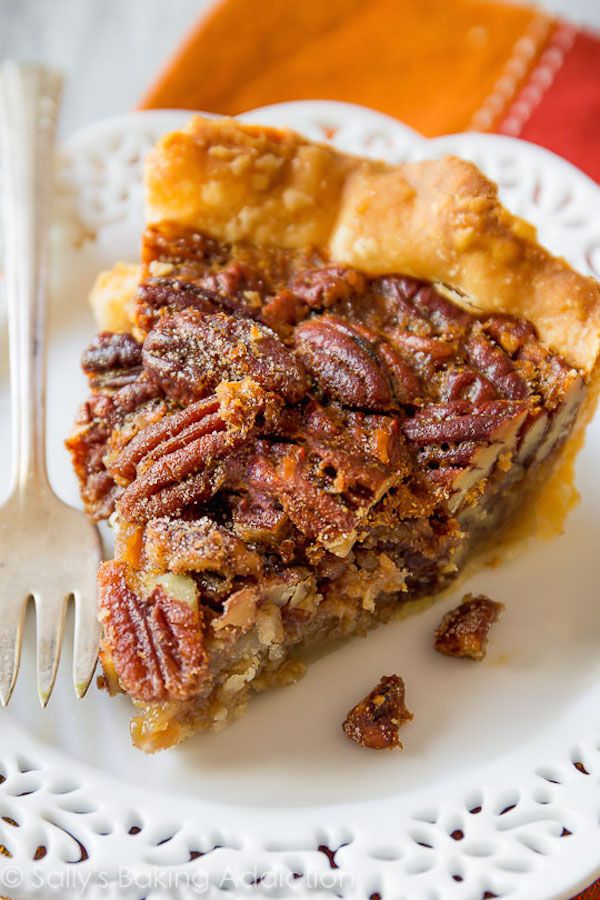 Classic Pecan Pie | Sally's Baking Addiction
If you're a purist, you can't go wrong with this Classic Pecan Pie recipe that we found at Sally's Baking Addiction. I think that if you're going to make a pie from scratch, you should get the kids to help. While you're at work on the crust, they can dump and stir the ingredients for that sugary, gooey filling that's so delicious. This is the version your grandma made, and we see no reason to mess with it.
If you're looking to spice things up, this Chocolate, Ginger, and Espresso Pecan Pie at Sweetest Kitchen should do the trick. Although, maybe don't share this one with the kids. Because, you know, espresso . . .
To cut some of the sweetness—because overly sweet pecan pie is no good—Traci at Vanilla and Bean uses brown sugar, molasses, and brown rice syrup in place of old-fashioned Karo in her Bourbon Pecan Pie recipe (above & top). It's dark and rich and so tasty. A new classic, really.
I've never thought of using pecan pie filling as a candy, but these Pecan Pie Truffles at All Day I Dream About Food are brilliant. Plus, they're no-bake, gluten-free, and low(er) sugar. In other words, easy to make with (and feed to) the kids.
Related: Helpful tips for baking with kids, and 6 recipes to get you started.
You can have your slice of pie a la mode with this Pecan Pie Ice Cream recipe at Homespun Capers. Or skip the pie and just have the ice cream. In my experience, kids love making homemade ice cream, especially if they get to churn it by hand. It's a good way to wear them out or, if you're on churn duty, you'll burn some calories so that you can eat a whole quart in one sitting, right?