During the summer, my kids are outside playing a lot, which is awesome. But when my neighbor's kids were recently sent home from camp because they were dehydrated, I realized that it's easier than I thought for the kids to get overheated while they play outside, even if they're in the water for a good part of the day.
So, we wanted to share some helpful tips for keeping your kids hydrated while they play outside too. It's not rocket science, but it's sometimes harder than you'd think to stay on top of it. These tips make it easy.
Related: How to keep kids hydrated and safe: 6 important tips to help beat the summer heat.
1. Set up an outdoor water station for the kids.
In my experience, out of sight is out of mind with the kids, so keeping water out where they can see it is a huge help toward getting them to actually drink it. Whether you're taking a family trip to the park or lake for the day, or the kids are just running loose in the yard with friends while you get some much needed quiet time inside, set up a simple water station — water, cups, ice — that they can use to serve themselves.
Also, try this tip we heard: stock up on paper cone cups, because kids are more likely to down the whole cup and toss it in the trash since it can't sit on a table without spilling. Why didn't I think of that?
2. Get them a water bottle they love (and a cool DIY carrier).
It works for me, and it turns out that it works for my kids too: Having a water bottle that we really like encourages us to drink more water. We shared tons of cool water bottles in our Back to School guide last year that we're still using today, and another great option for summer is an insulated Kleen Kanteen bottle that will keep your water cold for hours.
Once you find a bottle you love, let the kids make this smart DIY duct tape water bottle holder at Five Little Chefs. It's a fun craft that will keep the kids busy in the morning, then keep them hydrated when they hit the park or trails in the afternoon. Having water nearby (as in, on their body) makes it easy for kids to drink whenever they're thirsty, rather than waiting for a break in the fun to stop for a sip.
3. Snack on fruits and veggies, not salty carbs.
My kids usually turn to salty snacks like popcorn or chips when they're hungry, but that extra sodium doesn't help them stay hydrated! I'm going to be proactive about it (I know, it's hard) and actually set out some fruit and veggies that are high in water concentration before they start begging for snacks. Foods including oranges, watermelon, cucumbers, celery, cauliflower, strawberries, and star fruit, are all more than 90% water. Whoa.
For a little extra kick of flavor, try this bright Watermelon and Strawberry Salad at Manu's Menu. Her ginger and lime syrup gives it a real kick that will have the kids coming back for more and more.
Related: How to turn a watermelon into a keg—including for non-alcoholic watermelon limeade.
4. Enforce a rest period.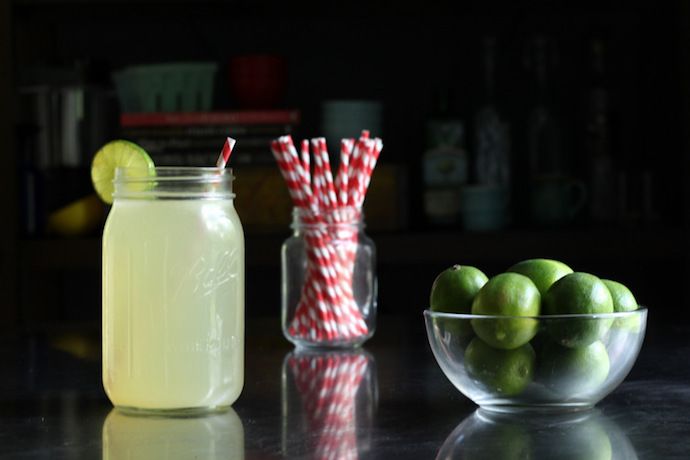 My kids are used to the lifeguard blowing the whistle for rest period once every hour at the pool, but when they're playing in the backyard we don't usually do this. Until now. Start calling the kids in for regular hydration breaks—and don't forget to hydrate when they're in rest period at the pool too. Even though they're cool in the water, they still need that cup of water every hour.
My kids tend to go for sports drinks when they're hot and thirsty (or, well, pretty much anytime), but experts say that they should be saved for those times when kids have been at sweaty, hard play for at least an hour. A very tasty and healthier alternative is the homemade Electrolyte Sports Drink at Mommypotamus. They have no artificial dyes, tons of flavor, and you can leave out the electrolytes if your kids don't need them.
5. Make it fun!
You'd think I was punishing the kids, they way they moan about coming in for a water break. But if I'm offering homemade popsicles, ice cubes with fruit hidden inside, or tasty infused waters like this Strawberry, Lime, Cucumber and Mint Water at Back to Her Roots, they're a lot more willing to take in the much-needed hydration, making my job a whole lot easier.