Is there any busy parent who isn't looking for cooking shortcuts for busy family weeknights? I'm going to say no. Even here on the Cool Mom team, where we have a pretty diverse range of relationships with cooking; on one end of the spectrum, there are those of us who love to cook and do so frequently (go team Eats!), while others would happily rely on take-out every night if it were a feasible option.
But the one thing that we all have in common is that we want—no we need—cooking shortcuts and tricks to make our lives a little easier. So I've put together five terrific tips that will help weeknight cooking go faster.
Some of our tips are methods, while others are products that make life as the family cook easier, which is why we're thrilled to be working with our newest sponsor, McCormick. The McCormick Herb Grinders are a time-saving supermarket find that help make it easy to add fresher flavor without whipping out the knife and cutting board or worrying about wasting money on fresh herbs that go bad before we can use them.
So check out all of our tips for how to keep your cooking time down without sacrificing flavor so that dinner is the thing that brings your family together at the end of a long, hectic weekday—not the thing that makes you want to give up even trying.
COOKING SHORTCUT #1: Skip the knife and cutting board.
Chopping is the thing that slows most home cooks down. Like, when that recipe promises that it will take 30 minutes and it takes you 45 — it's likely because the folks in test kitchens are using sharp knives and professional (i.e. super fast) knife skills.
Since we hardly expect every parent to take pro cooking lessons, a favorite cooking shortcut is to skip the knife altogether whenever you can, and rely on time-saving alternatives.
– One solution is to pick a recipe that doesn't require much chopping. It sounds obvious, but requires you to carefully look at the recipe in advance—and not just the ingredients list.
– If this kind of advance planning is not your thing, then invest in a mini-chop or find a permanent place on your counter for a food processor. (Be sure to use one that comes with several blade options so that you can do more than just mince and chop.)
– Fill your drawers with gadgets that do the job. I'm a big fan of using my mandoline (which is great for slicing produce thinly), kitchen shears, a garlic press, and my favorite, a microplane. A fine microplane grater is perfect for "chopping" garlic, ginger, and even onion. Just keep in mind that the result will be something like a paste, so only use this shortcut with ingredients that are meant to be well blended, like garlic, or cooked down, like for a sauce or pastry batter. Otherwise, go with one of the other tools.
COOKING SHORTCUT #2:  Swap in dried herbs for fresh ones.
Another great way to skip the knife and cutting board is to use McCormick Herb Grinders in your cooking. While it's true that fresh herbs are a great, healthy way to add flavor to your cooking, they can be pricey (especially out of season), they can go bad quickly, and of course, they require you to wash, dry, and chop. These dried herb grinders, on the other hand, stay fresh for up to a year in your spice cabinet and give you fresh taste and aroma as you grind, when you're cooking—all without the hassle of dealing with fresh herbs.
Lemon Oregano Shrimp Recipe
When using dried herbs, be sure to "activate" them to build the best flavor possible. For quick cooking dishes, that means grinding the herbs into whatever fat you're using to sauté aromatics like garlic, onion, celery, and/or carrots.
For example, when I don't have fresh oregano on hand to make this Lemon Oregano Shrimp, I use my McCormick Oregano Grinder to sauté about a tablespoon of freshly ground dried oregano in the butter and olive oil before adding shrimp. The fat helps coax out the taste of the oregano so that it infuses the sauce with just as much flavor as using fresh herbs at the end.
And in fact, one of the things that I like about the grinders is that the herbs in the bottle are not pre-ground, so you release the natural oils (and flavor) only when it's time to use them.
Quick Weeknight Tomato Sauce Recipe
You should use the same technique when cooking something more slowly, like tomato sauce, soups, or stews — but then you can also add dried herbs throughout, since the longer cooking time will help ease out the natural flavor of the herbs.
So, for example, to make my weeknight tomato sauce, I'll start by sautéing four smashed cloves of garlic with a few turns of my McCormick Italian Blend Grinder in about 1/4 cup of olive oil. As soon as the garlic is fragrant, after about 4 minutes, I add one 28-ounce can of chopped tomatoes, one 15-ounce can of tomato sauce, and the water that I use to rinse out the 15-ounce can of sauce, along with salt, pepper, garlic powder, and a few more grinds of Italian Blend. Bring the whole thing to a boil over medium-high heat, then reduce heat to medium and simmer for 25 minutes.
You'll end up with slow-cooked and fresh herb flavor in just 40 minutes, no cutting board required.
Pro Tip: Because the flavor is so good, I like to combine a few grinds of Italian Blend with grated Parmesan for garnish too. Because more fresh flavor—and more cheese—is never a bad thing.
COOKING SHORTCUT #3: Make your pasta or grain cooking water do double duty.
One-Pot Pasta and Veggies
Everyone loves a good one pot meal, but here's something that you may not have thought of: Even if the whole meal doesn't come together in the pot, you can use your pasta or grain cooking water for two things at once!
Once that big pot of salted water comes to a boil, throw in the pasta or grains and set a timer. With a few minutes left, throw in the night's vegetables. They'll quickly blanch as your pasta or grain finishes cooking. Then you can drain everything at once. Done!
Not only does this cooking shortcut cut down on dishwashing, but it also keeps you from having to wait for water to boil twice, juggle two pots on the stove, or combine ingredients. And, hey, maybe some of those vitamins and minerals that escape from the veggies infuse the pasta or grains?  A busy parent can hope.
COOKING SHORTCUT #4: Make use of the microwave.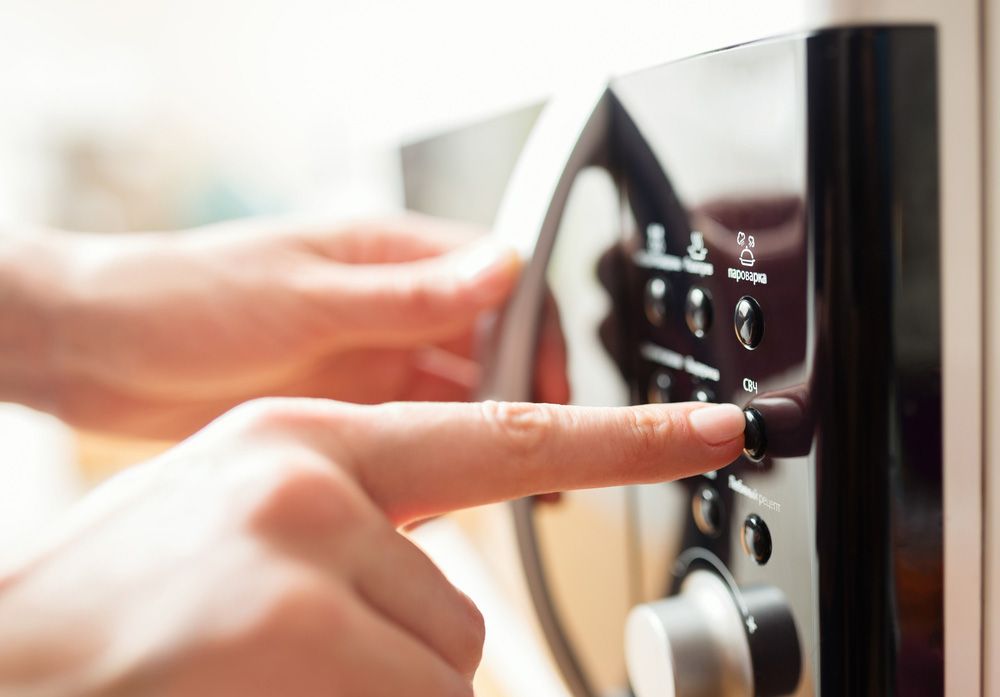 Having talked to a ton of parents about cooking over the years, I've learned that, despite a lot of science that indicates that microwaves can help veggies retain their vitamins and minerals, there's still a lot of parental guilt over using it to help prepare dinner. In the infamous words of Princess Elsa, let it go.
Your microwave is your secret cooking shortcut tool on your busiest—or running late-iest—nights. Studies even show that cooking in the microwave can be nutritionally beneficial, so use it! No guilt allowed.
(Hey, if Mark Bittman approves, we're in.)
While I'm not likely to cook up a whole chicken in the microwave, I am happy to make use of it to quick-cook dinner sides and vegetables. And obviously it's a massive timesaver. For inspiration, check out our tips on how to effectively cook in the microwave—with some important do's and don'ts—and, while there, grab our favorite microwave vegetable recipes.
COOKING SHORTCUT #5: Don't cook. . . but still serve homemade.
No-Cook Chicken Hummus Bowl
The quickest way to make dinner on a busy night: Don't cook at all.
I'm not suggesting that you call in for take-out—though, hey, no judgments from me on nights when that's all you can muster—but you can have a handful of no-cook recipes in your back pocket to whip out whenever you need them.
My favorite no-cook meal is a Chicken Hummus Bowl (pictured; from my own cookbook, Make It Easy), which is nothing more than store-bought hummus topped with store-bought rotisserie chicken, chopped cucumbers and tomatoes (two veggies that I always have in my fridge), crumbled feta, olives, and capers. Just layer, add a grind of dried oregano if you'd like, and feast.
If you need more no-cook dinners in your arsenal, try these terrific no-cook dinner recipes and these six other tried and true no-cook dinner recipes that we've shared on Cool Mom Eats. That way you'll have 13 options up your sleeve, which should definitely save you time in the evenings without resorting to expensive and less healthy take out. Phew.
Thank you to our sponsor McCormick, for making products like McCormick Herb Grinders that help busy home cooks whip up flavorful food quickly and easily—two words that definitely speak to us parents! For recipes and more timesaving tips, visit their website, or check them out on Facebook, Twitter, Instagram, and Pinterest.
This post was in partnership with McCormick. To learn more about the new McCormick Herb Grinders and some simple recipes to put them to use, click here!