Halloween falls on a Monday this year, which means that I'll have all weekend to actually try to put together a spooky-fun school lunch for my kids. While I have tremendous admiration for parents who pull off incredible bento box creations or toast sculptures for their kids, I'm more of a "Sharpie Jack-o-Lantern on the mandarin oranges container" type mom. So, I've been going through Pinterest and checking out our favorite food bloggers to find easy Halloween school lunch ideas that are fun for the kids and realistic for me.
Also, if they're things my kids will actually eat (like these ideas), that helps too.
Top: Mummy Sandwich | Cute Food for Kids
CME in an Amazon and rStyle affiliate.
Related: 5 spooky cool Halloween treats for kids we featured on the TODAY show.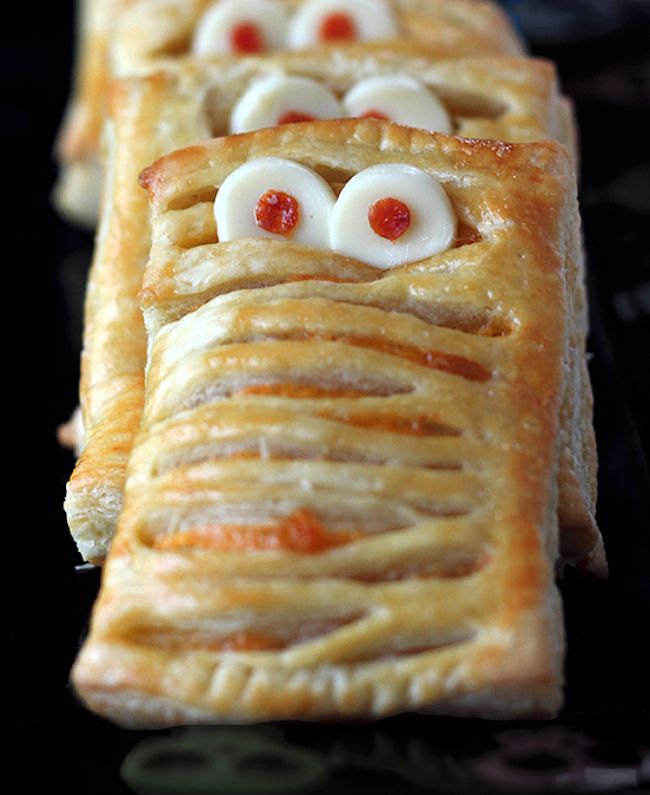 Ham & Cheese Mummy Pockets | Twisted Noodle
I found these Mummy Pockets at Twisted Noodle while looking for Halloween dinner recipes, but I think they'd be great for school lunches too. Heat them up in the morning before school and wrap in foil to keep warm until lunchtime. Then, the kids get an ooey gooey ham and cheesy treat that their friends will be begging them to trade.


These Mummy Dogs at Homemade Interest are one of those treats that look more impressive than the effort it takes to make them. Since my kids are able to use a microwave at school, I can pack them cold and they can reheat these dogs before lunch. That said, they'd probably be perfectly happy to eat these at room temperature too.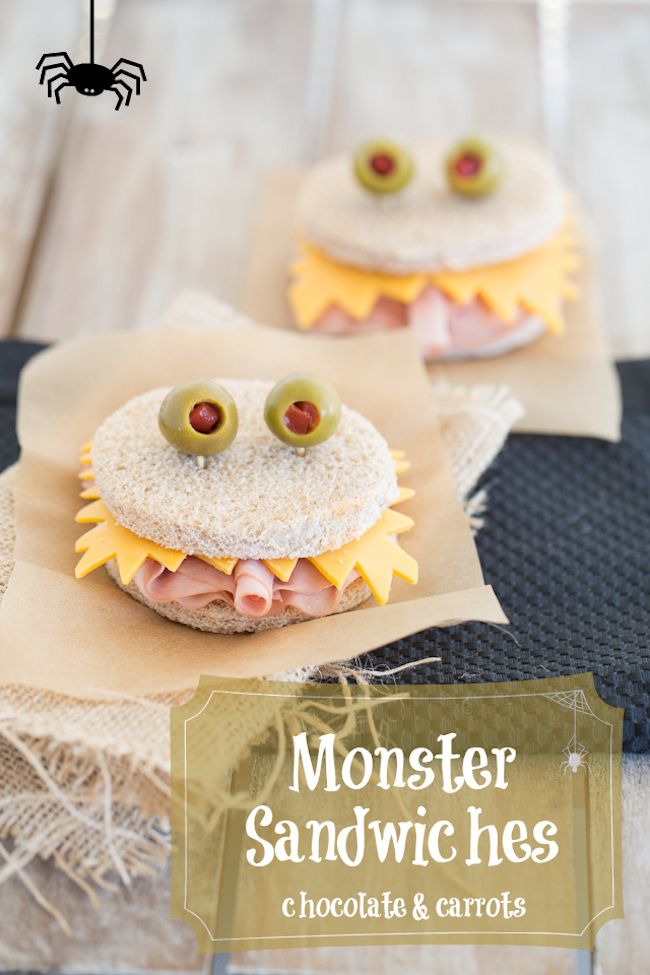 You can turn a simple ham and cheese sandwich into something more memorable with just a cookie cutter. I love these Monster Sandwiches at Chocolate and Carrots because I know that my kids will eat them, and they don't take much longer to make than a regular sandwich. Plus, who knows: Maybe it will get them to eat olives? You can substitute grapes if you're as doubtful about that as I am.
Related: Boo! 13 deliciously spooky Halloween dinner recipes that make you the fun parent.

I said that I was all about easy, right? It doesn't get easier than this Sharpie ghost face on string cheese that I spotted at Living Life on the Lane. This one I can definitely do. You don't exactly need her step-by-step tutorial, but be sure to click through because she has fun ideas for mummy juice boxes, Oreo witches hats, and more Halloween school lunch ideas too.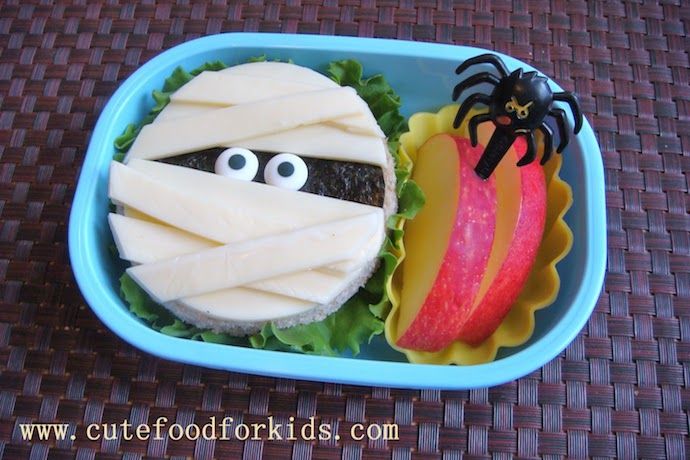 I think that this Mummy Sandwich at Cute Food for Kids (above & top) is pretty crazy adorable. There's no chance that my kids will eat nori, though, so I'd skip the top layer of bread and make this an open faced sandwich instead. This way they get fewer carbs and more protein too. I love the tip for getting the cheese and nori to stay put, but I might go ahead and wrap this one in plastic wrap just to be sure. Or, you can make this a peanut butter (or sunflower seed butter) and sliced apple sandwich instead—that will keep everything in place!
Related: The ultimate Halloween celebration guide. As in, 171 Halloween recipes, you guys.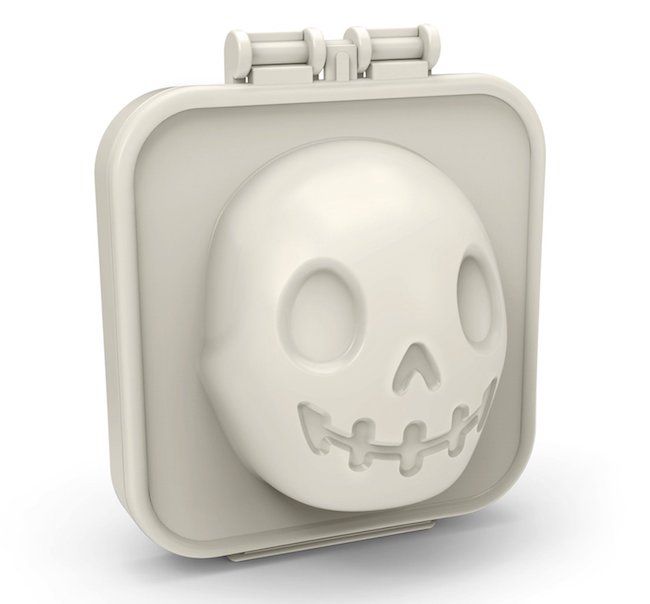 When I make hardboiled eggs for my kids lunches, I like to use bento molds to make them a little more fun. This skull hardboiled egg mold is perfect for Halloween! Just boil eggs the night before, then peel them and immediately put them into the mold. Let them sit in the fridge overnight and, come morning, add the egg—mold and all—to kiddo's lunchbox. Fast and festive!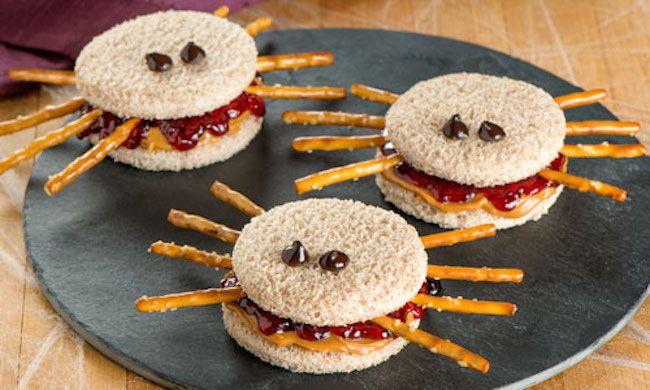 Spiders give my kids actual nightmares, so they'd definitely find these PB&J spider sandwiches that I found at Welch's spooky. Not too spooky to eat, though, since PB&J is one of their main food groups. That said, you can make this with ham and cheese, cucumbers and cream cheese, or any other favorite sandwich fillings too.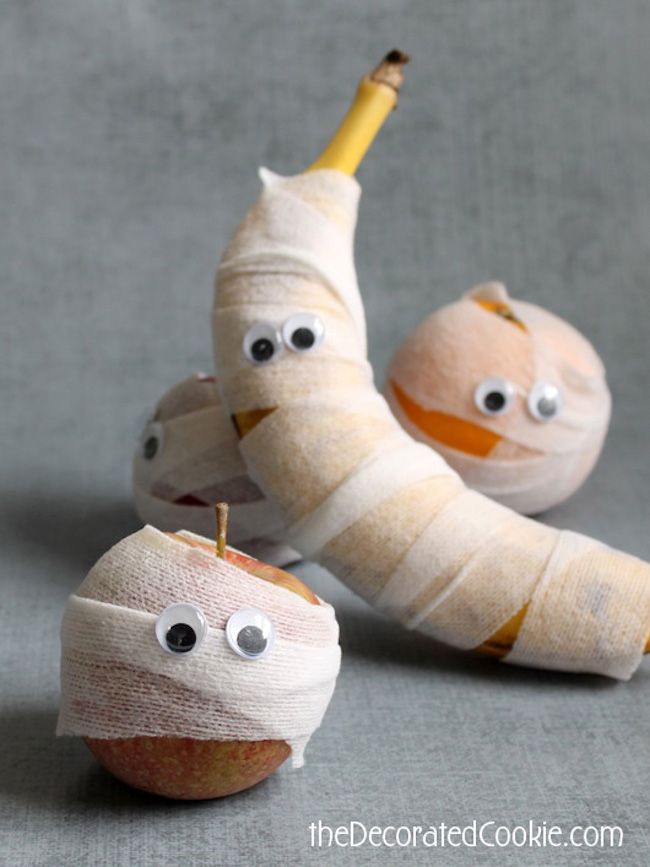 I would have never thought to wrap my kids' fruit up to look like a mummy, but I think this attack of the mummy fruit idea at The Decorated Cookie is so clever. If you have a picky eater who doesn't want their food cut into weird shapes or looking like a bug, but you still want to do a fun Halloween treat for them, this might be the perfect way to go.