I love edible Valentine's Day gifts as much as the next person, whether a fab store-bought box of Valentine's Day chocolates or crafty homemade treats, but sometimes a delicious, classic cookie is all you need to make your heart go pitter patter. Plus, baking cookies with the kids is the perfect winter weekend project.
Some of these cookies are simple, while others require a bit more, uh, skill than I have when it comes to cookie decorating — but hey, if you're good at that kinds of stuff, go for it. All of them are totally gorgeous, though, and perfect for sharing with your loved ones or packaging up for a sweet Valentine's Day gift.
Top: Valentine's Day Stained Glass Cookies | Lil Miss Cakes
Related: Helpful tips for baking with kids, and recipes to get you started.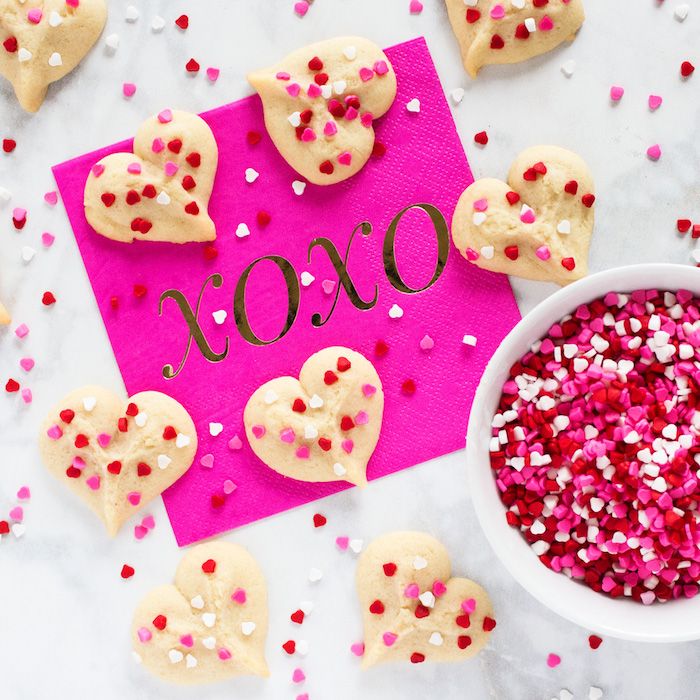 Valentine's Day Butter Spritz Cookies | If You Give a Blonde a Kitchen
Kate figured out that if spritz cookies are a quick and easy way to make tons of delicious cookies for the winter holidays, they can also be a quick and easy way to make tons of delicious Valentine's Day cookies. Why didn't we think of that before?! Find the recipe she likes most in her round up of Valentine's Day treats for the classroom.
These Marbled Valentine's Day Sugar Cookies at Baked by Rachel are lovely and so easy. Like, even I can make these (and let's just say that cookie decorating is not my finest skill). Make a big batch so that you can share a bunch at home with your sweethearts and also hand them out in the classroom.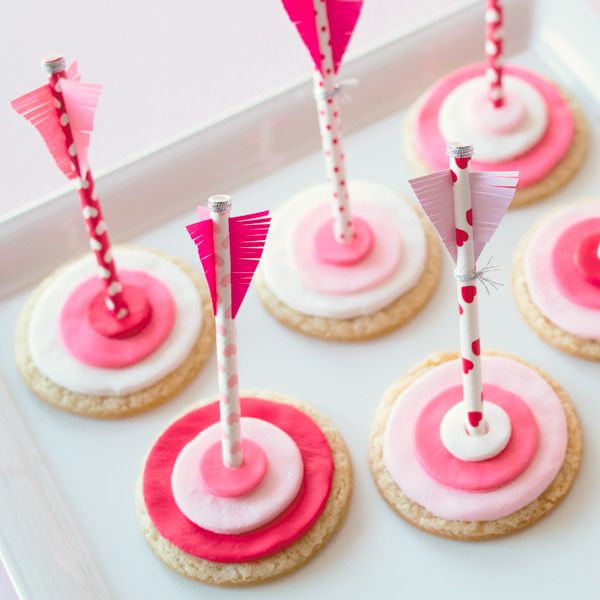 While we're talking sugar cookies, you have to check out these completely adorable Cupid's Arrow Sugar Cookies spied at Hallmark. So clever, right? The directions call for pre-made sugar cookies, and I won't argue with that. Also, these are a genius way to use up that package of Valentine's Day themed straws you bought two years ago (you know, the ones you've only used four of).
Related: 7 Valentine's Day food gifts more affordable than a fancy bouquet & more charming than another box of chocolates.
Painted Heart Sugar Cookies | Minted 
I found this Painted Heart Sugar Cookie on the blog at Minted.com while rounding up easy homemade Valentine's Day food gifts a couple of years ago and I still love the recipe — because, remember, no cookie decorating skills. Give me a paintbrush and food coloring, though, and watch me go.
Mini Oreo Cookies with Hearts | The Decorated Cookie
I'll get to the really challenging stuff for you baking heroes soon, but in the meantime, for the rest of us frazzled, baking-handicapped parents, there are these Mini Oreo Heart Cookies that Kate found at The Decorated Cookie while scoping out DIY Valentine's Day gifts that kids can make themselves. Because sometimes a baking project means setting the kids up with a bunch of baking-like materials and watching them while you sip coffee. Amirite?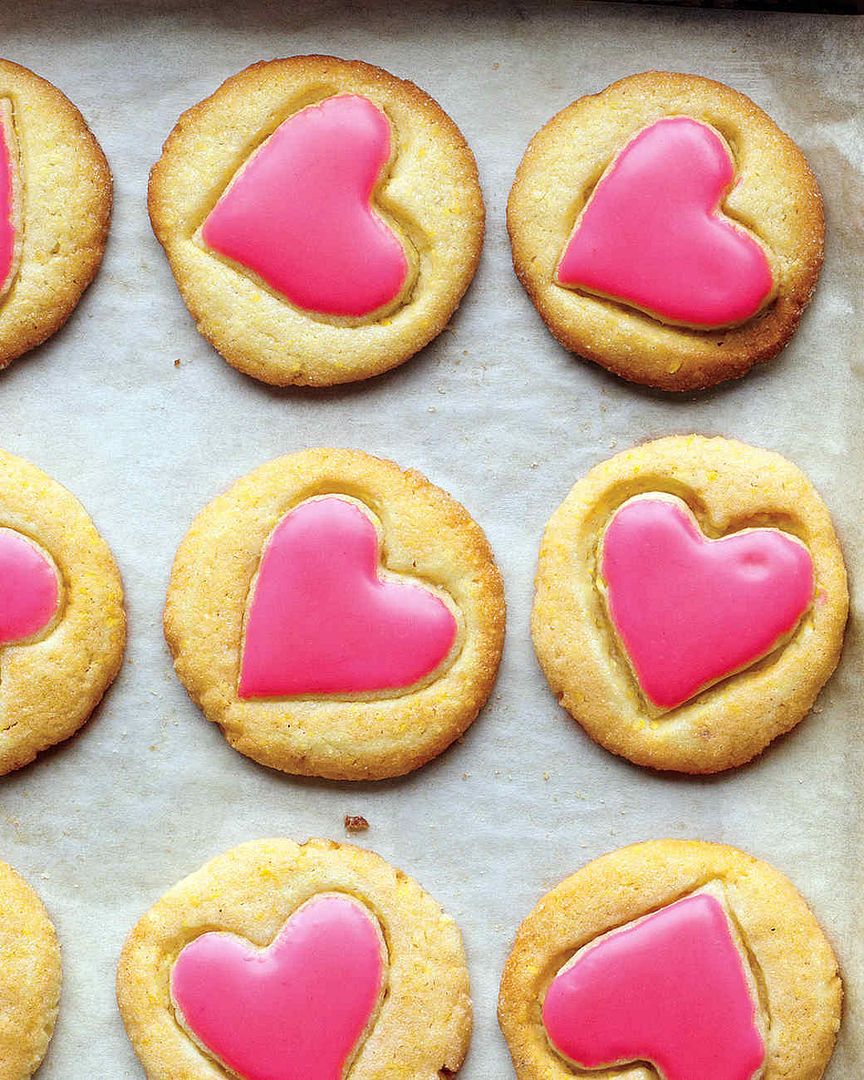 These Heart Glazed Cornmeal Cookies at Martha Stewart remind me of those simple, hand-made gifts that we always end up loving most. Homey and pretty, these look like they were made with love, as Valentine's Day cookies should.
Related: 5 ways to turn a pan of brownies into an easy Valentine's Day dessert.

Stained glass cookies are fabulous because they look super special, but are little more than a basic sugar cookie recipe with candy melted into a cut-out. Melissa at Lil Miss Cakes serves up several variations of Valentine's Day Stained Glass Cookies (above & top), each prettier than the next. I'm partial to these pink ones with the little heart cut-out because even I can manage making them!

The cookies so far have been very pretty and not too complicated to make. Well let's turn up the volume, shall we? Because these homemade Valentine's Day Fortune Cookies at Camilleiam have me freaking out. Love, love, love! In fact, I'm thinking of giving them a try. Crazy? Maybe, but hopefully worth it too!

Pizza + cookies = love! I couldn't agree more, which is why I'm swooning over these amazing Take a Little Pizza My Heart cookies at Bake at 350. But, I know: holy cookie decorating! If you can handle it, boss, I'd say these are a must-try. And maybe you can send me one as a thank you for finding them for you? Mmmm.