I'm always trying to recreate the tacos I buy at my local taco truck, but I'm foiled by the tortillas. (Okay, I don't have a huge vat of lard to make real carnitas either, but one day!) Unlike the fresh-off-the-griddle handmade tortillas served at the truck, I'm limited to store bought, which often break when I add the filling. Not to mention, they don't taste nearly as good.
One way to fix the issue is to make your own homemade corn tortillas. It's easier than it sounds and, well, like those carnitas, one day I plan on trying the recipe at Muy Bueno. In the meantime, though, a simple trick to make store-bought tortillas tastier and more flexible is simply to warm them before serving. To find the best method for how to warm tortillas, I tested four techniques. Try them out for yourself, and trust me: You'll never eat a cold tortilla again.
Top: Homemade Corn Tortillas | Muy Bueno
Related: Our favorite Mexican food blogs.
1. How to warm tortillas in the microwave
This method is awesome if you're in a hurry; it's quick, effective, and ridiculously easy. Stack up to five tortillas and wrap them with a damp paper towel or dish towel. Place on a plate and zap for 30 seconds (or fewer if you have a super powerful microwave). By that time, you should uncover moist, pliable tortillas.
Note: the moisture from the paper towel or dish towel is important; without it, the microwave will dry out the tortillas.
2. How to warm tortillas in the oven
If you're cooking tacos for a large group, you can't go wrong with the oven method. Like the microwave, it's super efficient, but has the added benefit of making your kitchen smell like a tortilla factory. Wrap stacks of up to five tortillas in aluminum foil and bake the packets at 350 degrees for 10-15 minutes.
I admit that this method doesn't yield the most consistent results — my top tortillas are always a little crispier, while the bottom tortillas are soft and moist — but careful wrapping should make them more uniform.
Related: 11 easy Mexican-inspired dinners for the tastiest weeknights.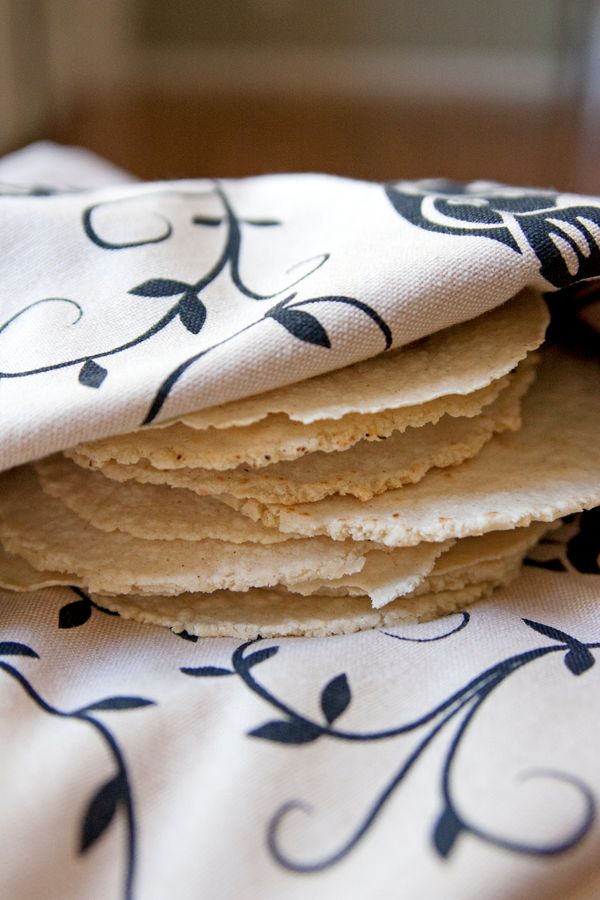 Homemade Corn Tortillas at Muy Bueno
3. How to warm tortillas in a pan on the stove
Homemade tortillas are traditionally cooked on a griddle, so re-warming them on the stove may be the most intuitive method. Bring a non-stick pan or cast-iron skillet to high heat, and then throw on one or two tortillas — however many fit. You'll know it's time to flip when the tortilla develops brown spots on the surface side.
J. Kenji Lopez-Alt at Serious Eats recommends dipping the tortilla in water to create some softening steam action. I loved this method on the non-stick pan, but steer clear if you're using cast-iron (it stuck to the skillet and set off my smoke alarm!).
4. How to warm tortillas over an open flame on the stove 
I borrowed this simple method from Food52, and it's a good one. Using medium heat, place a tortilla directly on top of the flame of your gas burner. Once the tortilla starts to get a few brown spots, flip it and toast the other side. This approach does require careful attention since you're working with, well, fire, but it makes the tortillas soft and supple on the inside and crispy around the edges. Exactly the way a tortilla should be.