Kate recently pointed out that planning for leftovers can help you cut your food budget, which immediately had me cooking extra. What I didn't plan for, though, is that some meals don't get as good a response the second time around as others. But instead of giving up, I got creative with this new way to use leftovers: Leftovers Pizza.
My kids are happy to eat some dinners the same way a second time around and other meals do great as lunch the next day, but when those options fail, I throw leftovers onto pizza dough and watch it all go down — happily.
Related: 5 easy dinner recipes that make delicious leftovers for lunch the next day.
Leftovers Pizza: When to Make It
I usually wait until the end of the week to throw together a leftovers pizza so that I can make use of any other tidbits that are leftover from the week, from produce that never got used to the last bits of garnishes, sauces, and salsa. Then I make two or three smaller pizzas instead of one big one, which allows me to play with flavor combinations without piling too much mismatched stuff onto one pie.
Leftovers Pizza: The Dough
Since I live in New York City, I often end up buying my pizza dough from a local pizzeria — it's easy, good, and I can do it at the last minute. But if you are so inclined, you should definitely try making homemade pizza dough, maybe even with the kids! It's easy to do and freezes well. Jane likes the No-Knead Pizza Dough at Serious Eats that she uses to make grilled pizzas and Kate likes the pizza dough recipe by Bobby Flay that she her and her kids use to make pizza pinwheels.
Related: How to grill pizza, our summer obsession.
Leftovers Pizza: The Sauce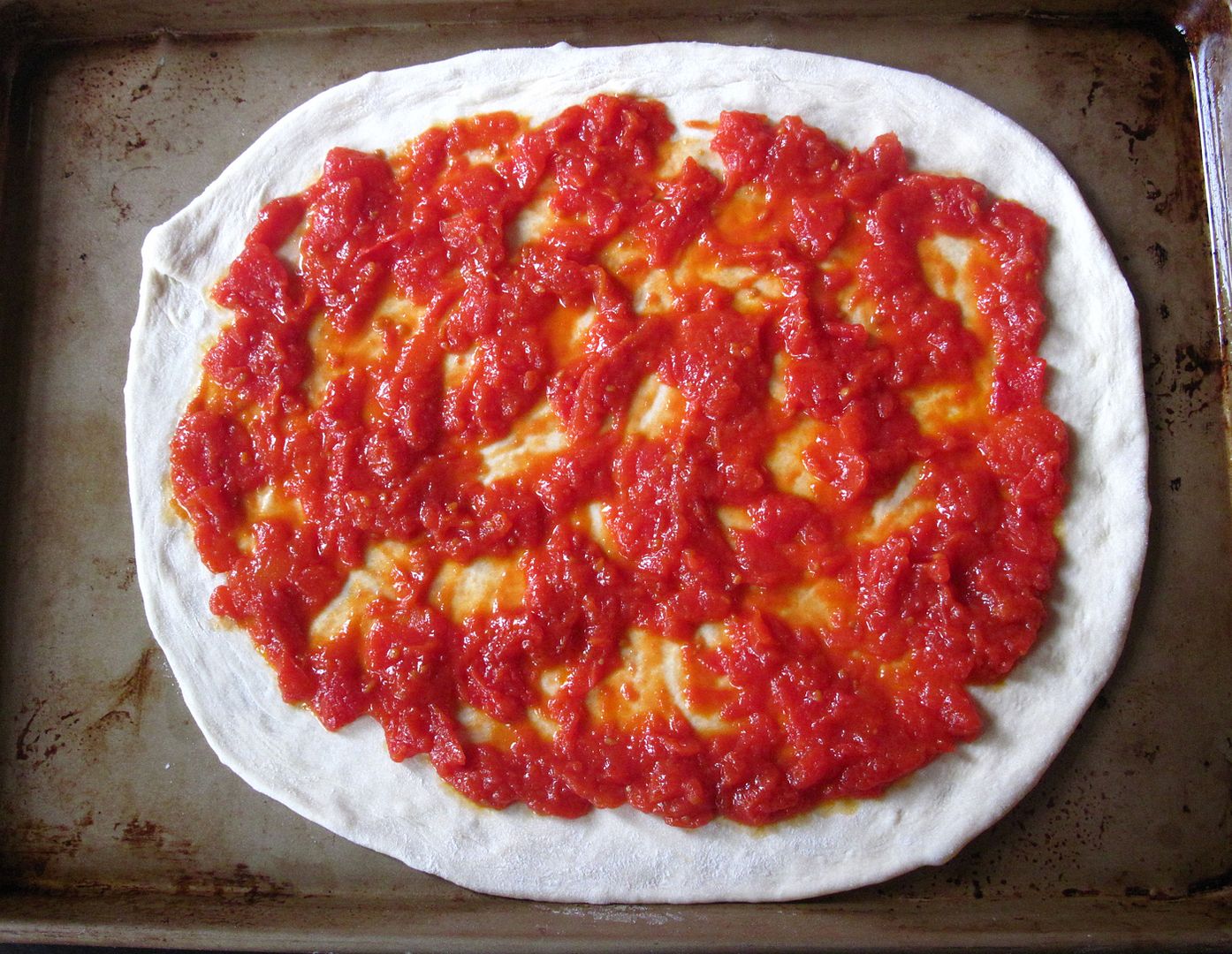 Whatever dough you use, if you add pizza sauce, make sure to use a delicious one — because sauce is key. I think making your own is worth it, especially when it's as easy as my recipe for rustic pizza sauce, which I keep in the freezer at all times. If you've found a fantastic store-bought sauce that you love, by all means, use it. The easier, the better.
And remember that you can get creative with sauce too: try using Alfredo, enchilada sauce, BBQ sauce, or just olive oil and minced garlic.
Leftovers Pizza: The Cheese
To keep things interesting and just a little gourmet for the grown ups, consider going beyond pre-shredded mozzarella with your leftovers pizza. What cheese you choose will have a lot to do with the nature of your leftovers, but fresh mozzarella, smoked mozzarella, fresh ricotta, gouda, goat cheese, cheddar, and provolone are just a few options that can be as delicious as the classic shredded mozzarella.
Related: Shortcut Pizza Dough Cinnamon Rolls for an easy win with the kids!
Leftovers Pizza: Topping Ideas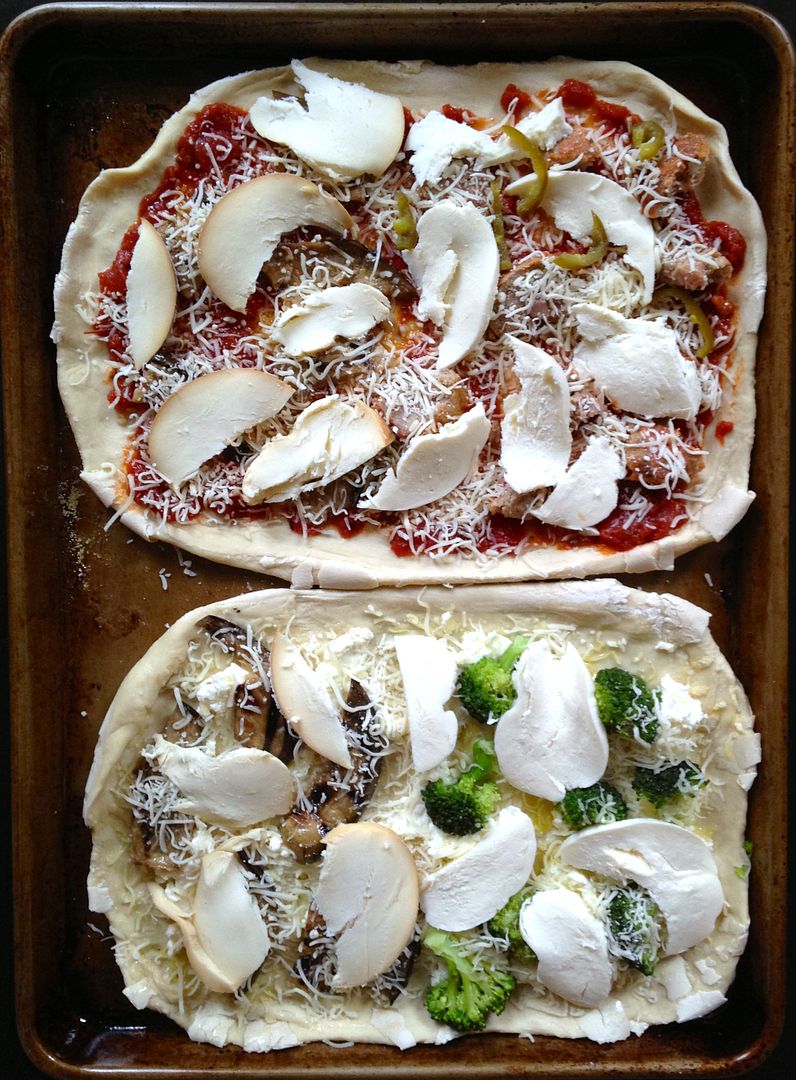 These ideas may not exactly work with your leftovers, but I hope they spark your imagination for what leftovers pizza can look like, because it's not just for using up a little leftover broccoli. Get creative enough and you'll find that leftovers pizza is one of the most powerful back-pocket recipes in your family kitchen arsenal.
— Red sauce, provolone and Parmesan, and leftover meatballs (with a few pickled jalapeños on top for spicy food lovers)
— Leftover roasted veggies, smoked mozzarella, fresh ricotta, and Parmesan (with dollops of leftover pesto, too, if you have it)
— Oil, minced garlic, fresh ricotta, fresh mozzarella, fresh basil, and nearly any leftover veggies
— Leftover taco meat, shredded cheddar (you can add some shredded mozzarella too), topped with any leftover fixings like salsa, shredded lettuce, and sour cream once out of the oven
— Leftover BBQ chicken, some extra BBQ sauce if needed, shredded gouda, thinly sliced red onions, topped with cilantro once out of the oven
— Leftover Spaghetti Pizza
— Leftover sausage, green salsa, mozzarella or cheddar, and jalapeños (optional), topped with cilantro and crumbled feta once out of the oven
— Enchilada sauce, leftover shrimp, shredded cheddar, topped with cilantro and sour cream once out of the oven